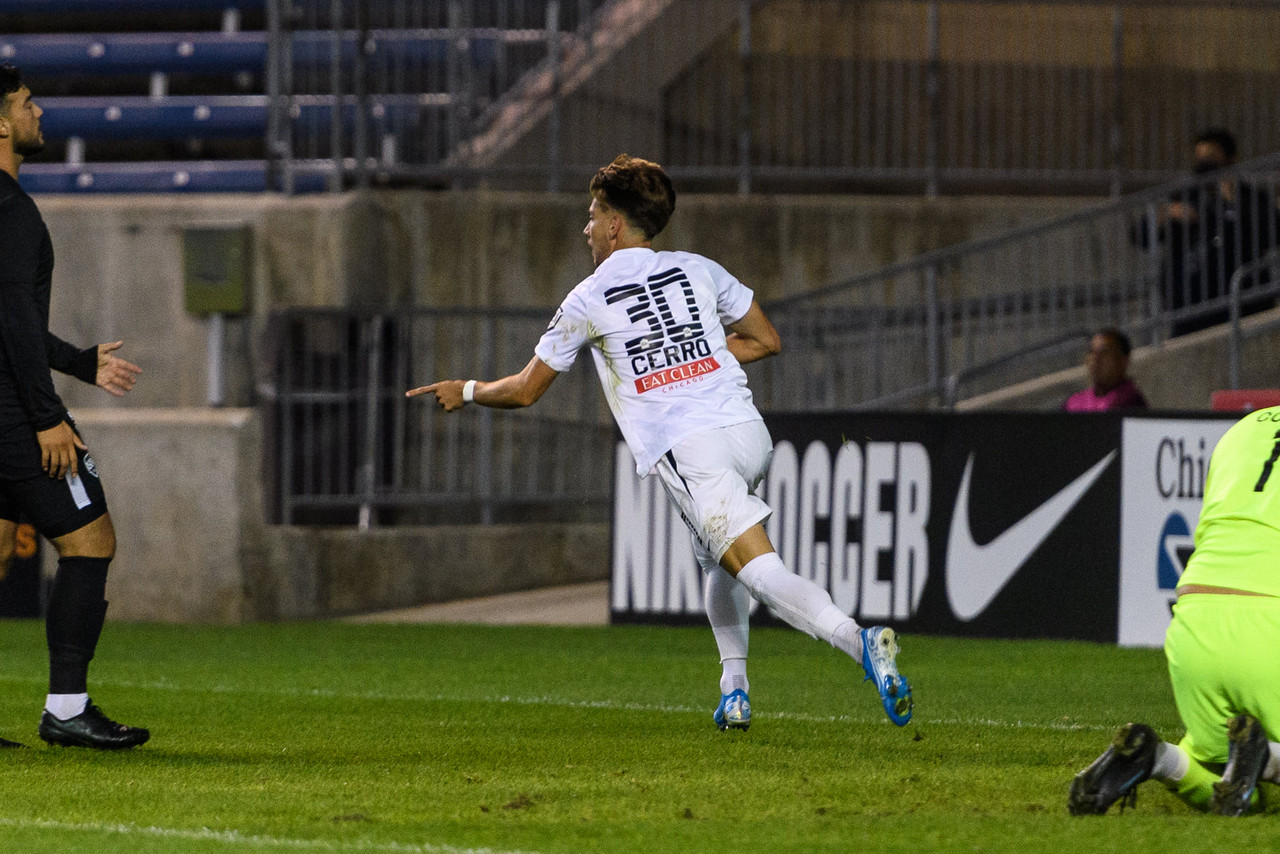 On July 9th, 2021, Chicago House Athletic Club played their first-ever competitive match.
Taking on the Milwaukee Torrent at Hart Park in the NISA Independent Cup, it was a historic day for Chicago's newest professional soccer club. After more than half a year of building the organization from the ground up, they finally had a team that was ready to step out onto the field.
Ian Cerro, one of the House's main men at the moment, was a part of it all. However, he wasn't actually in their initial starting eleven, and he didn't come off the bench either. Instead, Cerro was in the lineup for the opposition.
Since then, the player has gone from shining against Chicago to shining for them.
An early introduction
At the time of the contest, Cerro was plying his trade with Milwaukee, who are in the National Premier Soccer League.
This game was almost as big for them as it was for Chicago.
The Torrent, a semi-pro side, were about to take on a brand new professional team from one of the biggest markets in the country. There were going to be plenty of eyes on the matchup, which meant that this was a huge chance for those on the Milwaukee roster to make their mark. The stage had been set.
"I was very excited. It was the one game I marked in my calendar," said Cerro. "It was a NISA team, a pro team. There were a lot of good players on Milwaukee that could make that jump. I was excited for the opportunity, and I was looking forward to the test."
It's not like this was a meaningless friendly, either. There was something at stake, as this was still a NISA Independent Cup fixture. "Winning the cup was just another motivation," said Cerro.
That fuel proved to be too much for the House to handle, as Milwaukee ended up winning 2-0 on the night. Cerro played a key part in his team's victory. A lot of the offense went through him, and even though he didn't score or assist, he still made quite the impact on proceedings. He nearly scored a golazo, but his strike from distance was denied by the woodwork.
It wouldn't be too long until the player made his way to the Windy City.
Chicago comes calling
On September 10th, just over two months after that match, the Chicago House officially announced the signing of Cerro.
It was a somewhat surprising acquisition, as it seemed like the House had wrapped up almost everything when it came to their roster. However, it was still one that the team thought was needed after their relatively poor start to the season.
"People I knew and coach C.J. Brown asked if I could come down. Of course I was interested," said Cerro. "I really wanted to play here. It's Chicago, it's SeatGeek Stadium, it's a new team, it's historic. After two weeks of training, I was signed."
That little tidbit at the end is an important one. Usually in this sport, players are signed to a club and are immediately put on the roster. Sure, trials are a thing, but most of the time there's a bit of a grace period which allows the player some time to get used to their new surroundings.
Cerro didn't really get that. Everyday he went to training during that two week span, he knew he had to perform at a high level if he wanted to earn a proper contract with Chicago. It seems like he did just that, though, which led to him making his debut for the club a week later.
That was uneventful, but he really shined in the team's next game.
At home to Michigan Stars FC, the American was a livewire throughout, constantly getting on the ball for his side. He may not have gotten onto the scoresheet, but he did help create space and chances for himself and his teammates on a number of occasions.
That fixture ultimately ended in a draw before Chicago won the following weekend. Then came Cerro's biggest moment of the campaign so far. After less than two minutes into a game against 1904 FC, he scored his first-ever goal for the House. It wasn't the most spectacular effort, as it just came courtesy of a smart run and a smart finish, but it proved to be crucial as it was the only goal of the contest.
The fact that he's been playing this well is one thing, but the fact that he's found this run of form almost immediately upon arrival is especially impressive. He deserves credit for instantly acclimating to life in Chicago, but he knows that it's not just been up to him.
"I think that a big thanks to that would be my teammates," said Cerro. "Since my first day, the guys have shown me so much love. They've let me play the way I want to play, and it's the same with the coaching staff. My teammates have had my back, and I have theirs. That's what's helped me."
It hasn't been an easy task, as Cerro has had to deal with an almost entirely new environment to what he's used to off the field.
"It's very different," said Cerro when asked about what it's been like moving from Milwaukee to Chicago. "I'm originally from Colorado, and I pretty much lived there my whole life. I was only in Milwaukee for a few months. Chicago is a huge city, it's crazy. I haven't explored it too much, but I love going downtown. I'll keep exploring and getting to know the town."
Others have taken notice of his performances. A number of people on Twitter have praised the midfielder, and he's become a player who's often highlighted by the club's social media accounts. Then there's the coaching staff, who already seem pleased with what he's brought to the table.
"Ian Cerro has made a big impact for us on the field," said House head coach C.J. Brown. "He has the potential to set the pace of the game when he is on the ball. He is always looking to play his teammate in on goal, and he has the qualities to create his own space when on the ball to unbalance defenses. I am really impressed with his willingness to do the dirty work in defending as well. He is a good pro, he takes care of his body, and he trains well. We are very happy to have him as a part of our inaugural season to build the culture of the club on and off the field."
What the future holds
All in all, it's been so far so good. Now, both Cerro and the club are looking forward to a potentially promising future.
After a relatively rocky start to the season both on and off the field, things have somewhat turned around for Chicago. They're slowly climbing up the standings, primarily thanks to back-to-back wins, and they're no longer stuck at the very bottom of the table. As a result, there's been a better atmosphere at their home games, and it looks like they're slowly building up to the level of support they're aiming for.
Despite his brief time here, Cerro is already starting to see that for himself, and he's hoping to see even more growth as time goes on.
"That's a good feeling. We want to get as many fans as possible out there," said Cerro. "It's tough because we're new, but the way we have been playing, and the extra hype we're getting, the attendance should go up. We want kids there. They look up to us, so it'd be great to see them with their families. We want to get results, but we also want to be entertaining."
A big plus when it comes to the matchday experience is the venue. While most teams in NISA are playing in high school level stadiums, the House are at the aforementioned SeatGeek Stadium, which is a soccer-specific stadium made for the professional level. That makes their home games that much more special, and the American realizes that.
"I think it's a big motivation," said Cerro. "Everytime I go to the stadium and see the field I go 'wow'. I'm so grateful. It's perfect grass, it's nice and wet. I enjoy every moment I'm out there."
With those things in mind, the current focus is now on life on the field. Since this is Chicago's inaugural season, there wasn't much pressure put on them to do well from the start. Their early struggles are understandable, as projects like this take time. The rest of this campaign may not matter much in terms of the final table since they're too far away to contend for first and there's no playoffs to qualify for, but it will be vital when it comes to building the club's culture and identity.
"It's a new club, so our goal is to compete. Where we're at right now, it's just finding an identity," said Cerro. "Build the club a little bit more, and then go all out next season. In the future we want to win. We signed up to win."
While those aspirations are geared towards the long term, Cerro's still making sure to keep an eye on the short term as well.
"Personally, my goal is just to get to the highest level possible. I'm just taking it day by day."
Luckily for Chicago, their future seems to get brighter by the day with Cerro in the fold. Long may it continue.