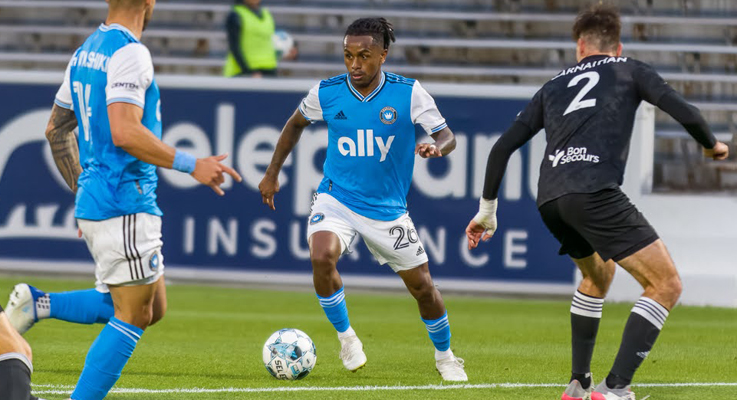 Charlotte FC continued their first-ever US Open Cup campaign with a resounding 5-1 victory over USL League One side Richmond Kickers at the City Stadium.
Yordy Reyna scored one of the five goals and also assisted on three others. Andre Shinyashiki scored for the second time in as many games for the expansion side.
Story of the match
Richmond created a ton of early chances for two-time league MVP Emiliano Terzaghi, but were unable to convert on any of them.
In the 29th minute, Terzaghi turned provider as he crossed on the left wing for Matthew Bentley, the Brit heading towards goal, but George Marks was on hand to make the save.
Five minutes later, Charlotte took the lead as they held the ball in the 18-yard box. It was worked around until it found Daniel Rios, who slotted home past Akira Fitzgerald.
After creating more opportunities as the first half wound down, the Kickers cashed in eight minutes after halftime. Leoanrdo Baima combined with Vincenzo Candela on the left wing, before crossing to Stephen Payne. Zaca Moran eventually beat Marks with the help of a deflection.
With the crowd sensing a possible upset, Reyna silenced the 4,621 in attendance as he found the back of the net on a give-and-go.
The Peruvian then broke free on a counterattack down the left, playing it across the box with Richmond defenders trying to recover, feeding McKinzie Gaines, who made it 3-1.
In the 61st minute, the visitors then extended their advantage as Reyna picked up the ball near midfield and after playing Gaines through, he beat Fitzgerald at the far post.
Owayne Gordon made his debut for Richmond and the substitute had a breakaway in the 80th minute, taking the ball from midfield and dribbling past three defenders before his shot was stopped by Marks.
Shinyashiki completed the scoring as from a corner kick, the ball fell right to him and from close range.
The Kickers nearly grabbed a consolation goal a minute from time as Nil Vinyals' free-kick curled over the Charlotte wall and beat Marks, but hit the wrong side of the woodwork.
He set the tone on the night, showing his creativity in assisting on three of Charlotte's goals before picking up one himself. An excellent overall performance.