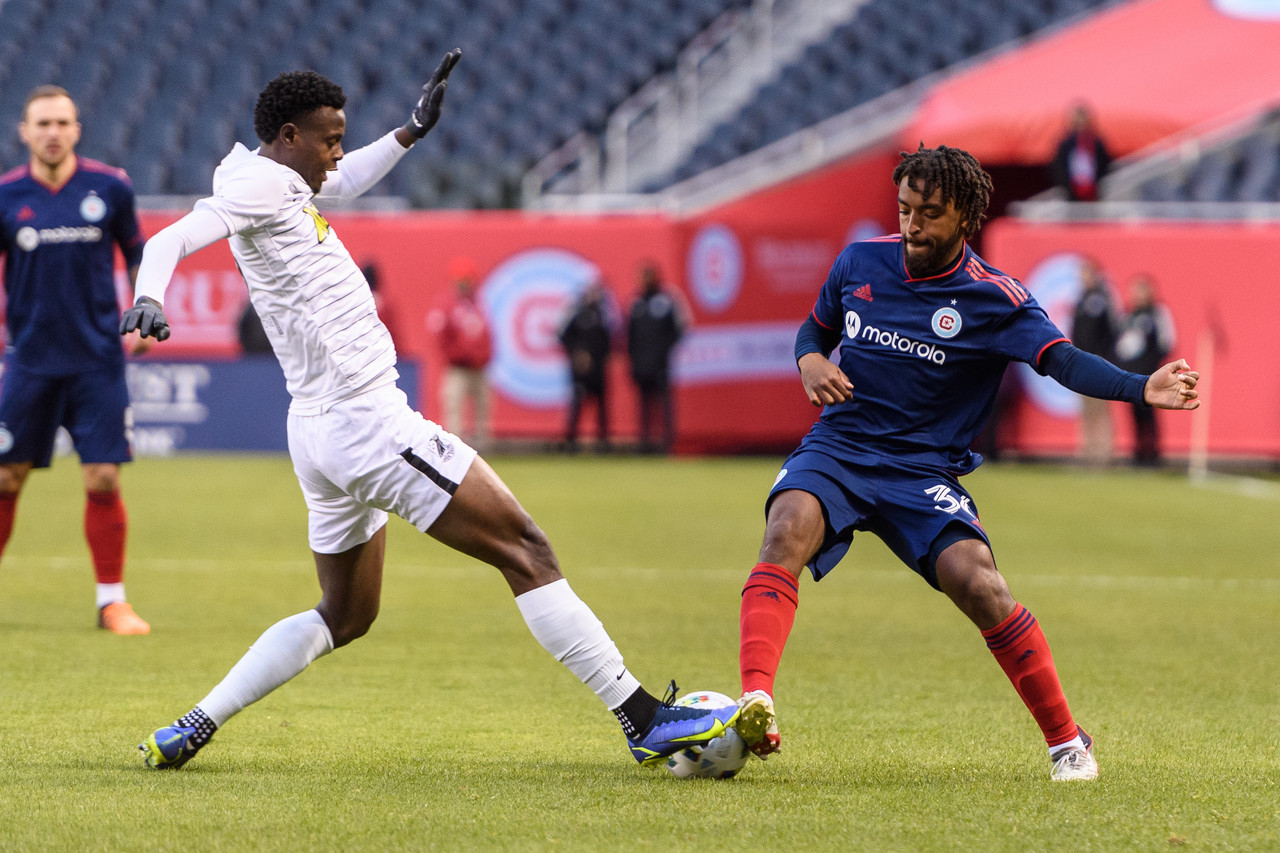 The Chicago Fire's 2022 U.S. Open Cup campaign is already over as they lost to Union Omaha on penalty kicks at Soldier Field on Tuesday night.
An eventful cup contest, Chicago opened the scoring via a Rafael Czichos penalty kick, but Omaha would not go down without a fight, equalizing after a screamer from Noe Meza. That set up overtime, but instead of a dramatic upset, the Fire seemed to secure a tough win following another Czichos spot-kick. However, the Union refused to die, and Alex Touche's stoppage time goal forced penalties.
In the end, it was the visitors who came out on top in the shootout, sending themselves to the round of 32 in the process.
Story of the match
The first opening of sorts fell to Chicago. A lovely ball in behind from Brian Gutiérrez seemed to play Jhon Durán through, but his touch let him down, and his eventual shot from a tight angle was blocked.
Durán had another chance on the counter, and he did better to get a proper shot off this time. It was well hit, but goalkeeper Rashid Nuhu was able to get down to make the save.
Omaha then had an opportunity of their own when Kemal Malcolm was slipped in beyond the backline. However, Spencer Richey reacted well to the danger, coming out quickly to deny the effort.
Things just kept happening, and the visitors really should have come closer to opening the scoring. A woeful back pass gave the ball right to Alex Bruce, but he just couldn't get a clean look off, and his attempt was ultimately blocked.
Chicago responded well. It looked like they were about to score when Kendall Burks' header seemed destined for goal, but the effort was cleared away before it crossed the line. The following corner ended up bouncing right to Burks at the back post, but he would be denied once again, this time by the crossbar.
The magic of the Open Cup was on show as the Fire created even more chances. Durán had a strike go past the keeper before being cleared away by a defender, and then Missael Rodríguez's attempt at rifling home the rebound was saved by Nuhu.
Things finally died down a bit, as there was a stretch of play where not much happened. Chicago eventually had another opportunity, and they probably should have made more out of it after a cross picked out Chinonso Offor. He was unable to convert from a few yards out, though, instead heading the ball right at the keeper.
Omaha then nearly went up the other side of the field and scored themselves. A corner went right to an unmarked attacker, but he failed to head home as well, and the ball went nowhere near the frame.
The Fire came right back through Rodríguez, who broke free down the left wing on the counter. He set himself up nicely, but his eventual shot was blocked once again by Nuhu.
There was a big penalty shout right before the half, as it looked like Durán was taken out in the area. The referee was unmoved, though, and nothing was called as a result.
The pace of play did not slow up to start the second half, and Chicago were awarded a penalty just five minutes in. It was a bit ugly, as Durán was accidentally taken out by a falling defender in the box. The referee was forced to point to the spot, though, and Rafael Czichos stepped up to slam home the resulting spot-kick.
Just as it seemed like the Fire were set to kill off the game, Omaha equalized. A cross wasn't cleared properly, and the ball ended up taking a weird bounce before falling right to Noe Meza. He made the most of the fortunate break, as he rifled a volley into the back of the net.
There weren't any highlights for an extended span, but the game certainly grew in terms of tension as we drew closer and closer to overtime.
Omaha nearly grabbed a late winner in stunning fashion, as Dion Acoff's low cross was cleverly flicked on towards goal by Hugo Kametani. The cheeky attempt was just hit too close to Richey, though, who made the relatively simple save.
Chicago then nearly did the same, and in similar fashion. Some really nice build up play led to Offor setting up Victor Bezerra from just a few yards out, but he just couldn't make a clean contact on a ball that may have been deflected. As a result, the scores remained level, and the two sides ultimately had to go into overtime to settle things.
There was a colder start to proceedings in the first extra period, but a decent opportunity fell to Javier Casas Jr on the edge of the area five minutes in. He failed to stay composed, though, and his mishit strike flew well over.
A set-piece to the Union gave them a chance to jump in front themselves, but even though the effort was a good one, Richey stepped up to make the important save.
Things had really slowed down at this stage, but the contest burst back into life thanks to another penalty kick. This one also went to Chicago after Gutiérrez was hacked down, and just like earlier Czichos managed to convert.
That wouldn't be the final moment of the match, though. Just as it seemed like the night was done, Omaha grabbed a tying goal in the final few moments. The ball fell to Alex Touche in the area, and he was able to find the back of the net under pressure, even if his shot did go in thanks to a deflection.
Chicago got to go first in the corresponding penalty shootout, but Kacper Przybyłko's attempt hit the bar.
Hugo Kametani was up next, and he placed his kick down the middle after sending the goalkeeper the wrong way.
Then came Rafael Czichos for his third penalty kick of the game, and he managed to go 3/3 even though the goalkeeper got a hand on the ball.
Emir Alihodžić's resulting effort wasn't great, but it somehow snuck past the goalkeeper before hitting the back of the net.
Jhon Espinoza was up next, and his penalty was perfect as he picked out the bottom corner.
Noe Meza, the scorer of Omaha's first goal, went from zero to hero after his effort was saved by Spencer Richey.
Stanislav Ivanov made the most of that save, slotting home his spot kick right after.
It looked like Richey had made a second straight save, but Daltyn Knutson's kick went under him and in instead.
Victor Bezerra was next, and he found the back of the net with confidence and composure.
Giovanni Montesdeoca stepped up to take the all-important fifth kick, but the pressure didn't get to him as he converted easily.
The first kick of sudden death was taken by Miguel Navarro, and he was denied by Rashid Nuhu.
That gave Dion Acoff the chance to win Omaha the game, and he did so in style, rolling the ball down the middle past a diving goalkeeper.
That proved to be the final kick of a long, long game.
Takeaways
Omaha has a fantastic logo. The owl is an underused animal when it comes to sports logos, and the Union's version of it looks sleek and modern while still being really cool.
Having a contest like this at Soldier Field was cool, but this game probably should have been played at a smaller venue, like SeatGeek Stadium. The few fans that were there would have seemed louder, and the stadium wouldn't have looked as cavernous. Still a fun experience.
The circumstances of him playing were unfortunate since he had to fill in for the injured Carlos Terán, but seeing Rafael Czichos on the field in this game was quite funny. He had kids around him on his team, and he was up against lower-league level opposition. You could just tell he was better than everyone else, and having him be the Fire's main player when all was said and done was fitting, even if it was because of his efforts from the penalty spot.
Brian Gutiérrez also looked like he was at a higher level than everyone else. Not everything he tried came off, but he found space in dangerous areas time and time again. In the end, he was able to provide a big moment, drawing the penalty late on in overtime, even if it ultimately didn't matter. Hopefully he'll feature more in MLS play.
The rest of Chicago's youthful core did not impress as much, though. The midfield pairing of Sergio Oregel and Javier Casas Jr were average at best, and even though Missael Rodríguez had some bright spots, he still wasn't that good. Even Victor Bezerra didn't do much off the bench. This isn't the end of the world, of course, but the club probably wishes those players did more with the opportunity presented to them.
In the end, playing them all cost the Fire. A few key players came off the bench late on, but they couldn't do enough to get the job done at the end of the night. Head coach Ezra Hendrickson took a risk with his starting lineup, and it went horribly wrong.
Man of the match - Rashid Nuhu
There's just something about underdog goalkeepers in cup games.
Rashid Nuhu had a solid game for Omaha in regulation and overtime, keeping his side in the contest with a number of key saves. Then, in the shootout, he became the hero, saving Chicago's last attempt to give the Union a chance to win it. They did so, and the goalkeeper deserves loads of credit for their big win.
He'll have to be just as big in the next round, but if this performance is anything to go by, then Nuhu will be just as good.
Quotes
Chicago Fire head coach Ezra Hendrickson:
"Frankly, I'm pissed off because the team that we're trying to build here - and it doesn't matter who's on the pitch - I don't think tonight we displayed Chicago Fire soccer. It was just not intense enough. We didn't play fast enough and I felt like we were too casual on the night. We warned these guys that, when you play a team like this from a lower division, they feel like they have a lot to prove. They're gonna come, they're gonna bring intensity, they're gonna bring the effort and we have to match that. And I don't think that we did that tonight."
"We have to be very good at putting this behind us. This is gonna hurt. It's gonna hurt for a while because I feel like we are the better team and we should be going on. But they didn't come here and lay down tonight. No, they came here and fought because they wanted to go through. On the night, I thought they wanted it more than we did because we didn't really show up like we should."
Chicago Fire goalkeeper Spencer Richey:
"I think the biggest takeaway and you know, it's clear that yeah, it's a third division team and maybe they don't have the quality of players that we do but if you lose focus, if you lose concentration, I mean, MLS is a league of parity, and it clearly can happen. The worst team can beat the best team in MLS on any given day. And today, it was a more extreme example that we weren't sharp enough on both ends of the field. Some chances that we should have put away, some sloppy moments at the back where we should have been more decisive, some of our clearances and not messing around with it, and even a third division team can punish you for it. So, you know, tonight was an example that if you don't have the right mindset, you don't have the right focus for 90 or 120, then you can lose to anybody."
"I've been in situations before where maybe I'm not getting a ton of playing time and then I have to step in and play a game or two, and I think you just lean on those situations that you've had in the past and you lean on what you do on a daily basis. For me, that's where I try to draw my confidence from since I don't have a recent run of games to draw from, so just try to be reliant on that to set me up to play well."