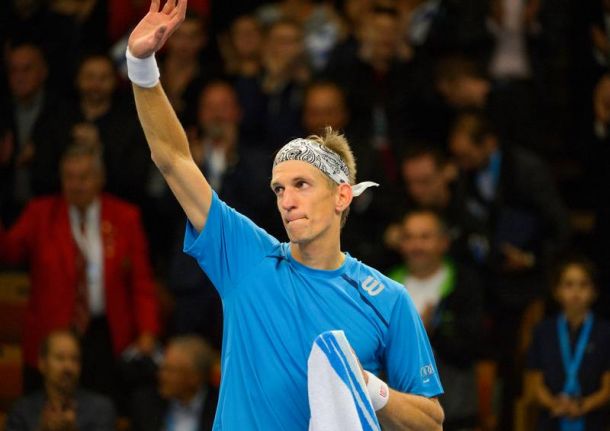 In what would be the 34 year old's final match of his career, Jarkko Nieminen would grace the If Stockholm Open with great play against his respected opponent Nicolas Almagro. It would look as if the Finnish legend would extend as his career to another match as he came out winning the 1st set 6-3. Nieminen would come so close to sealing the match as he would have two match points at 6-4 in the 2nd set tiebreak but would eventually lose the set and the 3rd set 4-6. The Spaniard would prove to be too much as he would hit 15 aces and win 45 of 49 1st serve points.
Both players embraced each other at the net for the post-match hand shake ,and it would hit Nieminen that his long career had come to an end. Holding back tears, the fight that was shown by the Finnish player was unbelievable in a match that lasted over two hours. The Swedish crowd would embrace him with a long standing ovation, truly a great moment for a player who played a decade and a half on the ATP World Tour.
Nieminen would show love back to the crowd as he heartfully said, "It's amazing how Swedish people have supported me since the beginning". It would be an unprecedented 16th consecutive showing at the If Stockholm Open for Nieminen. He was a three-time finalist at the tournament held in Stockholm, first in 2001 (l. to Sjeng Schalberg), 2nd in 2006 (l. to James Blake), and lastly in 2011 (l. to Gael Monfils). The man from Finland is not done just yet though, as he is still in the doubles draw with Swede Johan Brunstrom. The duo goes on to face 4th seed pairing of Jonathan Marray and Aisam-Ul-Haq Quereshi.
Nieminen's career highlights
In a historic career, 34-year-old Jarkko Nieminen has achieved many accolades. The left hander would first show his great talent in 1999 as he would capture the US Open Junior Championship. He would represent his country of Finland in many ways. A three-time Olympian, the 34-year-old would appear in the 2004, 2008, and 2012 Olympics. In Finland's 88 year Davis Cup history, he would record the most wins for his country with a great record of 59-26. The veteran would hoist two singles titles and five doubles titles on the ATP World Tour. He recently reached his 400th career win on March 8th, 2015 with a victory over Benjamin Balleret in the Davis Cup. The Finnish player would end with an impressive 405 singles victories to mark his career. He would reach three Grand Slam quarterfinals: 2005 US Open, 2006 Wimbledon, and 2008 Australian Open. At the peak of his career in July of 2006, Nieminen would reach a career high singles ranking of number 13. With these statistics, Jarkko Nieminen is the undisputed best player in Finland's tennis history.
Nieminen will be missed
As Nieminen hangs up the rackets, his legacy and work ethic will be missed by fans and fellow players on the tour. A true example of professionalism, the left-hander would show class and integrity on a match to match basis. Even in defeat he would give respect to his opponent with a genuine display of sportsmanship. Tennis' all-time great Roger Federer and good friend of the Finn's, has always showed praise of him and supported him over the years. The Finn has truly left a mark on the sport that will never be forgotten. As we say farewell to one of the Tour's greats, we recognize the work that was put in to get him to this point. We all wish Nieminen a great life as he transitions from the pro ranks to retirement.