 Despite being outplayed in the opening set, Kei Nishikori managed to win a straight set match over Stan Wawrinka. In 1 hour and 41 minutes, Nishikori defeated Wawrinka 7-6(7-3), 6-2 to reach the finals of the Brisbane International.
Nishikori battles to win opening set
Nishikori was facing break point in his first service game, but hit a wicked backhand before finishing off the point with a drop shot to bring the game back to deuce. Eventually, after facing a few more breakpoints, the Japanese man held on to his service game.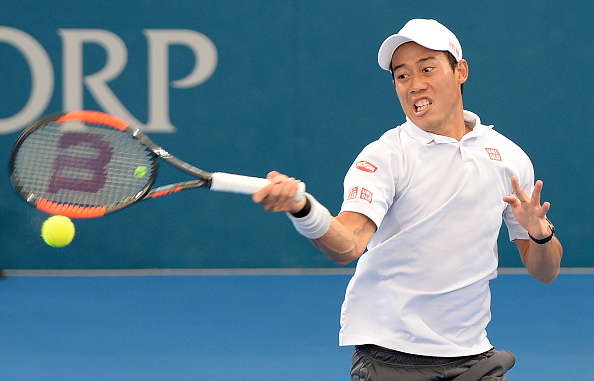 Stan Wawrinka pushed Nishikori to another deuce in the next service game after battling back from 40-15. But this time around, Nishikori fought quicker to hold serve.
Both men continued to hold serve after Nishikori's first couple of service games.
That forced a tie break. During the first set tie break, Nishikori took command, jumping out to a 6-2 lead before eventually winning the opening set 7-3.
Japanese star cruises through second set
To start the second set, the roles were somewhat reversed. Stan Wawrinka's opening service game made its way to a deuce. Wawrinka, this time around, though, held strong to keep things leveled early in the second set.
There was finally a break, however, in the fourth game of the second set. Nishikori raced out to a 15-40 advantage putting the Swiss star on thin ice. The ice broke on the next point when Wawrinka missed on a backhand up the line.
However, that edge that Nishikori held in the second set was immediately squashed. Stan Wawrinka had two more break point opportunities in the ensuing service game and finally converted to fight off a Nishikori consolidation.
This second set had become the exact opposite of the first. In the first, Wawrinka could not capitalize on his break points. But in the second, both man converted their opportunities. Wawrinka needed to consolidate his service game to tie the match at three. He failed to do so, and consequently gave Nishikori another converted break point.
Finally, for the first time, there was a consolidation. Even though he had to fight through another service game, Nishikori found a way to make it 5-2 to take a commanding lead in the match.
After fighting for many of his service games, the match winning game felt like a breeze. And it was. Nishikori hit a blistering shot up the line to make it 40-0 before wrapping it up on the very next point.
Next up
With this win, Nishikori is into his first final of the year. There, he will face either Milos Raonic or Grigor Dimitrov on Sunday afternoon.