 Five-time major champion Maria Sharapova made her return to the Grand Slam stage in the most sensational way possible Monday evening at the U.S. Open, knocking out number two seed Simona Halep, 6-4, 4-6, 6-3, in a blockbuster two-hour, 44-minute battle that delivered in every way possible.
Sharapova Secures Hour-Long Opening Set
After a tense first few games, it came as little surprise that Sharapova would be the one to draw first blood, relentlessly putting pressure on Halep point after point, even when under pressure. The Russian managed to dodge an early break point in a marathon third game that saw her squander a 40-0 lead before finally being able to hold, all before some monstrous returns in the next game were enough to secure her the early break after some entertaining exchanges from all over the court.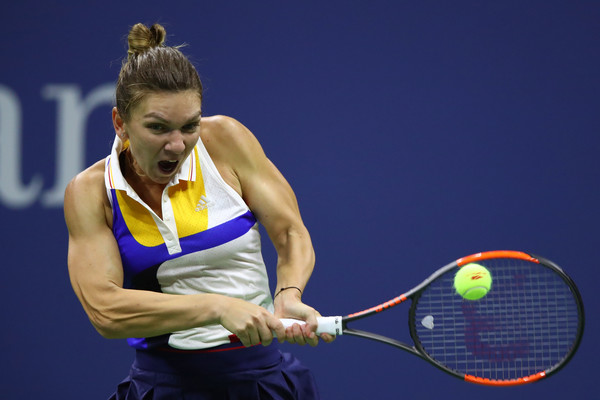 However, Halep would take advantage of a topsy-turvy following game from Sharapova to break straight back, showcasing the offensive side of her game that is so often overlooked by her awe-inspiring defence. A pair of breaks would be exchanged from there before it was Halep, once again, who was able to step in and take the initiative, holding to draw level at 4-all, ending a run of four consecutive service breaks in the process.
Facing her first real test of the match, Sharapova played as if she had never been away, continuing to aim for the corners to keep Halep on the run, and eventually, it paid off. After toughing out a much-needed service hold with the help of a wondrous backhand winner down the line, the former world number one proved she needed no second invitation to take the opening set in exactly an hour, doing so with yet another blistering inside-out forehand winner off the return.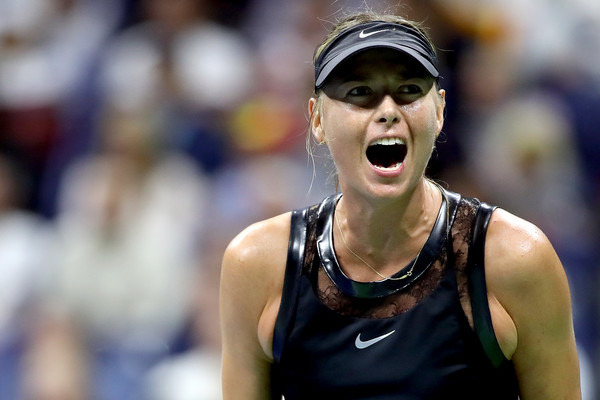 Halep Reels Off Five in a Row from 1-4 Down, Forces Decider
Continuing to ride this wave of momentum into the second, Sharapova continued to show glimpses of her old form as she followed up an early break with an even more impressive hold to take a daunting 4-1 lead, putting Halep in serious danger of an early exit.
But to her credit, the world number two refused to go down quietly, diverting to the use of a strategy built upon one strength that has pushed Sharapova to the brink time and again: her consistency. As she began to do something as simple as getting more depth on her shots, a flurry of errors began to fly off the racquet of Sharapova, thus rewarding Halep for her patience with the break back, but the Romanian didn't stop there.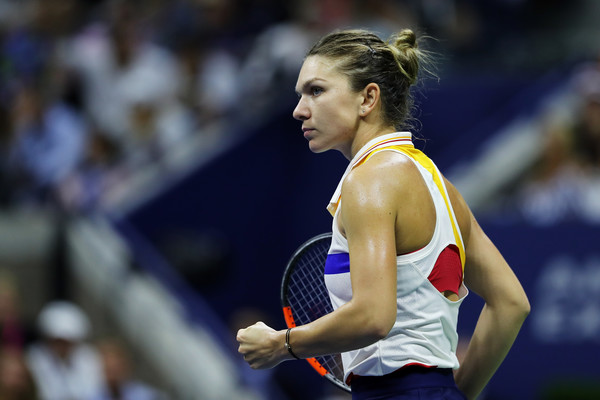 Continuing to take it to the former world number one, the Romanian was simply tired of being forced to play catch-up the entire match, taking matters into her own hands to secure a crucial break in the ninth game with the help of an untimely double fault from Sharapova on break point. Despite an astounding five break-point opportunities for her Russian counterpart, it was Halep who was able to rise to the occasion time and again before another wild return from Sharapova missed its mark, thus allowing her to close the set out at the first time of asking, 6-4.
Sharapova Completes Monumental Victory, Falls to Her Knees in Tears
Despite the disappointment of squandering such a sizeable lead, Sharapova would respond brilliantly to start the decider, finally managing to convert one of her 22 break points on the evening before toughing out a vital hold to grab a quick 3-0 lead.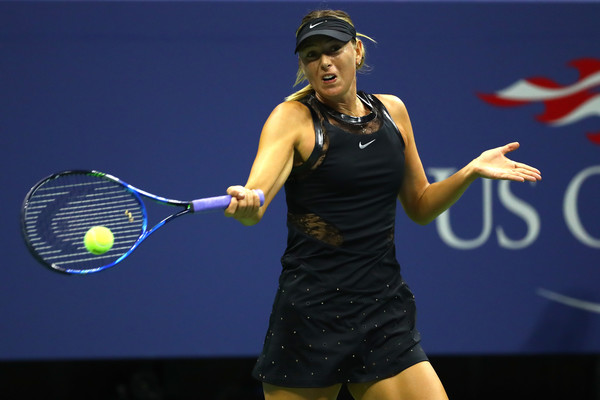 Halep did what she could to stay in touch with the Russian, stringing together a series of easy holds after getting broken, and even getting her fair share of chances to break the Sharapova serve, but it all proved to be in vain as the wild card secured her the spot in the second round with a dramatic three-set victory that left her in tears and in a complete state of disbelief.
"You never really know what you're going to feel until you win that match point and you can't control what's going to go through your mind," said a tearful Sharapova in her on-court interview with ESPN's Tom Rinaldi. "It's all worth it. You sometimes wonder why you put in all the work. And this is exactly why."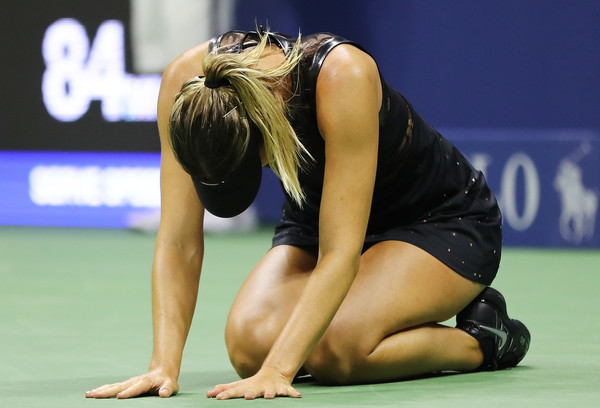 "[Simona and I] respect each other so much and I know when we both saw the draw, there was something extra for that. The hype was because of the quality of the matches we've played before. No matter what my record against her, it's always been tough."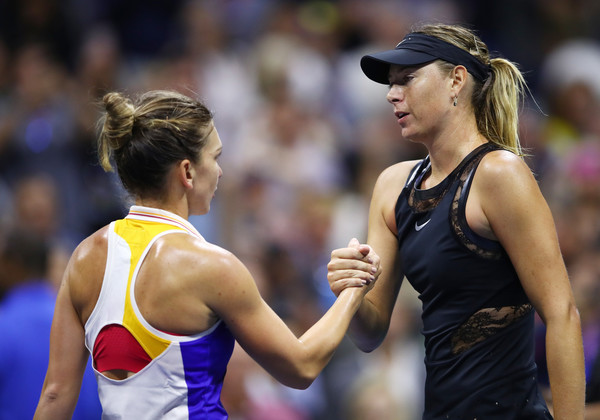 Sharapova's emotional victory also maintains three of her most talked about records coming into this match: she improves to 7-0 lifetime against Halep, 11-0 in first-round matches at the U.S. Open and of course, 18-0 lifetime in Arthur Ashe Stadium night matches, to which she responded when asked what it was about this atmosphere that brought out the best in her, "It's prime-time, baby!"
But perhaps the best moment of the night was Sharapova's proclamation at the end of her on-court interview: "Behind all these Swarovski crystals and little black dresses is a girl with a lot of grit, and she's not going anywhere."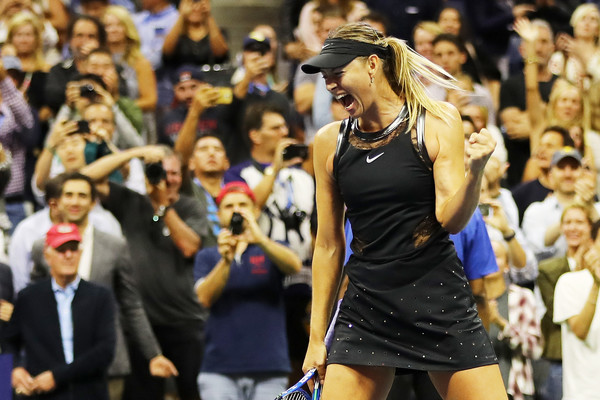 Stats Corner: Sharapova's Aggression the Difference in the End
When the women's draw first came out, all eyes went straight to this blockbuster first-round match, a rematch of the 2014 French Open final. Despite the lopsided head-to-head record, this rivalry has quickly evolved, in recent years, into one of the most entertaining to watch in the women's game, largely due to how well their games seem to match up against one another. From Sharapova's relentless first-strike hitting to Halep's brilliant counter-punching skills paired with her world-class defence, this match really had it all, but it was, once again, Sharapova's ferocity that prevailed in the end.
Off the ground, Sharapova hit four times more winners than Halep (60 to 15), but also ended with relatively the same number of unforced errors (64 to 14), clearly indicating that most of the match was on her racquet. Despite posing similar serving stats as far as winning percentages are concerned, it was that crucial break in the second game of the decider for Sharapova that made all the difference, despite it being just the fifth time that she managed to convert a break point on 22 opportunities—something she will desperately need to improve on as the tournament progresses.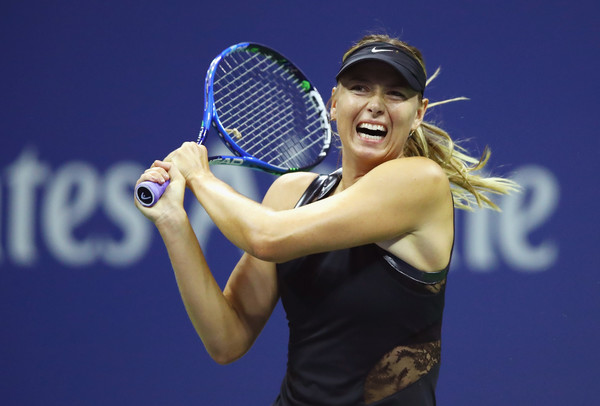 Next Up for Sharapova: Timea Babos
All eyes will be on Sharapova on Wednesday as she looks to back up her massive win over Halep against big-serving Hungarian Timea Babos, who edged out Switzerland's Viktorija Golubic in a three-set thriller of her own earlier in the day (7-5, 5-7, 7-5). Much to the surprise of Sharapova, this will be the pair's first meeting, something the Russian considers "rare" after more than 15 years on tour.