 Maria Sharapova made her comeback at the Australian Open, tournament that she conquered in 2008 with an impressive win over Tatjana Maria. Sharapova who missed last year's event due to a suspension played her opening match at Margaret Court Arena. Sharapova dominated most of the match with her powerful groundstrokes, achieving 22 winners over 7 from her opponent. The Russian only needed 80 minutes to book her spot in the second round after defeating Maria, 6-1, 6-4.
Sharapova gives out a tennis masterclass
Sharapova quickly established her dominance after a hold to love and then getting the early break. The German then was strike with confidence and claimed the break back before the Russian outpowered Maria with huge groundstrokes allowing her to retrieve the break and the lead. Back on serve, Sharapova stretched her lead to 4-1 as she continued blasting powerful groundstrokes.
By now, it seemed that Sharapova had overcome her little misstep as she didn't seem ready to let go of her lead. On the other side of the court, Maria didn't show any signs of improvement as she struggled with her serve which eventually would help Sharapova to get another break after the German hit two double faults in a row.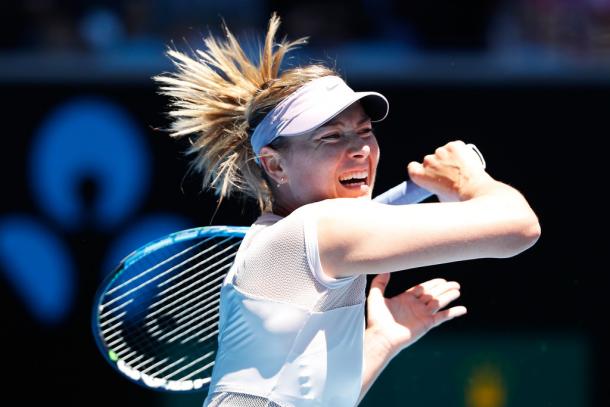 With a comfortable lead, Sharapova now had the pressure of closing out the set. The Russian didn't have an easy game of serve as she let a set point slip away, allowing Maria to force a deuce. However, the Russian stayed strong and displayed her power closing out the set with a forehand winner.
Sharapova races to the second round
In the second set, the Russian struggled to match the dominance she possessed in the first set as Maria started with a solid hold to love. Sharapova didn't yield her serve but the confidence of the German began to be more notorious even winning a 19 shot rally on her way to hold and lead 2-1. Sharapova then began to gather mistakes and she wasn't able to level up the scoreboard, losing her serve and extending Maria's advantage to 3-1.
The Russian then displayed her mental strength as she broke Maria straight away to be back on serve. Just like in the first set, Sharapova was able to leave the mistakes behind and put herself back into the set as she held to equalize the scoreboard to 3-3. Maria was forced to play her best defensive game, even at some point bringing Sharapova to the net but the Russian continued to dictate the match with her huge groundstrokes. Sharapova compelled Maria to cover all the court in an impressive rally that would help her get her second break point which eventually was granted after Maria hit a double fault.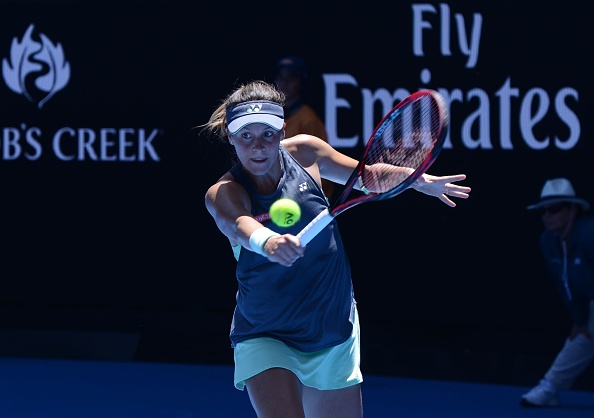 Back in the possession of the momentum, Sharapova managed to turn the match around now leading 4-3 and back on serve. The Russian barely had any problems to hold and lead 5-3. Now the pressure was on the German who had been struggled with her serve throughout the match and now depended on it to stay in the match. With the help of a few mistakes from Sharapova, Maria was able to hang on a bit longer and have a chance to break the Russian while she served for the match.
Sharapova began her game with two errors and put herself under a bit of pressure, but the former Australian Open champion didn't succumb to it and quickly brought herself a match point. Sharapova put an end to the match in style as she closed it out with an ace.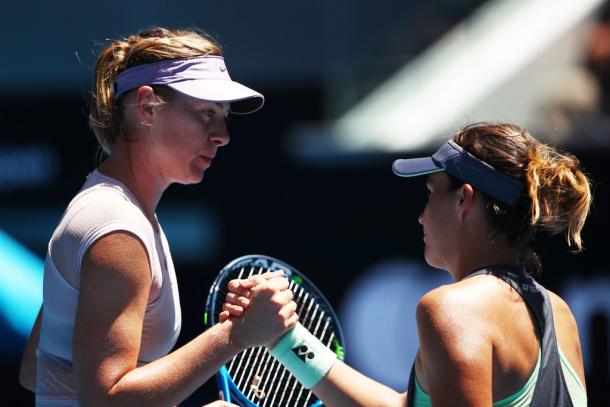 Sharapova happy to be back in Melbourne
Maria Sharapova returns to the Australian Open since 2016 when she failed a drug test at the tournament which led to a 15-month ban. However, the Russian and former world number one is trying to enjoy every second as she stated in her post-match interview.
"It's been a couple of years since I have been back here, so I wanted to enjoy every moment," said Sharapova. "It means a lot to me, I cherish these moments."
Currently ranked 48, Sharapova now awaits her next opponent. She will play either Anastasija Sevastova or Varvara Lepchenko in the second round.