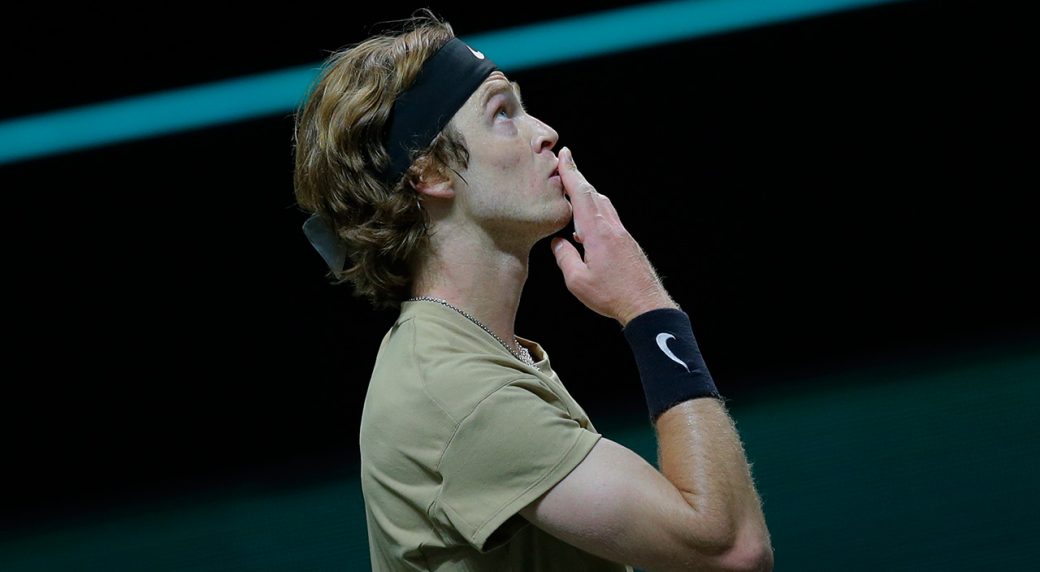 Andrey Rublev met with the media after defeating Marcos Giron 7-6 (1), 6-3 in the first round of the ABN AMRO World Tennis Tournament.
The Russian discussed a variety of subjects, including his attitude stepping on to the court, where he thinks he needs to get better and what's gotten him to a career-high in the rankings.
Russian on first-round victory
Rublev led off his press conference by talking about the performance of Giron, who was playing his third match of the week in Rotterdam and how he adjusted to the conditions.
"The first set was really tough. Marcos is playing through qualies. He already (got) used to the courts, the conditions, the balls. It's always tough to play against guys who have played a couple of matches before.
"In my case, I last played in Australia and rested for a week. It was my first match indoors and I was a bit tight. I wasn't feeling the ball. I'm happy in the end (that) I made it. We'll see what's gonna happen next."
Rublev talks about squaring off with Murray next
The Russian will face Andy Murray in the second round and he knows what challenges the 2009 Rotterdam champion poses.
"Andy is a true legend and I have a really good connection with him. I really like him as a person (and) as a player. It's gonna be fun. I really like Andy. He destroyed me once.
"I hope it's gonna be (a) great match. I hope we're gonna have great rallies, great fight. He has amazing defense. We'll see what's gonna happen. I'm really looking forward (to it). It's gonna be fun."
Rublev trying to maintain level mindset
Despite a career-high ranking of eighth in the world with 16 straight match wins in ATP World Tour 500 events, Rublev doesn't walk on court with the feeling that he's likely going to win.
"To be honest, I never walk on court with this feeling. From one side, it's good to have this feeling, but from the other side, I think it makes you a bit blind because sometimes things aren't gonna go your way.
"I always go on court with a feeling that I can lose today. All the players have a great level. We see unseeded players beat top-seeded players because he was feeling really well. I'm gonna fight, i'm gonna do my best and we'll see what happens."
Fourth seed on improving his overall game
While he has been one of the best players in the world since last year, Rublev isn't focusing on any specific targets, instead looking at where he can improve his own game.
"I just try to focus on myself, try to focus on the things that I need to improve. I still have a lot of space inside of me to improve in all aspects. There's a lot of work to do.
"I'm just trying to focus on myself to try to improve them little by little and in the end, if I improve them, I will show better tennis. If I show better tennis, results will be better.
"It's about everything. I have really great people around me that give me really great energy. We're seeing the same things, we're moving in the same way. When I practice, I always give my best. It's a little bit from one part, a little bit from another part and results start to get better."