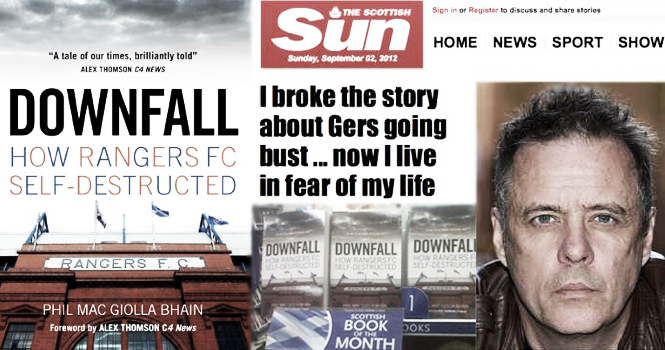 When the media closed down their eyes and their ears, he was there to write on the evidence. Phil Mac Giolla Bhain, a Scottish-born Irish journalist, was there to report on the Rangers financial situation until he decided to write a book about the whole story. "Downfall: how Rangers self-destructed" has been one of the main successes in the book stores for weeks. We interviewed him to have an inside view on his book, his work and his life.
Q: When did you start following football?
A: I was reared a Celtic supporter. I think my first match would have been when I was about eight years old with my maternal grandfather.
Q:How was your childhood as a football supporter, did you attend to matches, etc.?
A: Yes, I was lucky. I was introduced to my club in their golden era. This was the time when Celtic made history when they won the European Cup in Lisbon on May25th 1967. I was really fortunate to see world class players like Jimmy Johnstone and Bobby Murdoch.
Q: Why did you follow Celtic? What was your relationship with Rangers supporters did you or do you have any friends who support Rangers?
A: My family were Celtic supporters so it was natural for me to be the same.
Yes I had local friends who were Rangers supporters and work colleagues when I left school.
Where I live now there are no Rangers supporters that I would be in contact with. Donegal in Ireland, where I live, has strong connections to Celtic.
Q: Do you think that we can live in a future where both sets of fans can live together and have fun about the football and stop with violence?
A: Until the Scottish authorities come down hard on the Rangers racist sub culture that creates the vast majority of the trouble then Glasgow will continue to be a tense place. Equality and parity of esteem in Scottish society for people of Irish ethnicity is the solution. The racists of Rangers (not all RFC fans are like that) must be defeated. They are an embarrassing and dangerous reminder about what Scotland used to be like for generations of Irish immigrants.
Q: What do you think about Rangers chanting? And what about the fractions of Celtic supporters who sing about the IRA?
A: The interesting thing about Rangers fans, from a sociological point of view, is how few (if any) real football songs they have. The dominant themes are hatred of Catholics and Anti-Irish racism. Xenophobia is what defines them. In terms of numbers is a very significant minority and sometimes, within a stadium it can me most of them. In 2011 at the national stadium (Hampden Park) in Glasgow tens of thousands of Rangers fans sang the illegal "Famine song" and the "Billy Boys" (banned by UEFA in 2006). There was no action taken by the authorities. On the contrary they congratulated the atmosphere created by the fans!
On the Celtic side there is about one thousand (maximum) who regularly chant IRA slogans. I am on record as calling for this to stop. These songs have no place inside a football stadium. These songs are out of date, out of place, historically illiterate (especially when "doctored" with add ons), self -indulgent and offensive.
"It's interesting, from a sociological point of view,to see how few football songs Rangers have (...) The IRA songs have no place inside a football stadium"
Q: When did your story about Rangers financial crisis start? How did you become aware of this story?
A: I first wrote about Rangers' parent company (Murray International Holdings) being in serious financial trouble in January 2009. I had various sources that gave me information that told me what was happening from inside MIH and from within Rangers. In early 2011 I was then contacted by an excellently placed source who told me that the Ibrox club had major tax troubles with the possibility of an unpayable bill. I decided in early 2012 (before Rangers went into Administration) that the club would be liquidated and that I would write a book on this story.
Q: Why do you think David Murray felt so necessary to overspend on players in the 90s (less spending could have brought Rangers league titles as well...)?
A: Celtic's golden age inflicted two psychological wounds on Rangers. First the Parkhead club won 9 league championships in a row. However the big one happened on May 25th 1967. Celtic were champions of Europe. Rangers can never, ever claim that. Murray wanted to equal and better those achievements. In 1997 Rangers won their ninth league title in a row. The following year they failed to do ten in a row.
Then David Murray went after European glory. He brought in Dutch manager Dick Advocaat and gave him almost unlimited amounts of money-all of it borrowed. The Dutchman was allowed to, in effect, bankrupt Rangers. They club should have went insolvent in 2005. However at the last minute the club revalued their assets (stadium and training ground) and more money was borrowed. It postponed the inevitable. The banking crisis of late 2008 spelled the beginning of the end for Murray's Rangers. Advocaat failed to deliver European glory. Celtic remains the only club from Scotland to have won the European Cup. Rangers died from jealousy. It was self-inflicted.
Q: Why do you think the press failed to inform on Rangers' story until so late?
A: The mainmedia did not want to touch this story because it was bad news about Rangers. This might have led to a drop in their sales. Also there is the intimidation of reporters by Rangers fans. This is a major problem and an important cultural difference between both sets of supporters. The major sports reporters were too close, in my opinion, to the owner of Rangers David Murray. They depended on him for stories. He took them to dinner. They stayed at his house.
Q: Why do you think your book has had this success? The book has been on the top since the first day of its publication.
A: The book is a best seller. In the top ten books in the whole of the UK (Sunday Times Non-Fiction and The Guardian Non-fiction chart). I think because it is the first book on the subject to be published and it is from an author who has a reputation of being at the start of the story. However, it is for others to judge the book not me.
Q: If I were a Rangers fan, what would you recommend me to read your book? How would you convince me to take a look at it?
A: A Rangers fan you should read "Downfall" because it proves that the truth about the club's problems was out there three years ago. The book is about what the club did, what the mainmedia did not do and what the football authorities in Scotland tried to do to subvert sporting integrity and fairness. Rangers fans were persistently mis-informed by their club and by the media who did not look too hard into the story. I did look.
I wrote about the biggest scandal in British football. A ten year tax scam, the final bill to the British tax payers maybe over £94 Million. This cheating scheme may mean that most Rangers players were improperly registered with the football authorities because they had dual contracts. This matter is due to be considered, but it has been decided that there is a case to answer. Rangers' downfall happened because the people in charge of the club did not take good care of it. The owner over twenty years (David Murray) used the club as a vanity project. For his ego. He gambled the club away and all the time telling the fans everything was ok. If it was my club I would want to read the book by the journalist who was first onto the story.
"The book is about what the club did, what the mainmedia did not do and what the Scottish football authorities tried to do to subver sporting integrity and fairness"
Q: Do you think that your irony and mockery about Rangers economical woes might make your book look like an unobjective one (despite having lots of facts and truths in it)?
A: Rangers fans don't like the book because of the author. I am a Celtic supporter and I am glad that Rangers died. However, that does not take away from the fact that what I said would happen did happen. I was right and they know it although they are not big enough to admit it to me.
However, I am delighted that these problems have befallen them. I am sure the people who live in Barcelona, Pamplona, Seville and Valencia will understand my low opinion of many of the supporters of this club.
"Rangers fans don't like the book because of the author"
Q: Do you expect the Rangers support to be more critical about their club after reading your book?
A: Yes, the more intelligent ones. They were mis-informed by the people who owned and killed Rangers. Now the new club which is trading as Rangers owe it those fans to be honest with them.
Q: What do you think about the economic model Celtic are following now (buy cheap, sell big and have profits)? It has helped them to avoid economic problems, but Celtic's influence in European competitions has decreased since the Sevilla final against Porto in 2003.
A: Celtic are tightly financially controlled. There is a clear correlation between wage levels and success.
The Celtic team that reached the UEFA Cup Final in 2003 had highly paid stars and that was funded by borrowing. It was unsustainable. The death of Rangers is a good warning to any club who thinks they can live beyond their means.
Q: When did the Sun contact you to publish some of your book's chapters? Did they like the idea of publishing you? What do you thought after their late U-Turn? Some reputed journalists have defended your work and have received pelters from lots of people on Twitter, why?
A: The Sun contacted my publisher and wanted to serialise "Downfall". On the Sunday of the interview the newspaper was threatened by Rangers fans. The club's media people were also in touch with the newspaper to say that they would withdraw press accreditation if the serialisation went ahead.
Q: What's your opinion on social network's influence in journalism? It's a fast way to read info, but some tweets are pure lies and journalists can believe them in order to be the fastest to publish an "exclusive".
A: Social media and the rest of the digital revolution has turned traditional journalism on its head. "Downfall" is also the story of the victory of new media over old.
"Downfall is also the story of the victory of new media over old"
Q: It's a sensitive subject, but I read that you have received some death threats. Could you describe how this happened? What type of dangerous threat did you receive? Have you ever thought about leaving your work due to these threats? Did you have these troubles before, just, or after writing your book?
A: The first serious threat was in 2010. I reported it to the Irish police and they were great, very professional. I have discussed the situation with my family (I have three teenage children) and they support me in my work.
Q: The Irishmen suffered a lot when they emigrated abroad, and Celtic's foundation is (in part) a consequence of this suffering time, do you think the Irish are fully integrated now in the Scottish society?
A: Employment equality was achieved for the Irish ethnic group in Glasgow in 2001 (the Irish in New York reached this milestone in 1901). Young educated people in Scotland who are of Irish ethnicity who no longer "sit at the back of the bus". They demand to be treated with respect. Economic discrimination is a thing of the past (the recent past). Now the culture and the public agencies have to catch up. Scotland can still be a disrespectful place to people of Irish ethnicity. It is a slow process, but we are getting there. The victory over the "Famine song" in 2009 was significant. The triumph of Celtic over Rangers in the 125 year feud is, perhaps, a nice way to frame how the good guys won!