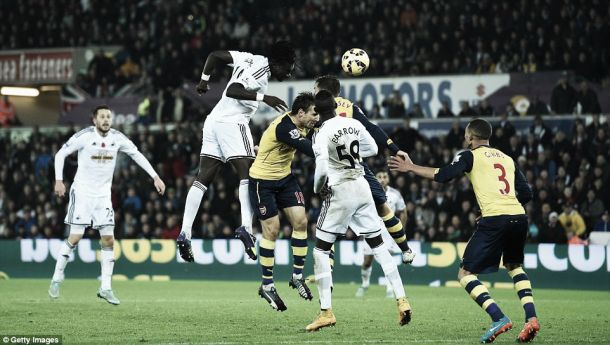 Following a 3-1 away victory over Hull City last Monday, Arséne Wenger's men will look to tighten their grip in the top four with an intriguing fixture at home against Welsh side Swansea City, who came back from a one-goal deficit to beat the Gunners 2-1 at the Liberty earlier on in the season.
Swansea recorded a solid win of their own last week, a 2-0 victory over Stoke City at home, and they are only four points behind Southampton, who lost 2-0 against Leicester City in one of Saturday's 3pm kick-off's. Garry Monk's men will have one eye on the possibility of still qualifying for the UEFA Europa League places, as the season is gradually drawing to a close with three matches left to play for the south Wales outfit. Read below, as I conduct a Q&A with avid Swansea fan Ashley Harris ahead of Monday's fixture:
Q: Garry Monk's done a splendid job at the helm of the club over the past year or so, but why does he not get the credit he actually deserves?
AH: Garry Monk has been nothing short of superb since taking over as manager, why he hasn't been given the recognition he deserves is something I don't understand; though, I can only see ourselves growing under him so there's no doubt he'll be given credit soon enough.
Q: Following Wilfried Bony's £30million switch to Manchester City in the winter window, how do you think they will spend the transfer fee, to replace his void and re-strengthen in other areas? Find another talisman? Improve all-round?
AH: For a club like ours, £30m is a ridiculous amount of money which we can do a lot with. I expect about £10m-£15m of it will go towards a striker; someone like Aleksandar Mitrovic or Bas Dost would be incredible. We would then use a large amount of money on different positions too, such as a backup GK, a LB and another winger.
Q: What are your thoughts on Arsenal's 2014-15 season?
AH: Arsenal are one of the only clubs in the Premier League I actually admire. It's a shame they were not consistently brilliant throughout the whole season, but their recent form has been incredible. Chelsea are lucky Arsenal didn't start the season like they're finishing it.
Q: With just a few games left of the season, who would be your Swansea Player of the Year?
AH: We've had a great season, and certain players have been outstanding. There are three that stand out above the rest though - Ashley Williams, Ki Sung-Yueng and, I'm sure you'll be delighted to know, Lukasz Fabianski.
Q: Thoughts on your lack of striking options up-top? Gomis has been inconsistent, Michu's on-loan at Napoli and his future seems uncertain...
AH: Our striking options are quite worrying, especially considering we're faced with the prospect of having no fit forwards to choose from for the game at the Emirates. Bafetimbi Gomis has done more than okay since January, but I believe we would be right up there with Spurs and Southampton had Bony stayed. Also, with Michu, I think he's a finished player. As much as I would love a full fit Michu back in our squad I can't see him overcoming these constant injuries.
Q: Swansea did a valiant job in the Europa League last time out, and it seems as though they are targeting a top seven finish again in the closing stages of this campaign. What will they have to do differently, to be successful next time around in Europe?
AH: The Europa League was an unforgettable experience, but it really hampered our form in the Premier League; hence why I believe we would have to have greater squad depth then before if we wish to succeed in it. Whilst a too seven finish would be great, we are more than happy with eighth.
Q: What are your thoughts on Jonjo Shelvey? Hot-head or a mis-understood talent?
AH: Non-Swansea fans can't seem to make their mind up on Jonjo Shelvey, but it's nothing but a pleasure watching him play. He has matured a great deal this season, and seems to have cut out his controversial actions. While there is still plenty of room for improvement, I can only see big things happening for him.
Q: You beat The Gunners last time out, but the Gunners will be eager to bounce back from their 2-1 defeat back at the Liberty, this time in-front of their home fans. What do Garry Monk's men need to do, to get a positive result in north London?
AH: I've been dreading this game for a while. While we've proved more then once that we're capable of beating Arsenal, Monday's game will be the toughest game yet. Players such as Alexis Sanchez, Mesut Ozil and Francis Coquelin have been in great form so we will have to be at our absolute best to get anything from the game.
Q: Alexis Sanchez scored a brace on Monday night against Hull and has undoubtedly been one of their best players this season - how will the Swans' backline deal with him, the likes of Federico Fernandez and Ashley Williams?
AH: Alexis has been a joy to watch all season, there's not many players like him in this league so I can only imagine how privileged Arsenal fans must feel being able to watch him week in, week out. Federico Fernandez and Ashley Williams have created the best centre-back partnership I think I have ever seen at the club, but of course they will need to be at their best to stop him. The same goes for Angel Rangel and Neil Taylor, our whole defence need to work together to try and stop him otherwise he will do some serious damage.
Q: Lastly, what are your predictions for the game? Probable starting line-up from both sides?
AH: My heart says a draw, my head says a comfortable Arsenal win. Going into this game potentially without a striker is a big blow, so any point we manage to get would be a massive bonus. Predicted line-ups: ARSENAL - Ospina; Bellerin, Koscielny, Gabriel, Monreal; Coquelin, Cazorla, Ramsey (or Wilshere); Ozil, Giroud and Sanchez. SWANSEA - Fabianski; Rangel, Fernandez, Williams, Taylor; Cork, Shelvey; Sigurdsson; Dyer, Emnes (or Gomis if fit), Montero.
---
Many thanks to Ashley for answering the questions! If you want more from him, make sure to follow him on Twitter, here. Arsenal - Swansea is LIVE on Monday evening, with kick-off scheduled for an 8pm start. Stay tuned to the latest on VAVEL, as we have all of the pre-match build-up, match preview, live commentary as well as match report and post-match comments from the Emirates in what promises to be a good fixture.