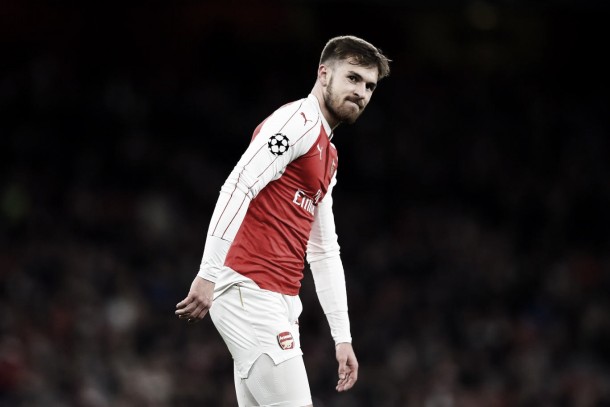 After a long absence through injury Aaron Ramsey is set to make an appearance tomorrow in Arsenal's game against Norwich.
After sustaining a hamstring injury against Bayern Munich, leaving him out of action for around a month, Ramsey's return could be vital to Arsenal's form at this stage of the season. With the build up of injuries recently in both midfield and attack, Ramsey's ability to play at the right side of the midfield may be useful once again with both Theo Walcott still on the injury list and Oxlade-Chamberlain only coming back from injury.
Of course Ramsey is a natural central midfielder, however it seems unlikely that Arsene Wenger will use him in that role after yesterday's press conference in which he stated that "Ramsey is more an offensive player, he is not a tactical, defensive player" and that he would "use him there [centrally] when the game demands" but then questioned whether he and Cazrola were compatible. Seeming to prefer Cazorla at the current time, once injured players have returned Ramsey will be looking to play in his natural role once again.
Position
With Ramsey seemingly playing out right yet again, questions may arise of why Arsenal play him out wide, as they did before at many points of both this and last season. Ramsey himself has often mentioned his own desire to play in his natural position but he provides much needed balance to what is, overall, an attacking minded midfield with his box-to-box style of play, capable of both attacking and defending in the right wing position.
A breath of fresh air?
Perhaps not seen as a classic embodiment of a winger, Ramsey brings something completely different to the table when played on the wing. A surprise for any team's full-backs, moving more centrally and allowing Hector Bellerín the freedom to utilize his pace while providing pinpoint passes is something that gives Arsenal a unique style to impose on a game.
Ramsey was used in a more defensively minded central role in pre-season and his versatility is key to the squad, but it seems unlikely that he will make a return here with the manager believing that the many attributes he possesses are wasted in the role. The most likely midfield pairing for Arsenal today is of course Flamini and Cazorla after Coquelin's devastating injury last week.
Fans of Arsenal should welcome Ramsey back to the side with open arms, rather than worrying about which position he is playing. A valuable asset to the team no matter where he is playing, a midfielder with an eye for goal and an abundance of determination could be exactly what is needed to revitalize lost form for Arsenal.
After struggling at times without him, his return could signal a return to form for an Arsenal side looking to reach first place in the Premier League tomorrow afternoon against Norwich. The last time Arsenal played at Carrow Road, Aaron Ramsey scored one of his best goals in what was a magnificent season for him. Perhaps his return will be just as memorable.