 Arsenal travel to Athens to take on Olympiakos in their final group stage game of the Champions League, needing a victory of two goals or more to go through.
Injuries could cost Arsenal
The Gunners go into this game with a depleted squad, but have not added to that list, which is the silver lining to that very dark cloud.
Arsenal will be without Santi Cazorla, Francis Coquelin and Alexis Sanchez from the first team, with Coquelin arguably being the biggest loss from the first team due to how Olympiakos play. The hosts usually set up quite defensively when they play, and there is no reason why they shouldn't tonight, as a draw will be enough to see them through.
Whilst they set up defensively, there attacking style relies heavily on their ability to counter attack with pace down the wings, and giving the ball to their front man Brown Ideye, who was rested at the weekend to keep him fresh for this clash. This style of play makes the defensive midfield role vital, not only in providing their opponents with another man at the back, but also so the play can be read and cut out before it turns into a threat, something which Coquelin was excellent at.
The most likely man to fill that role will be Mathieu Flamini, who, whilst technically a defensive midfielder, likes to get himself forward to help out the attack, which leaves Arsenal vulnerable at the back. Hopefully the Frenchman will have learned from Coquelin and sit back.
Gunners don't have a great record in Greece
If Arsenal's injuries didn't make for grim enough reading, then their recent form in Greece does sadly as they have not won any of their last five games in the country, drawing one and losing four.
There is, however. a stigma attached to that. Three of those results were reflective of an Arsenal team who had already qualified each time in the Champions League, meaning Arsene Wenger was resting a lot of his key players. In fact, out of the team that started one of those games, the 3-1 defeat in the 2011-12 season, only three of those players remain at the club - Coquelin, Alex Oxlade-Chamberlain and Tomas Rosicky.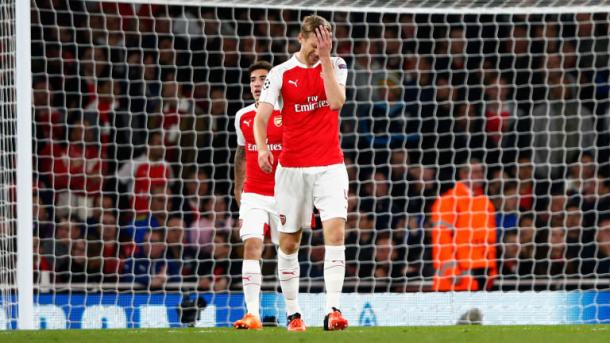 Arsenal will be put to the test on Wednesday as Olympiakos look to do the double over them in the group. (Sky Sports)
This time, Arsenal have not qualified and this is a vital game where they can put down a marker not just for the Champions League, but also for the Premier League, and Wenger's team choice should be representative of this.
The last time Arsenal and Olympiakos met - at the Emirates this season - Arsenal were beaten 3-2, but through a silly mistake by David Ospina, which put the visitors 2-1 up, and then thanks to some absolutely woeful defending right after Alexis's second, putting the Greek champions back in front. Hopefully neither of these mistakes will be repeated tonight.
Olympiakos will be looking to get a similar result out of tonights game, as they are looking to reach the last 16 stage for the second time in three seasons, though a draw will be enough.
Arsenal, on the other hand, need to win by a two-goal margin to reach the last 16 for the 17th season in a row and no Gunners' side wants to be the team that breaks that record.