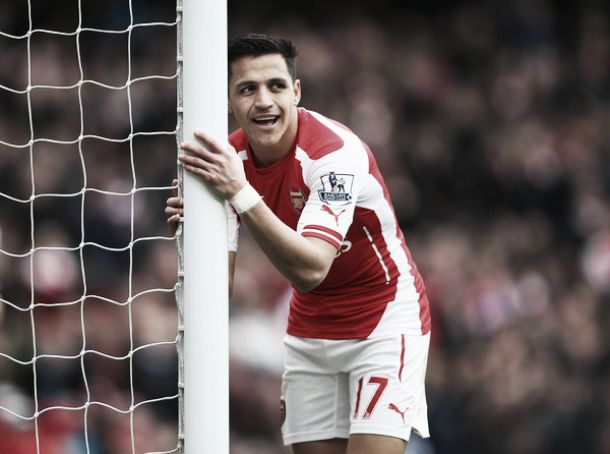 Arsenal manager, Arsene Wenger, has preferred to buy players from the Britain and central Europe, namely France, with players like Ramsey, Henry, Bergkamp and Welbeck being case in point. South American players have not been commonplace in historical Arsenal sides and of the Wenger era, with only a few names being of the standout variety in terms of their quality. With Arsenal potentially looking at signing Juventus and Chilean superstar Arturo Vidal, which South American players have been the best to play for Arsenal?
Alexis Sanchez:
In only his first season with the club, Chilean Sanchez has firmly placed himself as a fan favourite with the Arsenal faithful and was even voted Arsenal player of the season.
The forward signed from Barcelona for a fee in the region of £35 million, and lit up the Premier League in his debut season in the competition, scoring 16 goals and recording 8 assists in 35 league matches. In 52 matches with the Gunners in all competitions, Sanchez scored 25 goals and recorded 12 assists, with memorable goals coming in the FA Cup final victory against Aston Villa, in the Champions League qualifying rounds to secure Arsenal's place in the group stages against Besiktas, and against Manchester City in a 2-2 draw at the Emirates.
Quick, tenacious, strong, deadly and selfless are but a selection of the words that can be used to describe Alexis Sanchez and the player has a work ethic and versatility that pushes him into the category of world class. Able to play anywhere on the flank, as a number 10, as a number nine, it stands to be seen what heights Sanchez will hit in his Arsenal career. If his opening season can be used as a barometer, then Sanchez could be a player that goes down in Arsenal folklore.
Gilberto Silva:
It was the Brazilian's performances with his country in their victorious 2002 World Cup campaign that led Arsenal to sign Gilberto for £4.5 million. A relatively unknown name prior to the international competition, Gilberto's performances led to him being called one of the best defensive midfielders in the world as he played all seven games in the World Cup and was described as the platform from which the attacking talents of Ronaldo and Rivaldo could perform. Wenger saw that ability and saw a place for Gilberto in his team, alongside Patrick Vieira in midfield.
In his first season with the club, Gilberto played 51 times as Arsenal won the FA Cup but it was his second season that ensured the Brazilian's name in Arsenal history as part of the team that ended up going unbeaten for the entirety of the season in 2003-2004. Gilberto played 32 league matches in that campaign and, again, was seen as the defensive platform in midfield from which the attacking players could be allowed to do what it was necessary to do in order to win games. It is no coincidence that a seven month injury in the 2004-2005 season, resulting in only 13 league appearances for Gilberto that particular campaign, was a season in which Chelsea won the Premier League.
Having been phased out of the team in 2007-2008 as Wenger preferred French midfielder Mathieu Flamini, Gilberto left the Gunners for Greek side Panathinaikos, having scored 24 goals in 237 appearances for the Gunners in all competitions in the six seasons he was an Arsenal player. A player who would not grab headlines for the industrious work he would do in midfield, Wenger's acquisition of Gilberto for only £4.5 million proved to be one of his most astute.
Sylvinho:
The Brazilian left-back was signed from Corinthians in 1999 and became the first footballer from the famous footballing nation of Brazil to play for the North London side. An attacking full-back, Sylvinho time at Arsenal was short but sweet as, in his two-year spell with the club, he became a fan favourite due to his penchant for scoring long-ranged efforts, with memorable ones coming against Middlesbrough, Charlton Athletic and Chelsea.
In his first season with Arsenal, Sylvinho played 31 times in the league, scoring two goals with 40 games and four goals in all competitions. His second, and final season, was very slightly less successful as the Brazilian full-back began to get replaced in the team by Ashley Cole but Sylvinho still managed 24 games in the league with one goal and was even voted into the Premier League Team of the Season. Ultimately, Sylvinho's second season resulted in 35 games and three goals in all competitions before the Brazilian was sold to Celta Vigo. From Celta Vigo, Sylvinho was then bought for €2 million by Barcelona.