 Just a normal guy from Germany's Black Forest, or so he said on his first day on Merseyside exactly 77 days ago.
The honest truth, as everyone including the man himself is aware of, is far from different. Jürgen Norbert Klopp, born and bred in the small town of Glatten in the district of Freudenstadt in Baden-Württemberg and his steady rise to acclaim has been absolutely anything but normal.
The third child, and first son, of his parents - Jürgen was a more than welcome addition to the family and especially so from the perspective of his father, Norbert, who had desperately wanted a boy.
And it is his father - "a football maniac" - whom Jürgen Klopp has regularly lauded for pushing him to become the ultracompetitive, never-say-die character he is today, and it's no surprise.
Ruthless was the word he aptly used to describe his father whilst talking to Die Zeit in 2009. The type of man who would regularly criticise his son and very seldom dish out praise, Norbert's style brought Jürgen up to be meticulous and drive for nothing but the best in every walk of life.
Small beginnings and a rapid rise
Klopp's love affair with football - something that makes him exactly so popular with the fervour supporters of the clubs he has managed throughout his career - began at an early age, inevitably inspired by his father's love for the game.
It was clear from his early days that Jürgen, who quickly became a diehard VfB Stuttgart fan, had something about him. Klopp's future clearly lay on the football pitch rather than any other career path, a reality he has never been one to shy away from.
But that's not to say that his rise through the amateur ranks and up to his first professional contract, which came in 1989, was a simple one.
In order to earn his keep, Klopp maintained a number of part-time jobs - including working at a local video rental store in one job and loading heavy items onto lorries in another - all before catching the attentions of 1. FSV Mainz 05 manager Robert Jung.
The play-off final matches between RW Frankfurt, Klopp's team at the time, and Mainz as they fought for promotion to the 2. Bundesliga saw Klopp's application and commitment take centre stage.
He landed his first contract at Mainz later that same summer, finally becoming a senior professional footballer.
His move to the banks of the river Rhine and to a traditional carnival town, saw the birth of a relationship which would span 11 years, two different playing positions and 325 second-division appearances.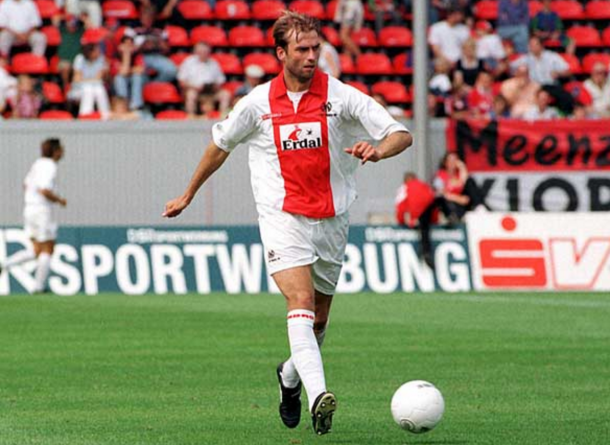 Though he was never to play in the top-flight for Mainz, from 1990 to 2001, his return of 56 goals - despite switching from striker to defender during his career - set a new club record.
It was no surprise then, that Klopp quickly transformed into a fans' favourite. Whilst his technical skills were limited, as the man has admitted himself, it was his attitude, commitment and passion that endeared him to supporters and led him to becoming an intelligent, hard-working, no-nonsense defender after starting out as a striker.
But Klopp was always destined for more than just a memorable playing career. As a player, he would closely study the methods of his manager on the training field and eventually decided that management was the job for him in his post-playing years.
And so, Klopp committed to travelling twice a week to Cologne, just shy of 120 miles away, to learn under the legendary Erich Rutemoller at the German Sports Academy - pursuing the dream of earning a Football Coaching Licence, the highest coaching qualification available in the country.
From player to manager - Klopp's sudden step-up
Klopp's glittering managerial career began at the age of 33, in February of 2001. Embroiled in a second division relegation battle, Mainz boss Eckhard Krautzun was given the sack just two days before an important away game - opening the door for Klopp to take his first job as a manager.
It was decided in an emergency summit between the senior players and the backroom staff that Klopp should become the club's new boss, having always demonstrated his ability to be not just a leading figure, but an excellent tactician, throughout his playing days.
By this time, it had always been expected that Klopp would become the manager of Mainz, but not at such an early age. This was a huge decision for the club's higher management to take - but they were forced into the decision due to the importance of the coming fixture and their desperation to avoid relegation to the third tier.
Klopp's appointment was met with celebration by the club's supporters, the players and everyone else involved with Die Nullfünfer and their excitable reaction took very little time to be justified. With 12 games remaining to save their season, Klopp won six of their first seven and saved themselves from demotion with one game to spare. Not a bad return after just his first few months of management.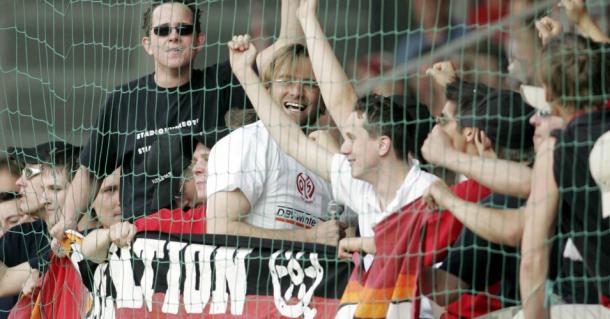 It was the start of what was to be a sensational spell with the club for Jürgen. The next two years, only last day shenanigans prevented them from being promoted to the top-flight - with the players fully embracing Klopp's pressing and counter-attacking philosophies, which emphasised a highly-energetic style-of-play that carefully relied upon the finer details in order to overawe their opponents.
In his second season as Mainz manager, having been the pace-setters from the very first match-day, his team took just two points from their final three games when as little as three would have secured them promotion. It was a devastating blow after such an incredible season, but it would be wrong to assume that the experience didn't strengthen the manager, the players and the club altogether.
The next year, similar disappointment followed, losing out because of just one goal - having gone into the final match of the season needing to trump Eintracht Frankfurt's superior goal difference. They did their bit, winning 4-1, but Frankfurt scored late goals to consolidate their position and once again deny 'Kloppo' and Mainz. Again, it galvanised them and only encouraged them to succeed further - even though there were plenty of heads hanging low in the changing rooms after the final day.
Finally, in 2004, the boss guided Mainz to a first-ever promotion in the club's history at the third attempt. Back-to-back heartbreaks were washed away by the joy and success of 2003-04, a campaign driven by the optimism and work ethic of Klopp - who had promised 10,000 supporters at the end of the previous season that they would go again. And go again they did, another dramatic year this time ending on a positive note - Karlsruher SC's defeat of Alemannia Aachen, who had been two points ahead of Mainz by the final game, seeing them leapfrog into third to secure promotion.
But despite quite literally drinking in all of the celebrations with the club's supporters after their success, Klopp was still determined to strive for even more. Despite the smallest budget and the smallest stadium in the Bundesliga, they avoided relegation for two successive seasons - finishing 11th despite facing up against better-equipped teams. They even qualified for the UEFA Cup in 2005-06, though they were unable to get past the first-round as they fell to eventual champions Sevilla.
Unfortunately, the success was not to last and Mainz were demoted in 2007 - just three points adrift of safety. There was more disappointment the following year as they failed to bounce back, finishing fourth in the second division by two points. By that time, Klopp's departure had long been announced - he was to end an 18-year affiliation with the club and move up a level. By this time, it was clear Klopp was destined for bigger and better things - even as much as he adored Mainz.
Realising the Dortmund dream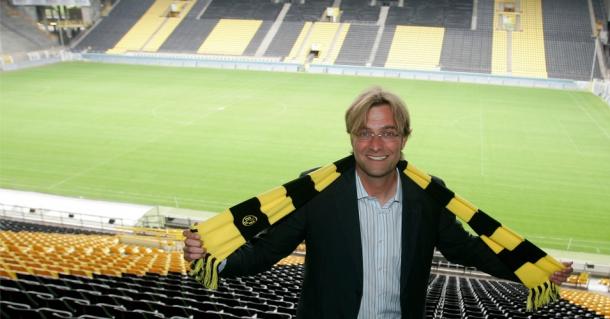 The next challenge for Klopp was the one in which he really made his name and earned a reputation for being one of the best in the game. Borussia Dortmund were one of a number of clubs that came calling, but it was they who swayed Klopp with the task of transforming such a huge club back to its fortunes, even financial giants such as Bayern Munich had shown interest in him.
A long-standing dream, Klopp jumped at the chance to manage BVB - regardless of the fact they had finished as low as 13th the season before - for this was the job that he would have taken over any other.
It was a match made in heaven. He turned the club around and in only his first season, lifted them to a sixth-placed finish - only being denied a European spot on the final day of the campaign by Borussia Mönchengladbach.
By instilling the same philosophies and qualities which he stressed at Mainz, Dortmund began a stunning rise. Having nearly gone bankrupt in 2005, it was barely believable, but the following year, they were back in the Europe after finishing fifth. Again and again, Dortmund continued to demonstrate their improvements despite having one of the youngest squads in the league - and though a heavy metal man himself, Klopp was the orchestrator of what was to become one of the most finely-tuned squads around.
Backed by Peter Krawietz and Željko Buvač, the chief scout come video analyst, and assistant manager, during Klopp's time at Mainz before following him to Dortmund, and an incredibly talented young team which was in turn supported by the club's fervent fanbase, Jürgen had stumbled across all the perfect ingredients for success. And he mixed them up perfectly in 2010-11 season - in a year that will never, ever be forgotten by the famous Yellow Wall.
A run which brought 14 wins from 15 games in the first-half of the season was the catalyst for talk of a title charge, before they managed to maintain similarly superb form after Christmas. By the end of the season, Dortmund fully deserved their seventh Bundesliga title - and their first since 2001 - because of how brilliantly and excitingly Klopp had managed to get the youngest ever side to win the league to play. Die Borussen wrapped things up on matchday 32 - beating Nürnberg as rivals Bayer Leverkusen fell to FC Köln. Fast forward a few weeks and 400,000 piled onto the streets of Dortmund to show their support for Klopp and his charges - a day that, no doubt, he will remember well.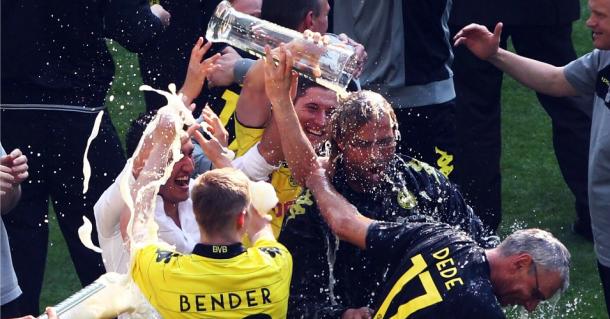 Despite being expected to fall short in defence of the title the next season, Dortmund and Klopp continued to defy the odds. After losing three of their first six league games, they proved unstoppable for all of their opponents from there on in. They went unbeaten for 26 games, winning 21 and scoring an awe-inspiring 73 goals. 10 memorable days in April sealed it, with wins over title rivals Bayern, Revierderby rivals Schalke and Gladbach sealing back-to-back triumphs.
Having broken records with an 81-points finish, sealing the title three games before the end of the season, Dortmund went on to break another record - winning their first league and cup double with an emphatic 5-2 victory over fierce rivals Bayern Munich in Berlin. This was Dortmund at their domestic best and Klopp was the very beating heart of their success.
Next up, the challenge was to conquer Europe. After a disappointing campaign in the year that they had won the double, dropping out in the group stages after a fourth-placed finish, Klopp wanted to prove Dortmund were a continental threat, not just a big player on the German footballing stage.
Though the all-conquering Bayern would usurp them in the Bundesliga, they could take nothing away from their incredible Champions League run. They topped a group containing La Liga champions Real Madrid, Premier League winners Manchester City and reigning Eredivise champions AFC Ajax. Regardless, Dortmund topped it with four wins and two draws.
In the next round, they bounced back from a 2-0 first-leg defeat away at Shakhtar Donetsk to win the second-leg 3-0 and progress, before repeating similar heroics against Malaga in the quarter-finals. They trailed 2-1 with three minutes to go in the second-leg at the Westfalenstadion, before 91st and 93rd minute goals reversed the game and sent Klopp on a mad dash down the touch-line before jumping into the air in delight.
Into the final four they went. There, they met again with Madrid for the second time. Despite coming up against one of the most talented groups of players in Europe, led by Jose Mourinho - heralded as one of the best managers in the business, Dortmund thrashed them 4-1 on home soil in the first meeting - Robert Lewandowski stealing the spotlight with all four goals.
Despite a second-leg defeat, Dortmund held on to their aggregate lead to book a meeting with rivals Bayern at Wembley Stadium in May 2013. Ultimately, they lost 2-1 after Arjen Robben's 89th-minute strike - but it was their run, and the inimitable effect it had on neutrals across the globe, which sparked the imagination and proved that Dortmund were a force to be feared.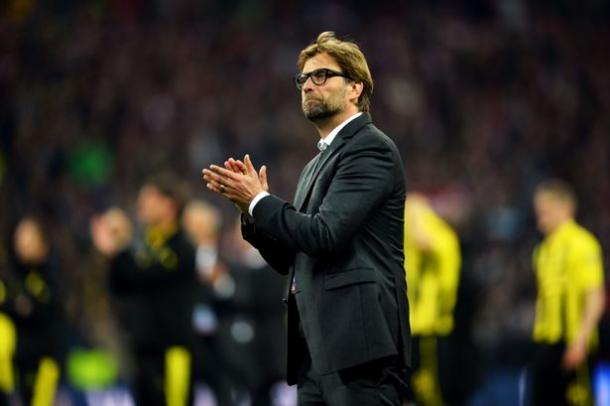 The final two years of his Dortmund reign were unfortunately less successful. 2013-14 saw them come second, 19 points before Bayern, in the league and lost to the same opponents in the cup final - as Real Madrid avenged their humiliation to dump BVB out of Europe at the quarter-final stage.
As if that wasn't enough, Klopp continued to have his best assets stripped from him. Lewandowski left for Bayern just as Mario Götze had done the summer before. It all had a snowball effect in 2014-15, a year which was to be Klopp's final with the club.
After winning the DFL-Supercup, Dortmund struggled in the league. Of their 17 games before the Christmas break, they won just three - losing 10. It was completely out of character for a man who had catapulted Dortmund to heights beyond imagination, but though the world viewed them as a club in crisis - the supporters who had been through all that and worse in the years before Klopp stayed patient and knew he could turn it around.
He did, after they resumed their season at the end of January, they went on to lose only four games of 17 - winning an improved nine and lifting themselves to a more respectable seventh-place and Europa League qualification.
And so it came to the day which Klopp had to say another emotional goodbye. May 23, 2015, saw Dortmund overcome SV Werder Bremen in Klopp's final afternoon in front of the Yellow Wall. Again, Klopp was reduced to tears as the supporters serenaded him whilst a video message played on the big screen in the stadium.
Sadly, his final ever game, the DFB-Pokal final against VfL Wolfsburg was not the perfect farewell that the boss, and everyone else, may have hoped for it to be - as they lost 3-1 and brought an underwhelming end to a seven-year spell which had heralded 179 wins from 318 games, five pieces of silverware and an abundance of memories.
What lay ahead was a welcome break. A time to reflect, to sit back and rest after the exhaustion which inevitably ensued from the intensity and enthusiasm with which he had led Dortmund from 2008 and 2015. This was a goodbye to his beloved Dortmund, but the footballing world knew he would be back when the time was right.
Reds come calling - a new love affair?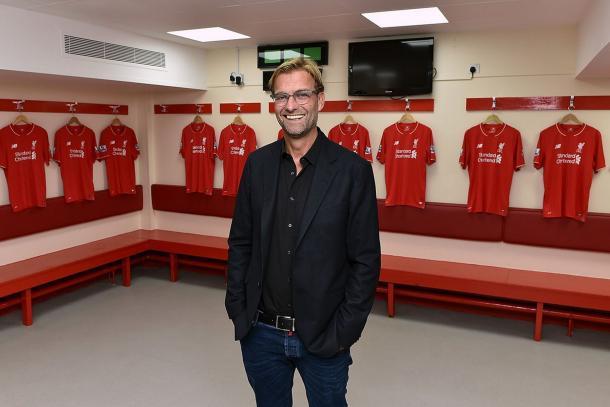 On 8 October 2015, Klopp's next destination was officially confirmed. Liverpool Football Club was to be his next job after a four month break replenished his appetite for the beautiful game.
It was almost as if destiny had guided him to Anfield. On Klopp's last game for Mainz, away at St. Pauli, the supporters sang You'll Never Walk Alone as he sat on the turf and soaked in the emotion and feeling of the supporters so devastated to see him leave.
In his seven successful years at Dortmund, You'll Never Walk Alone was, and still is, regularly sung by the the impassioned fanbase and the south terrace - a free-standing grandstand of 25,000 fans that creates an intimidating and absorbing atmosphere that people the world over want to experience.
But it is on the River Mersey where You'll Never Walk Alone is arguably most famous. It began back in the days where the Kop could hold 30,000 fans in one of Europe's largest single-tiered stands, when a November afternoon in the 1960s saw the supporters burst into a rendition of Gerry Marsden, leader of the British Merseybeat band Gerry and the Pacemakers, and his song You'll Never Walk Alone.
From then on, it has been played at every home game and continues to receive a tremendous reception from the home crowd. Unlike other clubs, for Liverpool, YNWA summises the pride, pain and passion which the city has felt. It is not just a pre-match ritual, but a battle cry - one which Klopp will be desperate to hear at its heartfelt best over his years as manager.
But it would be wrong to assume that You'll Never Walk Alone is not the only thing linking Jürgen Klopp and his previous managerial jobs, for there are many similarities between the three clubs which he has managed.
Fast forward a few months and the only word for Klopp's Anfield reign so far can be frantic. It has had ebbs and flows, but the hope is that the immense success he enjoyed in his homeland can be replicated with Liverpool - another sleeping giant in desperate need of reawakening.
There have been as many downs as ups thus far, but Klopp has the tools to get the Reds back to their consistent best. Whilst the English top-flight does not afford a festive break to sit back and analyse the first few months of the season, like in Germany, you can bet that Klopp will be spending most of his time over the Christmas period doing what he usually does. Scrutinising over footage of his side's next opponents as well as looking at the performances of his own team. Looking at what went wrong, what went right, where improvements can be made, strengths, weaknesses. Just about everything his eagle eyes can pick out. Everything in order to improve, to take a step forward and move closer towards that end goal.
The peaks and troughs of his time, albeit short, on Merseyside have given us a glimpse of what to expect from his tenure, but also a reminder of the sheer size of the job that the German has taken on with the Reds.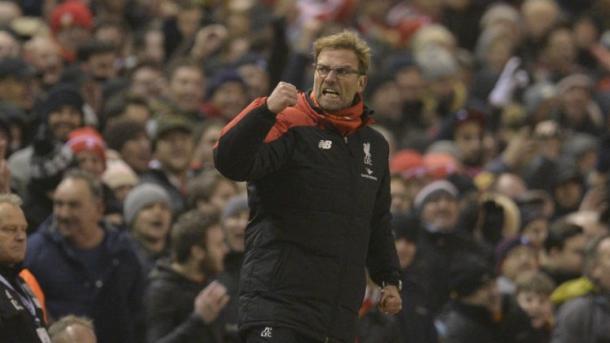 Performances against Manchester City, Chelsea and Southampton have demonstrated the effect which Klopp can, and has, had on the players already at the club - but the real excitement comes in thinking about the job he can do when he brings in his own players and begins to shape the side to his liking.
Whilst this side are capable of success in their own merit, there is no debating that the current Liverpool team will need more than a few additions, and departures, if they are to reach the goal that Klopp set out on his introduction to English football - the Barclays Premier League title.
It's going to be hectic, tumultuous and frenetic few years - but with a man as infectious and endearing as Klopp, invoking the 100mph style-of-football from his players and the fanaticism of the club's loyal supporters, it's sure to be an enthralling, and unforgettable, ride. With Jürgen Klopp, it always is.