Tottenham Hotspur came from behind to beat Swansea City on Sunday, Nacer Chadli and Danny Rose scoring to secure a 2-1 win.
After coming off a satisfying 3-0 home win, 4-1 on aggregate, against Fiorentina, the win sealed a pretty perfect week. Mauricio Pochettino made a forced change, with Mousa Dembélé being ruled out for 10-14 days, which saw Dele Alli drop into a deeper role and Heung-Min Son come into midfield.
Spurs stunned early on
Tottenham went into this game searching for a sixth straight Premier League win, and were clear favourites to run riot over a struggling Swansea side. However, the game saw the early chances fall to the welsh club, as in the third minute of the match Hugo Lloris was forced to make a sensational save from returning Spur Gylfi Sigurdsson. A wake up call to the Spurs back four.
As the game went on, Spurs inevitably began to dominate the possession and dictate the pace of the game. Christian Eriksen found himself in some space out wide and whipped in a delightful ball to the front post where Harry Kane was there to meet it, but the Englishmen was only able to tap it into the outstretched hand on Łukasz Fabiański.
Sigurdsson was allowed to take a corner quick to the edge of the box, where the ball was volleyed back into the box. Deflected off of a Spurs leg, it fell to Alberto Paloschi who tapped in past a stranded Hugo Lloris. The Lane was silenced as this game was a must win for the Lilywhites, and they found themselves behind in a vital game towards their title push.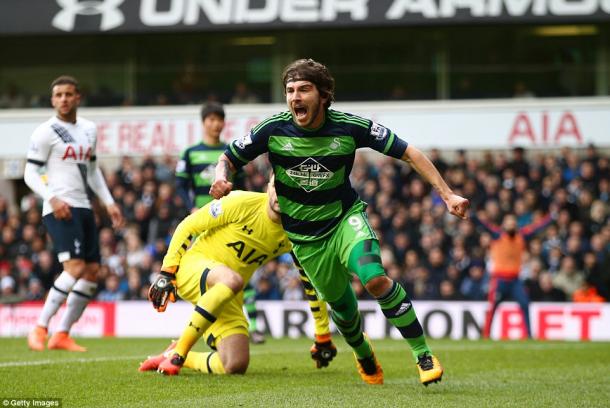 Spurs gained confidence towards end of half
The hosts began to become more fluid and subtle in their football, but the 40-minute mark was around and Spurs showed no clear cut chances to rave about at halftime. Well, that was until the second minute of added time, as Alli found himself in some great space about 10-yards-out of the Swansea goal.
You would have expected Alli to finish it, as he has done all season long, but Fabiański was there to deny him and Spurs an equaliser. He could only parry it to the right of his goal, where Kane was unable to steer the ball home with his head. Which, simply was not good enough for Spurs, who again found themselves going into the break down a goal. Twice in two weeks, an unusual sight for Spurs fans.
The equaliser finally comes
Out came Spurs from the break, they needed an early goal for them to have a great chance of taking all three points in this game. Pochettino decided to move Alli further forward and move Christian Eriksen further back into a deeper role, due to Swansea's deep line. Angel Rangel brought down Danny Rose just outside the box, in Eriksen territory, in which he stepped up and forced an outstanding save from Fabiański. The former Arsenal goalkeeper was having the game of his life. It felt like one of them days at the ground, and all over the world.
Come the 60th minute or so, Spurs finally made a breakthrough. A corner sailed over everyone and found a lurking Kyle Walker who fizzed a low cross back into the box, where recent substitute Nacer Chadli, who was brought on for Erik Lamela, was there to flick home the ball. A vital goal for the Belgian and one that got the ground on their feet. Fair to say it was a magical substitution from Pochettino.
Spurs grab a vital winner
Spurs were piling on the pressure on the Swansea goal, and the likely outcome happened. Spurs' corner was cleared away only to the edge of the box, where an on running Rose was able to take a touch and drill one in the bottom right of the goal. Beating all the obstacle of legs in the way, and finally beating a on looking Fabiański. A pivotal goal for Spurs and one that got manager Pochettino fired up, as he showed his excitement with a passionate fist bump, whilst the entire Spurs team rushed over to the side-line to join Rose in his celebrations.
With Spurs happy to sit back and defend a one goal lead, it invited Swansea to press forward and spoil the party. That meaning it left a big chance for a Spurs counter-attack, in which saw them with a four-on-one opportunity to kill the game off. Eriksen playing the ball to Kane who cut back and crosses it to the back post where a free Walker was able to tuck it home. As the crowd, and Walker himself, celebrated in relief, it was halted as the linesmen had his flag up for offside, meaning Spurs still had a slender lead.
The title charge is well underway
With Tottenham picking up the all-important three points, and Arsenal losing 3-2 away to Manchester United, it means that the upcoming North-London derby becomes that more interesting. Spurs now sit two points behind Leicester City, whilst Arsenal now look up at Spurs who have a three-point margin on them. Tottenham have back to back London derbies this coming week, as they travel to Upton Park to face West Ham United this Wednesday. Then facing a home derby to main rivals, and title contenders, Arsenal. Today was a big step for Pochettino's men, but they don't make it easy for themselves.