Tottenham Hotspur booked their place in the Europa League last 16 with a superb 3-0 win over Fiorentina, as they wrapped up the tie winning 4-1 on aggregate.
Spurs came into this game with an away goal to defend. Mauricio Pochettino saw the likes of Harry Kane, Moussa Dembélé and Tom Carroll all ruled out with injuries. This saw Nacer Chadli start up top, as we are accustom to seeing in Europe. Toby Alderweireld also saw a return to the team this midweek, meaning Eric Dier would move back into his favoured defensive midfield position alongside Ryan Mason.
Spurs dominant straight away
Spurs came out looking to take control of this game. The first minutes of this game were dominated by Spurs possession, but nothing was to come from it. Tottenham got off to a relatively slow start, with no chances really created early on to test the Fiorentina goal. It wasn't until the 11th minute, where Spurs got their first chance of the match, and a good one at that. Eric Dier was able to flick on a header to the back post, where a free Dele Alli was lurking. Unfortunately, Alli was unable to get the decisive flick to turn the ball home.
Mason nets the first of three
In the 24th minute of the match, Spurs broke the deadlock. Ben Davies looked to play in Nacer Chadli, however the ball ended up finding Dele Alli. Alli was able to flick the ball onto an ongoing Ryan Mason, before taking a hit, who was through one on one. As calm as you like, Mason was able to open up his body and slot home into the far corner to give Spurs a huge advantage in the tie.
An undeniable confidence boost to the squad, in which saw Fiorentina needing to score two away goals to go through in this tie.
The goal seemed to startle the Fiorentina defence, as they began to look open and disconnected after the goal, with gaps opening up everywhere.
But Spurs continued to dominate the match, not settling for that one goal, they persisted on attacking and looking to kill the game off already, to no avail at that. Other than the couple of chances, the game was fairly dull with no real efforts on goal from either side. Just a battle for possession which Spurs were winning comfortably. However, Spurs had a strong handball cry, denied by the officials as Kieran Trippier's cross was blocked by Marcos Alonso, who seemed to blatantly use his hands.
Fast out of the blocks in the second half
It took just one minute for Spurs to have the ball in the back of the Fiorentina net. Unfortunately for the Lilywhites, Chadli was flagged for offside, meaning that Fiorentina still had a lifeline this game. Spurs continued to press and picked up from where they left off from the first half. However, the hosts were brought back down to reality when Fiorentina hit them on the counter-attack. A dangerous move was saved by skipper, Hugo Lloris, from a shot by Borja Valero.
Although Fiorentina didn't pressure Lloris' goal, they may have done so if not for Federico Bernardeschi. Bernardeschi saw himself having to apologise numerous times to his teammates. In times where he could have created several chances for teammates, but decided to go alone himself, which frustrated the Italian side.
Spurs kill off the game
In the 62nd minute, Chadli saw a curled attempt on goal saved by Fiorentina goalkeeper, Ciprian Tătăruşanu. Only for Erik Lamela to fire home on the half turn, to put Tottenham 2-0 up and seemingly wrap up the win.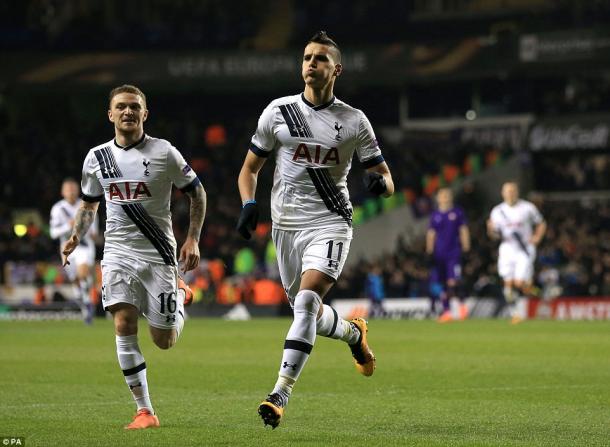 After the goal, White Hart Lane rose in volume, the fans blasting out songs, only for them to be soon quietened down by Dele Alli picking up a yellow card for simulation. A yellow card which will now see him ruled out off the round of 16 first leg. A controversial decision at that, as it appeared that there was viable contact on the English youngster.
A flamboyant Spurs side were able to finish of the Seria A giants, when Gonzalo Rodríguez, the club captain, turned the ball into his own net after trying to deal with a cross from Trippier, making the score 3-0 and all but wrapping up the game for Spurs. On came youth members, Joshua Onomah and Harry Winks, as Mauricio Pochettino saw viable to bring on to allow the pair some European experience.
Spurs were able to hang on to an impressive 3-0 home win, and wait to see who they will face in the next stage, with the draw on Friday afternoon. They also have their eyes set on the next league fixture this coming weekend as they take on Swansea City and look to close the gap on Leicester City.