 Dele Alli will miss the remainder of the season after being charged with violent conduct by The FA over an incident which saw him punch West Bromwich Albion midfielder Claudio Yacob in the stomach during Monday night's 1-1 draw.
The act, which occurred in a game that severely dented Spurs' title charge, was not seen by match officials on the night but was caught on replay videos.
The 20-year-old accepted the punishment but insisted that the automatic three-match suspension was 'clearly excessive'. The claim was rejected after an Independent Regulatory Commission hearing last night.
The newly crowned Young Player of the Year took to Twitter to apologise. He tweeted, "Gutted that my season is over. Shouldn't have reacted like I did. Will learn from this and come back stronger."
While his manager, Mauricio Pochettino, added after the game, "Sometimes the opponents find him and try to provoke. They know he has a strong character and may react."
Alli's fiery temper finally punished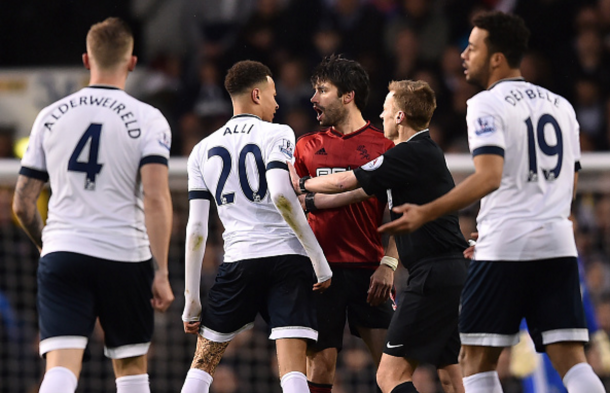 The England International is known for having a fiery temper and has previously been caught up in heated exchanges on the pitch, yet has never been suspended.
Alli however came close when his side drew 1-1 against Fiorentina in the Europa League, after he appeared to kick Nenad Tomovic, as well as when he stamped on Crystal Palace's Yohan Cabaye in their Premier League fixture in January.
After the match in Florence, Pochettino, spoke out admitting he likes it that Alli is "a little bit naughty". While While Tottenham legend Ledley King also commented on the player's temperament, saying that his "healthy disrespect" for the Premier League allows him to flourish as a player.
The fact that Alli "treats everyone the same" means he can go out and dominate games and play the way he wants to play. Alli doesn't feel the pressure of messing up as can be seen through his countless nutmegs, tricks and flicks. King added that, "He's got that little edge to him and that edge is making him the player he is now."
Alli has been a key player in Tottenham's title push after moving for League One team MK Dons for £5million. Since he has made his international debut and looks to be set to join England in France for the Euros.