Tottenham Hotspur went ahead, but could only manage a 1-1 draw away to Fiorentina in the first leg of their last 32 Europa League tie.
Tottenham faced a tough midweek trip to Florence, but after coming off an amazing 2-1 win away at Manchester City, Spurs were oozing with confidence.
Mauricio Pochettino made six changes to the starting eleven this evening, seeing Eric Dier, Hugo Lloris, Moussa Dembélé, Danny Rose, Kyle Walker and Harry Kane all drop out of the squad. A slightly weakened side from the weekend, to say the least.
Tottenham's first half domination
The start of the game was nothing new to Spurs fans, as they saw the side dominate the early possession of the ball. Fiorentina had men behind the ball, but showed signs of danger on the counter attack in the first few minutes.
It was a slow start for a relatively confident Spurs squad, not making any clear cut chances within the first fifteen minutes. The most dangerous we looked was from a brilliant piece of skill from main man Dele Alli, but he was brought down in the box.
It was until the 36th minute when Ben Davies surged forward and found himself in the opposition's box, and was brought down for a penalty, in which saw Nacer Chadli, who was called upon to replace Kane today, slot home form 12-yards, giving Tottenham the lead. A fully deserved lead, as Tottenham looked in control as usual in the early stages of the fixture.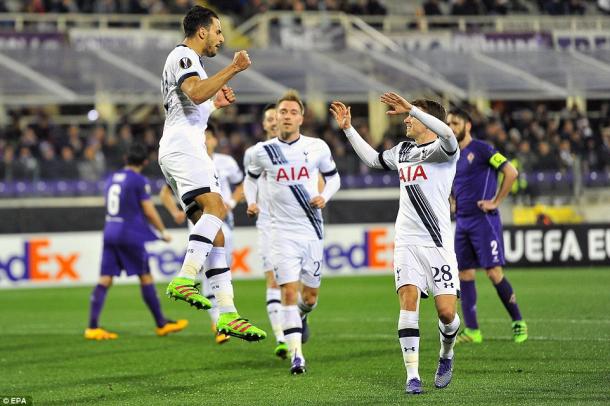 Something must have set off or the Fiorentina side, as the game saw them come straight back into the tie. Mauro Zarate looking the danger man, creating several chances for himself, which he failed to convert. The majority of them going wide, whilst some were cannoned over the crossbar.
But it was worrying signs for Spurs as it looked more and more likely that they were going to get split open and concede. Spurs had yet to go into the halftime break losing, since the Crystal Palace game a few weeks back. An impressive record for an even more impressive defence which was able to keep Zarate and co. quiet for the half.
Substitution's impact
The start of the second half saw Pochettino introduce Moussa Dembélé into the game, as Tom Carroll made way for the Belgian. And he certainly made a difference, he possessed a threat that hadn't been seen yet in the game, the ability to drive forward from a deep position and the will to get forward.
It was in fact Dembélé who drove forward and picked out Nacer Chadli, who was only able to scuff his shot to the near post in one of the better chances of the second half.
Dembele's introduction had a positive impact on the entire side and saw the Lilywhites produce more positive football than what they had already. It was also early on in the second half where we won a free kick outside the box, where Christian Eriksen curled one in to Heung-Min Son who nodded home past the goalkeeper. Unfortunately for Spurs, Son was offside and the goal was disallowed.
Fiorentina equalise with a slice of luck
It had taken around 58-minutes for Fiorentina to finally break down the Spurs defence, but the goal wouldn't have come as imagined. A long range effort from Federico Bernardeschi that deflected off of Ryan Mason came off the crossbar and beat Michel Vorm. A goal from nothing, and really rocked Spurs as a whole.
Fiorentina had secured an equaliser that had, at least, kept them in this tie. But Fiorentina head coach, Paulo Sousa, was not content with a draw, making a double substitution which saw Kalinic and Vecino come on. Two very attack-minded players, gave Spurs more trouble to handle than expected. This allowed Fiorentina more creative options and saw the game really open up, which saw Zarate and Bernardeschi have good chances, producing great saves from Vorm.
Spurs content with away goal
As Fiorentina pressed towards the end of the game, it saw Mauricio Pochettino use his final substitute to bring on holding midfielder Eric Dier, to assure that the Lilywhites would go into the second leg at White Hart Lane with an away goal to their advantage.
Dier was there to settle down the side and prevent any counter attacks that Fiorentina may look to create, eventually ending in a 1-1 draw the game is far from over going into the second leg, with all to play for expect Pochettino to field a strong side unless Tottenham's league position changes.
Altogether, Spurs will indeed be happy with a draw away in Florence. A tough place to come, let alone win with a somewhat 'weakened' side, against third place in the Seria A. Tottenham will now look towards a home tie with Crystal Palace in the Emirates FA Cup this weekend.