 Jürgen Klopp bemoaned a lack of patience amongst the players and supporters as Liverpool required a late intervention from Christian Benteke to draw 1-1 with Chelsea on Wednesday night.
The Reds trailed to Eden Hazard's stunning solo goal at the Kop end in the first-half and looked set for their 12-game unbeaten run at Anfield to come to an end, but Benteke took advantage of Asmir Begović's error to apply a simple finish and earn a point.
However, in their Barclays Premier League home game of the campaign, Liverpool were left largely frustrated as they struggled to break down a rigid Chelsea side - and Klopp believes they didn't have enough patience.
Reds' first-half defending made "no sense" against Chelsea, says boss
"The first 15 minutes were great. Wonderful football without scoring," declared the Reds boss in midweek before revealing that he told his players that "this was the most important game of the season because we could learn from most of it."
He said that the "first 15 minutes" demonstrated "what we are capable of" and added: "But obviously we were surprised about ourselves. There was not enough trust and faith in our own quality. We lost patience and when you lose patience in football, it's always difficult."
Klopp insisted that having lost their patience, they "lost formation" and had "a lot of moments around the box when we shot when we should have still passed" as he explained that "when you have three players around the ball and one of them shoots and the ball is blocked, you have no formation for winning the ball back" which he continued was "quite difficult."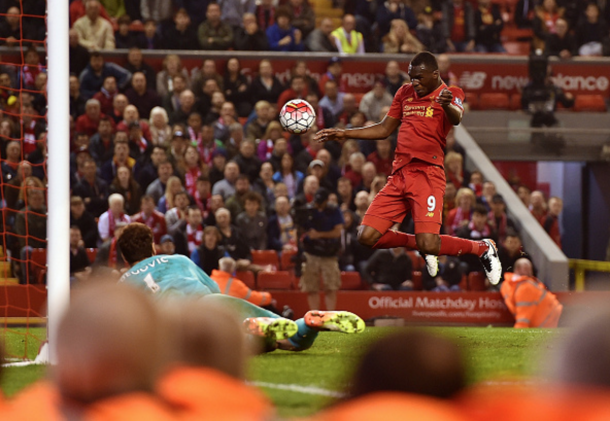 He acknowledged that their visitors showed "a lot of their usual quality" which made it "difficult" for his side as he said that they "tried to do better" after half-time.
He said that the first-half performance was "quite intense" because they "ran a lot, but not with good timing in defending" which meant they were left with "more one-on-one situations [than] in the last five or six months."
He said that this made "no sense" against players of Chelsea's quality and revealed his frustration that they "didn't defend really compact" but "invested a lot" which tired out his players. "It's like a boxer that [always punches] and doesn't hit," he continued, "That makes you more tired than when you hit all the time. That was the problem of the game."
Fans don't fully trust in the quality of the players to deliver, insists Klopp
Although the Reds dominated possession and had twice as many shots on goal, it was Guus Hiddink's men who looked the more dangerous in attack and Klopp was thankful to Simon Mignolet for saving "brilliantly" to prevent Chelsea going 2-0 up.
He also thanked Kolo Touré and Dejan Lovren for saving the team's "life" in "one or two situations" and said that this allowed his team to have "the opportunity to score" and earn a point.
"We had two or three really good moments [to score] and used one. It's a draw," Klopp told journalists afterwards, saying that the last 10 minutes were "not too lucky" although he admitted they "could have lost" and "can take a lot of information out of this game."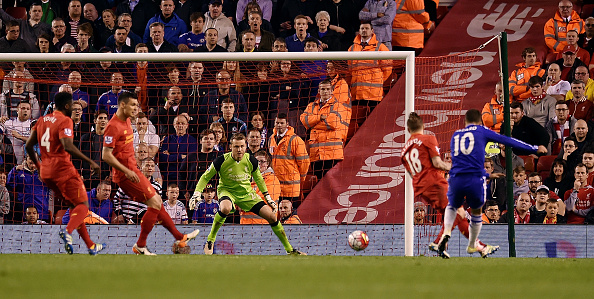 On the composure and tolerance of the fans in the stands, who regularly voiced their frustrations at the home side's failure to find the breakthrough until stoppage-time, Klopp said: "I love this stadium and I love this atmosphere, but everybody lost patience tonight - the crowd too."
The German, with this draw having marked his 50th game in charge as Liverpool manager, admitted it was "quite difficult" for the players because he was telling them "to be patient" when the crowd were all pleading with them to surge forward in search of a goal.
"We all don't trust finally our quality," he added, despite insisting it's "not a problem" for their final two games - the Europa League final and their curtain-closing fixture at West Bromwich Albion at the Hawthorns on Sunday.
He continued that they can "learn this in the future" and said that if the players "don't think you need to score in each situation, because you know you have the players on the pitch to create chances and score goals" then they "could celebrate the other situations."
Still some way to go, admits Klopp, but positives to take from recent home form
Klopp acknowledged that his squad are capable of playing "much better passes" and said that "nearly every player" was guilty of conceding possession too cheaply which meant that they "lost the rhythm in the game."
Regardless, he believes they "deserved the draw" because Chelsea didn't punish them and score a decisive second goal, which he labelled "the story of the game."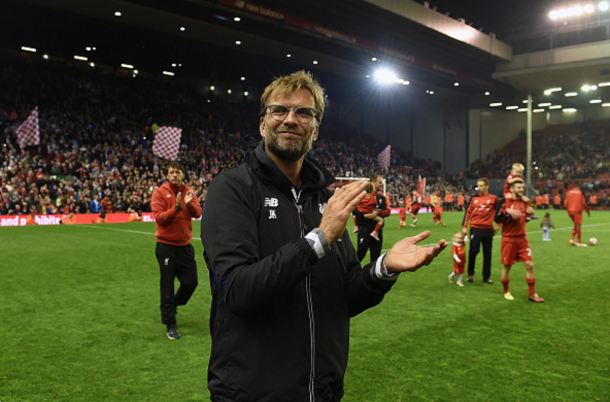 He also praised his players for enduring to the end to prolong their unbeaten run on home turf, insisting that they have "learned this season" that they can win points from behind and adding: "1-0 is the best result to still draw. It was not in doubt that we could have chances, so we changed for this - we had the most offensive formation we could have in the last 15 minutes. Each striker was on the pitch, each offensive midfield player."
Klopp also enthused about the "wonderful cross" from Sheyi Ojo to force Begović's mistake as he said that Benteke was "where he has to be" in order to finish. He also called upon his team to "build on these positive signs" that the players showed in "the last few months" although he admitted in typical fashion that "there's still a way to go, of course."