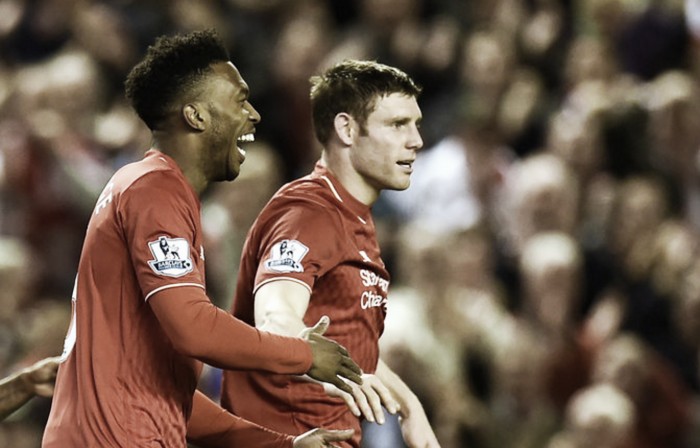 Jürgen Klopp says Liverpool are still waiting to learn whether they will have Daniel Sturridge and James Milner fit and ready against Arsenal on Sunday afternoon.
The Reds travel to the capital for their Premier League opener as one of the most injury-stricken teams in the top-flight following an arduous pre-season - with Milner and Sturridge two of the latest additions to a growing list of worries.
Sturridge was forced to miss out on their rout of Barcelona at Wembley Stadium last weekend with a hip problem that has since kept him out of training.
Milner, who deputised at left-back at times throughout pre-season, was forced off just before half-time in Liverpool's 4-0 thrashing of the Catalans with a heel issue, which meant he was the only one in the matchday squad to miss out on the trip to Mainz the following day.
The pair's fitness has been clouded in uncertainty throughout the week with Klopp unsure as to whether they will be available to feature against the Gunners, insisting they still need further time to assess their injuries.
Still possible Milner could be in the squad, says Klopp
Speaking in his pre-match press conference on Friday afternoon, Klopp said that Milner's injury is "not too serious" even though he was "walking out of the stadium last Saturday on crutches."
He suggested that the England international on crutches is not a familiar sight but added: "But then Sunday it was better, Monday it was better. It's better and better and better.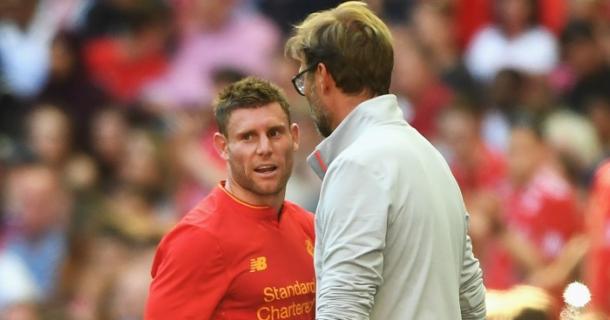 The German revealed to reporters that Milner was suffering from "a bruise in the heel" which the midfielder himself said was "a little bit too painful" to play through.
He added that the medical team have had to "wait for the moment" in which they could "test it each day", joking that Milner has been keen to get back to first-team training since as early as last Sunday.
"We don't have to ask him, we have to wait a little bit," warned Klopp, who indicated they will give the No.7 as long as possible to recover because it's "still possible" that he "can be involved at the weekend" although they remain unsure.
Reds boss: Striker may have to have longer pre-season
There were fears that Sturridge could be facing another lengthy lay-off, with a hip problem having caused him to miss 14 games between April and September last year.
But Klopp has said that the injury-prone Englishman is actually in much better condition and that he is expected return to training prior to the trip to Arsenal.
He explained that the striker "made something like a clearing session" to prove he could return and now "could be involved today in team training."
Klopp acknowledged that the No.15 "missed a lot of sessions in this pre-season" because of his involvement at Euro 2016 and then because he "missed a few sessions."
"We have to make a decision on what we do with him," continued hte Reds boss, "We have to use the next three, four, five days. For a few players, pre-season will be longer than up to the first Premier League game because they've not had enough time."
Klopp said that it only "makes sense" that Sturridge's pre-season - like other players in his situation - would be extended because he did not have "enough time" and he then missed "a few sessions."
He indicated that, such an idea is what they "have to think about" before making a "final decision" as to whether Sturridge should play against Arsenal, adding: "Yesterday was good so he could train today 100 per-cent and, after the press conference, I will make a decision on which kind of training it will be."