 Earlier this week it was reported that young German goalkeeper Loris Karius had agreed terms with Liverpool, with the Reds set to sign him on a £4.7 million deal from Bundesliga side Mainz.
Liverpool fans have had a tough season with some shaky performances from current No.1 Simon Mignolet raising some doubts about his future at the club. It looks as if Jürgen Klopp's strong ties with Mainz, whom he spent 18 years with as a player and manager, will come to the fore to rescue Liverpool's shot-stopping dilemma.
Backup keeper Ádám Bogdán has also been unconvincing and looks set to leave the club in the summer and many fans would have argued that signing a goalkeeper was priority number one, so it will be music to Liverpool fans ears to hear of Klopp's intent to get this young guy in who most certainly has a bright future ahead of him.
Background:
Karius joined Manchester City from Stuttgart when he was just 16 back in 2009. He failed to make the breakthrough at City however, spending a lot of time in the clubs academy before joining Mainz on loan in 2011 and signing a permenant deal with them in 2012.
It was from here that his career really began to take off as he stood out for Mainz reserves in 2011/2012 season before being called up to the first team for the following league campaign. He made one substitute appearance that year, coming off the bench in a 2-1 win over Hannover after Christian Wetklo received his marching orders.
Thomas Tuchel, who is now the Dortmund manager was the man in charge of Mainz at the time and he was quite reluctant to give Karius his chance, telling him to be patient, and for 15 months after his substitute appearance he dropped in and out of the second string. His chance finally came in November 2013 against Augsburg when Wetklo received a red card and fellow goalkeeper Muller got a serious injury, and Karius hasn't looked back since.
Since that day his performances between the posts have made him first choice for Mainz ever since. In two and a half years he has made 91 Bundesliga appearences and missed only one league match due to suspension.
Mainz have since finished 7th, 11th and 6th in the Bundesliga, fantastic for a club who played the majority of their football history in the second tier of German football. He is a big fan favourite with people labelling him as one of the key reasons for the club's great fortunes in recent times.
Strengths and weaknesses:
Karius is a very ambitous player. He has spoken of his long term goals on many occasions, about wanting to play in the Champions League, something that may hinder Liverpool chances of signing him and his desire to become the number 1 goalkeeper of the German national side, a position currently held by Manuel Neuer of Bayern Munich.
However, Karius will also have to get past Timo Horn and Andre Ter Stegen if he wants to rival Neuer, a mean feat but the sign of a player who has alot of belief and determination, something Jürgen Klopp will admire.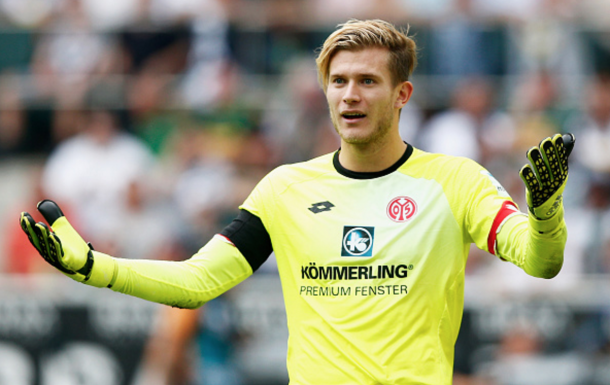 Karius will also be familiar with Klopp's famed gegenpressing system, as he would been shown the teachings of Klopp as a player at Mainz - who still play with the 48-year-old's style in mind. And so he would fit perfectly into the side, as he's more than comfortable with the high press and has also improved his distribution.
Karius is 6ft 2" in height and likes to command his area and claim crosses as soon as a situation presents itself. This would fill a defence with confidence. He reads the game very well, coming off his line very quickly and allowing the defence to push higher up the pitch and he also has lightning cat like reflexes similar to that of David De Gea of Man United.
His kicking has also improved but it is unlikely if this trait will be a crucial factor in Klopp's style of play, with players like Christian Benteke, who kicking it long up the pitch to would suit and are good in the air seemingly out of favour with the German.
His main weakness is that he can sometimes misjudge certain situations and leave himself in trouble at times, but this is an area that can be worked on and surely will have to be improved on, if Karius is to succeed in the high intensity of the Barclays Premier League.
If Karius arrives, will he replace Simon Mignolet as Liverpool's first choice keeper?
It will be a tough decision for Klopp who will be between two minds on this decision after offering Mignolet a new long-term contract in February.
Fans have become frustrated with the Belgian who is a great shot stopper but inconsistent in the air, costing Liverpool vital points at vital times this season. Many people have questioned his quality if Liverpool want to reach the top level of football both in Europe and domestically.
Karius, meanwhile, completed 99 per cent of his attempted catches in the Bundesliga this season compared to Mignolet's 82 per cent and this is a key stat. Karius' ability in the air could be the difference between Liverpool edging some important games and putting themselves in good positions.
I'm of the opinion that Klopp will not put Karius straight into the first choice role right away but that over time, he will slowly push him into the role. Karius will get his chance and if he proves himself, he will make the position his own, for now and for the future.