 Jürgen Klopp has launched to the defence of under-fire Liverpool left-back Alberto Moreno despite his below-par performance in their Premier League opener at Arsenal last weekend.
The Spaniard was not a popular figure among the club's supporters for his display, conceding a penalty for a rash challenge and being caught out of position for Theo Walcott's breakthrough goal just 69 seconds later.
Though the defender - signed from Sevilla for £12 million in the summer of 2014 - improved in the second-half, he was the subject of scathing criticism - Sky Sports pundit Gary Neville in particular lambasting his showing at the Emirates Stadium.
But Klopp refused to point the finger of blame at the 24-year-old, insisting that the first goal was a direct result of his demands of the team and insisting they must work to ensure such situations happen less frequently.
Reds boss: Moreno wasn't the one at fault for the goal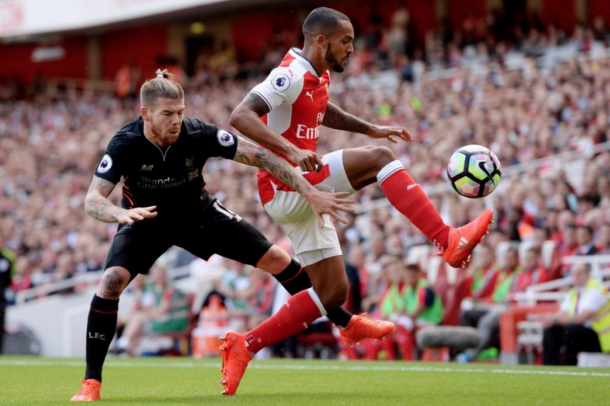 Klopp told journalists that he was "not too happy" with his side's defending in the first-half, pinpointing the chances that Arsenal created after Liverpool had "lost the ball" and they had "good counter-pressing" to force opportunities.
On the first goal, the German declared: "Adam Lallana lost the ball, he had no real chance to keep it as [Francis] Coquelin made a really good tackle and a good pass. We know what we did wrong and only to explain in this case, it was not Alberto."
He noted that you can see Moreno running forward, but insisted they had "four players there" to cover and lamenting that they "didn't know who was where [and] who had what job to do" as they tried to react to the Gunners' counter-attack.
Klopp explained that his side needed to have "the player [Moreno] to jump out to make the offensive transition" and aid his teammates going forward, but insisted they also "need the other players there to fill the spaces" left behind.
"This is a process," declared Klopp, who added that they "want" to improve but that "two hours training today, tomorrow, does not mean you know it in a game because you are under pressure."
He suggested that the decision is an instinct reaction, and comes from the stomach rather than the head, with only "time, experience, success, good results" impacting whether they can learn their lessons and "do it more easy."
It's not about blaming one single player, insists Klopp
Despite absolving Moreno of blame, it is likely Klopp will swap the left-back for the returning James Milner for their trip to Burnley this Saturday, with the midfielder now back from his heel injury.
The Englishman played in the role in pre-season, impressing against Barcelona before going off injured, and could feature there for the coming games - although Klopp says that doesn't mean Moreno has no future on Merseyside.
The Reds boss is unlikely to look to the transfer market to further strengthen at left-back, despite it having been a priority position just a couple of months ago, and believes Moreno has the qualities to improve and become first-choice.
Quizzed about the criticism sent Moreno's way, Klopp insisted that he is the only person that the player "has to please" and revealed: "With criticism, it's always the same. I've had a week to analyse the Arsenal game. It was better than I thought."
He admitted that his side "had difficult moments" and that they "need to find a common way" but insisted that they will "learn together" and can "make the players understand."
Klopp said that his criticism is "often very positive" - not because he wants to "be positive" - but that he doesn't "want to forget the things that were positive" in perspective.
He insisted that, when they dissect things and "speak about situations" in their team meetings, they don't look at the "players who was involved" but rather try to see how they can "find common solutions" so that they "are not in situations like this."
Klopp keeping the faith in his current left-back options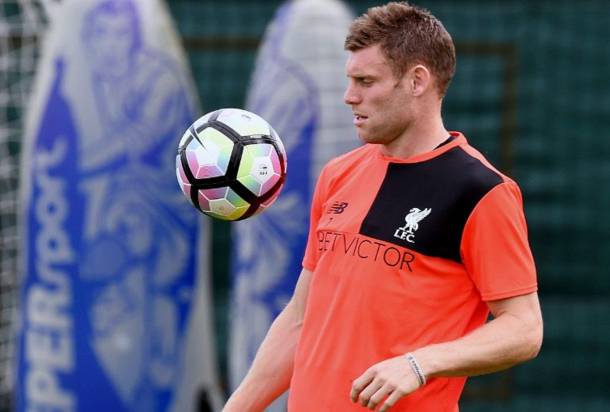 Klopp also revealed that the reason he hasn't signed a new left-back - having refused to miss the asking price for either Ben Chilwell or Jonas Hector over the summer - is because they haven't found the ideal option.
He revealed that their lack of a new arrival is "not about money" but rather about "playing style, defensive skills, offensive skills."
"If we'd found it, then you'd know because we'd have made the transfer," he said. "Only if it's really the guy we want."
Klopp said that the club "have a lot of players" who can "play in our style of play at left-back" even though it is not their natural position.
He said that he was "sorry" for the fact there are "a lot of people" who aren't "happy with the solution" but indicated he was pleased with the options he has at his disposal already.
The Reds boss said that Milner was "not bad" and that the two "had a talk" over the player's thoughts on playing there because the manager doesn't "want to force a new position on a player."
He added that Ragnar Klavan can also play left-back, which he believes gives them "a lot of different options", reiterating that they would only sign "really the guy we want."
Klopp also suggested that they cannot give up on Moreno's despite his inconsistencies, insisting that "nobody cares about the players who are still here" when it comes to transfers.
"What do we do with the ones who are still here? Put them away? Get them to leave?" he continued, declaring that if they are to "expect commitment from the players" then they must "show commitment too" to "work and development."