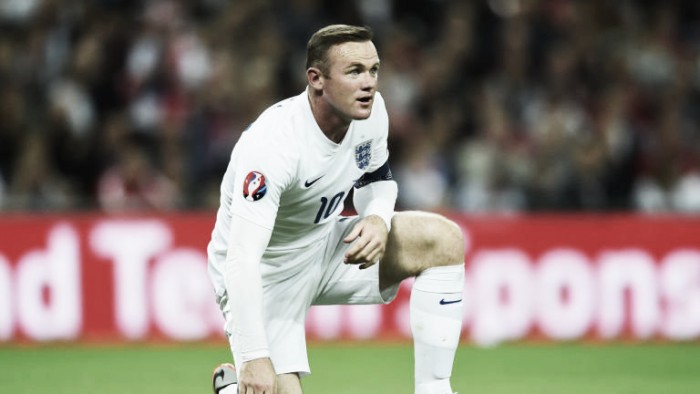 Wayne Rooney finally looks set to complete his transition from a striker to a proper midfielder, as he was selected in a midfield role by Sam Allardyce for the national team, more specifically, the number 10 attacking midfield role, now Rooney can look forward to making a transition in his game, he has an important role for both club and country.
England begin their 2018 World Cup qualifying campaign against Slovakia which will mark the beginning of Big Sam's era as England boss.
A change in role
Rooney is no longer capable of leading a team in a striker's role, he is now the kind of player who likes to dictate play, likes having the ball at his feet and is a difficult player to mark because of his intelligent movement, he can drift around the pitch and help the team in so many different ways, not just in an attacking sense, but also the way he tracks back and defends deep in his own half when called upon to do so.
He has been used as a midfielder in a deeper role at times by former United manager Louis Van Gaal and was most recently used a deep-lying central midfielder at the Euros by then England manager Roy Hodgson, which had mixed results, with Rooney still adjusting to the demands of midfielder and its fair to say that he was one of the better players at the Euros for England.
Now with all the world class talent around him, the likes of Zlatan Ibrahimovic, Paul Pogba, Henrikh Mkhitaryan and many more already at the club, Rooney looks to grow into the creative role of the number 10. He plays behind Zlatan and has the pace of Anthony Martial on one side and the intelligent Spaniard Juan Mata on his right, with such an exciting group of players around him, Wayne can take his time in completing his transition to his new role, but he will want to do it, sooner rather than later.
It is also interesting to see how he switches positions with Zlatan in attack and both of them alternatively drop back to involve in the build-up play, this interchange of positions looks like it will be a feature of Jose's team's gameplay setup this season.
There's only so much time before fans get impatient with him, both country and club alike, he has to start delivering assists and goals on a regular basis and justify Jose's faith in him ahead of the talented Mkhitaryan or Mata in that number 10 role, which is often so vital to the kind of football that Jose intends to play with United this season and Rooney will be hoping that he can soon deliver on the trust put in him by his manager and his new national team manager as well.
Mixed success at Euros does not matter to Big Sam
Ahead of the opening qualifier against Slovakia, Sam Allardyce was questioned about Rooney's role in the England team and the fact that he was listed as a midfielder in the 23-man list.
Allardyce said that Rooney's performance at the Euros has "not really" had any bearing on his decision to choose the Manchester united captain for his first squad selection.
He acknowledged that Rooney's position at Manchester United "has changed" and also confirmed that his new role is the "sort of position" he would be looking to play him.
Big Sam although has made no confirmations of who his new captain will be, with Rooney's position as the national team captain at stake, Allardyce will assess the squad and then decide.
It's the start of a new chapter in Rooney's career, one where will discover a different side to his game as the season goes by, he will need to use all the experience he has gained over the years, lead the new young generation of English players and also this exciting and talented Manchester United side to glory, it will certainly be a delight if England's all time top scorer can do it all.