 One of the eulogies about Louis van Gaal's coaching exploits when he was appointed Manchester United manager was the foundation he built at the previous clubs he had been at which proved to form the basis of future success.
At Barcelona, he was credited with introducing the likes of Xavi, Andres Iniesta and Victor Valdes into the first team. At Bayern Munich, the likes of Bastian Schweinsteiger and Thomas Muller were also Van Gaal inspired selections.
At Manchester United, though, there is a reluctance to credit Van Gaal with the same. The Dutchman will point at the fact that the likes of Marcus Rashford, Anthony Martial and Luke Shaw were brought to the club under his watch and may yet prove to be the foundation of a successful era for Manchester United. However, one of Louis van Gaal's most inspired selections, and there weren't many in his two seasons at Old Trafford, is undoubtedly the signing of Daley Blind.
Blind signs for United
Interestingly when the Dutchman was signed on deadline day of the 2014/2015 transfer window, his signing was somewhat overshadowed by the signing of Radamel Falcao on the same day and Angel Di Maria some days earlier.
Fans and pundits alike were more interested in seeing how an attacking line-up of Robin van Persie, Wayne Rooney, Falcao and Di Maria would get on with many predicting goals galore and excitement at Louis van Gaal's United.
The fireworks never happened and by the following season, both Falcao and van Persie had moved on.
Daley Blind, however, enjoyed a steady first season playing in midfield and at full-back including chipping in with important goals to earn a draw away to West Brom and West Ham as United secured 4th place and qualification for the Champions League. It is, however, in his second season that Blind really began to thrive.
An impressive 2nd season
After a failed summer pursuit of the Real Madrid centre-back Sergio Ramos and a pre-season injury to Phil Jones, Louis Van Gaal resisted the temptation to sign Nicolas Otamendi from Valencia and chose instead to pair Chris Smalling with Daley Blind in United's back line. This, along with the introduction of Marcus Rashford and the signing of Anthony Martial, is one of the three inspired decisions that Louis van Gaal made during his all too uninspiring reign at Old Trafford.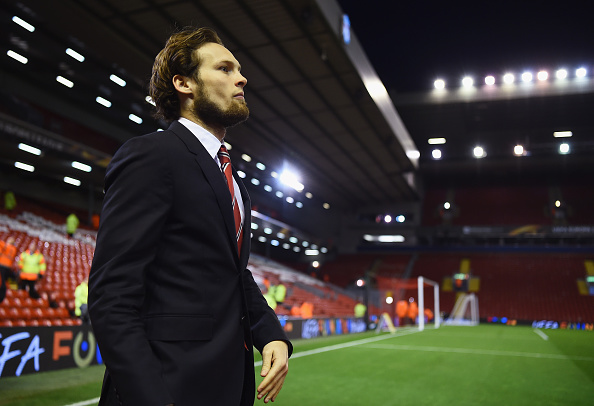 Daley Blind's partnership with Chris Smalling led to Manchester United recording the best defensive record in the Premier League last season and his talents and ability really came to the fore.
While many questioned the Dutch man's lack of pace and height, week after week he produced top performances for the side, improving significantly with every game none more so than when at Old Trafford he completely marshalled and outplayed an inform Romelu Lukaku who many were predicting was going to dominate him for 90 minutes. The Belgian was unable to deal with Blind's superior footballing intelligence, he wasn't the only centre-forward to suffer this fate. The Dutch maestro's technique, brilliant first touch, and passing ability were undeniable and sometimes you couldn't help but be reminded of another elegant Red Devils defender, Rio Ferdinand.
Yes, there was the odd game when the opposition striker got the better of him but the same could be said of Rio Ferdinand at his peak and even more so in Blind's case, it was more a case of Louis van Gaal's tactical naivety that exposed the United defence more than anything Blind lacked. A prime example is the final home game at the Boleyn Ground in the 2015/16 season where, in spite of knowing West Ham's tactical plans for the game, the Dutch manager seemingly did nothing to set up his team to deal with it but simply just hoped for the best.
Winning over Jose
Daley Blind's greatest compliment to date though must be the way he has won over present United manager Jose Mourinho. It is no secret that Daley Blind does not fit the profile of a typical Jose Mourinho defender. He is not tall, physically imposing or quick; the kind of qualities that Jose Mourinho admires in a defender. However, having worked with Blind and seen him first hand in games, the United manager has clearly been won over.
Blind's performances for United this season have been very impressive and it can be argued that it is his calming presence next to Eric Bailly that has made the new signing from Villarreal settle so quickly. In the 4 games United has played this season (including the Community Shield), the Dutch man has put in such impressive performance that he has become one of the first names on the United team sheet.
It is impossible to love football and not admire Blind even if it is grudgingly so. His football brain and his superior technique makes defending look sexy. Earlier in the summer Blind was a rumoured transfer target for Barcelona, it would not be amiss to say that had United made the mistake of selling him he would have turned out to be as big a success as Gerard Pique and he would have tripled in value.
For now, for all the failings of the Louis van Gaal era, United fans should be thankful that on deadline day two seasons ago he signed Daley Blind from Ajax for £14 million. Money very well spent for a truly classy player.