Tottenham Hotspur only have themselves to blame as they started their Champions League battle with a loss. Individual mistakes and sloppy defending were at fault for Monaco's two goals while Spurs were wasteful in front of goal as 85,000 fans were left disappointed.
Attacking XI
Mauricio Pochettino's line up was respectable but ultimately was the wrong decision. The Argentinian was faced with a tough task in choosing his team with Mousa Dembele available and Heung-Min Son putting in an excellent performance against Stoke City on the weekend to provide competition for Christian Eriksen, Erik Lamela and Dele Alli.
In order to overcome this dilemma, Pochettino chose to start Alli alongside Eric Dier in the double pivot role. This essentially left Dier stranded in the midfield as he had to cope with stopping Monaco's powerful counter attacks by himself as Alli often tried to push forward and was left out of place.
At half-time Pochettino substituted Son for Dembele allowing Alli to push forward further forward giving Tottenham more threat in attack. Alli brought more life and variety into Spurs' forward forays while Dembele brought balance back to the Lilywhite midfield.
Monaco clinical while Spurs fail to find shooting boots
Tottenham dominated for the majority of the game as they saw chance after chance wasted. Heung Min Son could have opened the scoring in the ninth minute as his shot beat goalkeeper Danijel Subasic but his chance was cleared off the line by Andrea Raggi.
Monaco on the other hand had only two shots on target, both which resulted in goals.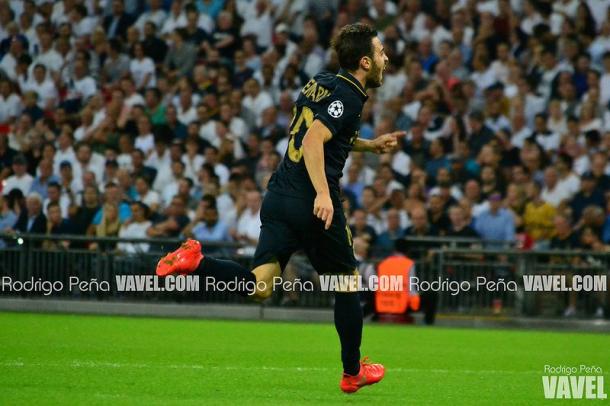 Spurs were brought back into the game after Toby Alderweireld headed home Lamela's corner on the brink of half time. Yet this was not enough for Tottenham, despite the hosts being much-improved after the break.
Spurs had another clear-cut chance to equalise with ten minutes to go as substitute Vincent Janssen played Harry Kane through on goal. Kane shot straight at the keeper.
Did Wembley have an effect?
Pochettino actively dismissed the idea that Wembley would have an effect on his players and tactics in his prematch comments. With the game now played how truthful was his statement?
The bigger pitch was helpful for Tottenham's attack as they had more space. This was shown by the constant runs that Son made in the first half, with Alli doing likewise in the second. Yet this was problematic for the Lilywhites who struggled with Monaco's pace and precision. With Kyle Walker often being caught out of position and Dier struggling to keep up in midfield, this was the decider as it led to Monaco's two goals.
On the other hand there was the theory that opposition teams would come to Wembley with extra motivation due to the prestige of the ground. Clubs will take advantage of this and the fact that it isn't a familiar ground to the Spurs team leaves a worrying thought as to how they will cope with the ground as their permanent home next season.