Aitor Karanka says that his Middlesbrough side must play to their potential for the full 90 minutes if they are to improve on their recent results.
A home defeat in an even game with Crystal Palace has been followed by back-to-back losses and limp performances against Everton and Tottenham Hotspur, leaving Boro struggling near the bottom of the table despite an encouraging start to the season.
Against Everton and Spurs, the newly-promoted side fared well in the closing stages of the game, playing with intensity and purpose, but two-goal deficits proved insurmountable on both occasions.
However, Karanka says that his players should take heart from those short-lived performances into their next game, away to West Ham United this Saturday.
'We are confident, it is in our hands'
"We are confident because once again, Spurs were wasting time in the second half," Karanka told the Gazette. "That means we were playing really well".
The Spaniard remains adamant that Boro should have triumphed at home to Palace, and says that they "did well" in spells against both Everton and Spurs.
"We have a week now to decide what team we want to be," Karanka went on to say. "We have to play as a team for 90 minutes."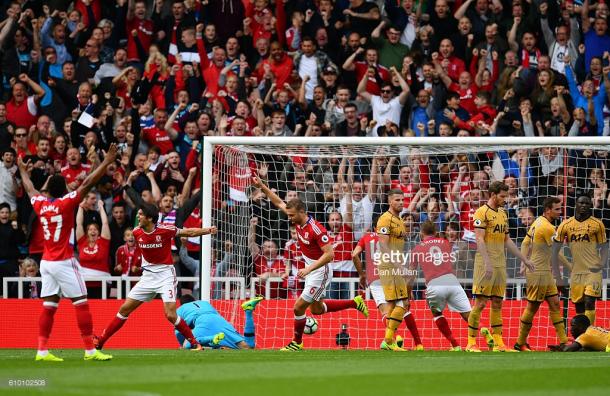 "If we want to be the first half [against Tottenham] team then we will have problems."
The former Real Madrid defender, who recently turned 43, assured fans that Boro will pick up points if they continue to play as they did in the closing stages against Spurs, adding that "it is in our hands".
Boro look for points after tricky spell
Recent opponents Spurs and Everton both currently occupy the top five of the Premier League table, and Karanka will be hopeful his side can get back to winning ways against a struggling West Ham side.
The Hammers presently reside in the relegation zone after a difficult start to the campaign pockmarked by disastrous defending, but a win for Slaven Bilic's side would see them move a point ahead of Boro almost a fifth of the way into the season.
After West Ham, Boro face home ties against Watford and Bournemouth, who were promoted from the Championship ahead of them two seasons ago, either side of a daunting away trip to title-chasing Arsenal.