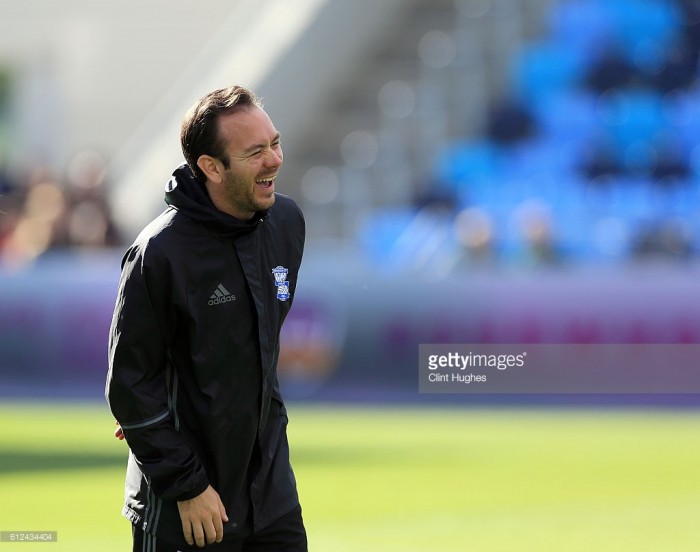 After Birmingham City's extra-time loss to Manchester City in the Conti Cup final, VAVEL spoke to Blues' manager David Parker about the final, his continued belief in the club and his desire to fill up the trophy cabinet.
Neutral venue or lion's den
Coming into the game there had been controversy over the venue, City's awarded the final long before the team hurdled the teams in their way. The point would have been a moot one had they failed to beat Arsenal in the semi-final but many around the league were left with a sour taste in their mouth when they progressed through the rounds and were rewarded with a home tie.
Before the final Parker had been brief with his sentiments on coming into a cup final as an "away team" but conceded it was a complicated issue that put his team on the back-foot from the yet go, but knowing full well that his group of players were perfectly prepared for the match and his belief never wavered,
"As the away team there were many many things against us today, lots of little things people haven't seen behind the scenes as well as things on the pitch but you can't control that – we knew coming in that there would be things beyond our control. But all week coming into the match and during it I was convinced we were going to win, you can put anything you like against these players and we'll come bouncing back."
With the hosts looking increasingly unsettled after the break, Birmingham had their best chances in the second-half, not letting City play their way and catching them on the break, "I thought were going to win it, we really had Man City on the ropes for the last twenty minutes and that says an awful lot for this group, physically, mentally, technically, tactically; every team in this league has faded against Man City in the last twenty minutes, that's when City score their most goals, that's when they're pivotal. But we had them, we absolutely had them, when it was corners and they were rocking I thought it was going to swing our way."
Little moments and big money
With two of the four goals they scored in the semi-final against the London Bees coming from corners, and coming up against such a strong defensive side in Manchester, Parker wasn't surprised that the decisive moment came from a set piece, "Games ultimately come down to little moments, set pieces and we preach that massively and you can see over 120 minutes it's come down to two corners."
With the huge sums of money floating around the top clubs, Birmingham managed to keep City honest for 120 minutes, consistently strong in the league this season, Parker has seen people write his side off year after year.
"For six years in this Super League we've always had a strong mentality – people will look at us, we don't get the credit for all that we do, the critics will hammer us every year and it's laughable. People will say, 'It's Birmingham, they're going down', 'It's Birmingham they're this and that'. I defy any club – not medal for medal – but pound for pound, how many points have you got? We're in another universe, if we had facilities like Man City have there's not limit to what we could achieve, even just half of what City have – we're talking a couple of hundred thousand for our budget, City are putting multimillions in. It's the same for Arsenal and Chelsea; financially, they're in another universe. If we had those little things that make the 1% differences and build-up and really have that level, what could this group achieve? Because today we've shown we can do it on a shoestring."
Away from a final for four years, Parker has never been happy to middle, always targeting silverware and use to people doubting their ability, "I target finals every year, every year I see us in contention; I know how good this group is, we've always had great players at this club. Yeah, there's been a merry-go-round over the last three years, players have left and we've had plenty of new players join and many young players have progressed into the senior squad."
He added, But we've always been there or thereabouts, who's got so many top four finishes in the Super League, who's collected that many points in the all-time table; it's us and Arsenal. Who's got that many finals; it's us and Arsenal. That's what it's about and people don't see that they only remember the WSL from 2013 and probably 2014. Football is a short-term memory game but we're Birmingham City, we're proud of it and we'll always go toe-to-toe with anyone and people can doubt us all they want but it just spurs us on."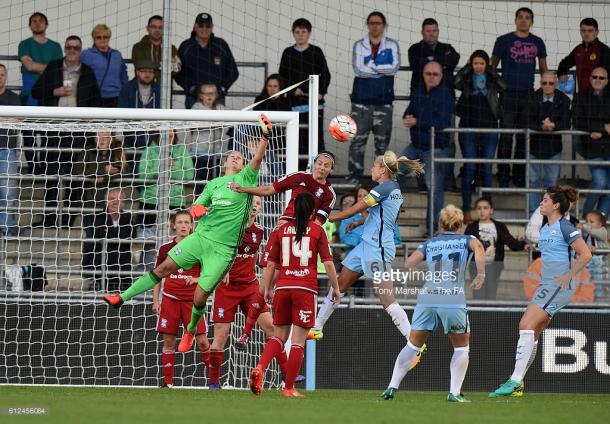 Investments
Before the season started Birmingham kept their transfers simple, not buying as much as promoting, the main bulk of investment happening behind the scenes and with Corina Schröder having returned to league action against Liverpool last time out and Kirsty Linnett going a strong 75 minutes in the final, Parker couldn't speak highly enough of the medical and sports science staff at the club, "It's of huge credit to the great medical staff we've got, before the season started we tore the backroom staff to pieces and started fresh. We've reinvested heavily on the sports science side because we needed to make those improvements.
"The injuries we had coming into the season were because of past seasons and not being able to manage them in the best way possible but we've come through that now, we knew they'd be ups and downs and developing from a part-time to a full-time programme puts massive strain on the girls and we knew there'd be injuries because of it but we've minimised them. Coming here today we've gone toe-to-toe with City physically but we've taken them for 120 minutes today and that shows how far we've come.
"It's to the credit of the sports science and medical staff as well as Birmingham as well for putting in the investment. The girls are getting the best care because of the investment and the hard work of everyone at the club."
A player typifying the hard work of the Blues was Jess Carter, only having improved since going full-time, Carter has been a consistent performer for the West Midlands team and although Parker believes she has the ability to play for the best teams in the world, has no intention on losing her just yet, "Jess is a top top player and there's going to be a lot of phone calls for her over the Winter but I ain't picking them up. She can go on, she can play for a Lyon or a Wolfsburg or a Bayern Munich; she can do whatever she wants and she's ready to go to the Euros in the Summer, it's just a matter of whether Mark [Sampson] makes that call."
Carter wasn't the only one catching the eye for the Blues, and many were left feeling that German international, Ann-Katrin Berger should have been awarded Player of the Match, "She's a fantastic player and we knew she was when we brought her to this club from PSG. She's a big game player, she's done the lot for us today and now obviously, she'll get the accolades she deserves. But I've got to commend 1-18, the subs who've come on and the girls who've not made the squad; it's been a real group effort this year and they've taken us all the way to the final."