 After looking at the title race it's time to turn our attentions to the other end of the WSL 1 table and talk about the dreaded "r" word.
Is it full time for the Belles?
If Manchester City climbed to the top of the table on the first night then Doncaster sunk to the bottom and have yet to lift off. Boasting a total of zero points from nine games, everyone seems to have completely written the Belles off.
After a triumphant return to the top tier in England the Belles somewhat drew the short straw in terms of who they'd be facing and when and went into the mid-season break having faced the top three teams in the first nine weeks of the season. With just three games under their belt and a postponed fixture against the team who sat fourth in the table, people already began looking at Doncaster as if they had relegation written all over them.
The bad luck continued for the club as they lost star striker Courtney Sweetman-Kirk very early in the season to a fractured leg and veteran Sue Smith before the season even started. With injuries mounting up and players out of position the club struggled to match the pace of WSL's best and parted company with the manager who'd steered them to promotion over the mid-season break.
Two months later and the ship has been steadied by first-time boss Emma Coates, with another six games under their belt the team look better and better with each passing game but their first points of the year still allude them. The high point for the Belles has been a Continental Tyres Cup win over relegation rivals Sunderland, the reward for their hard work was a quarter final clash with Man City – and the first of two ties with the league leaders in four days.
After a credible 0-1 loss to Liverpool on Saturday, the Belles' first points seem just around the corner and with more games in hand than anyone else in the league, they may yet pick themselves off of the floor of the table. With seven games left and just six points adrift of both Sunderland and Reading – as well as nine below Notts County – the Belles will have every chance to improve their lot. Their chances are boosted by who they'll be facing, two ties with Arsenal loom heavy but a double against Reading and home games against Liverpool, Notts and Sunderland all seem like they could bare fruit.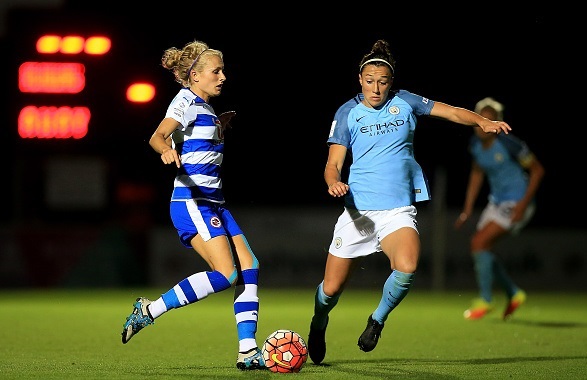 Drawing is the name of the game
From the team yet to pick up a point to one yet to win one. Fellow WSL 1 newcomers, Reading haven't had as rocky a time in their first season in the top flight as Doncaster have on their return. Though also still looking for their first win of the year, the Royals have drawn an unparalleled six games this term and have a comparatively healthy goal difference of -8 (should it come down to it).
Having drawn both games against Sunderland, Notts and fellow draw specialists, Birmingham. In her first taste of top flight football Kelly Chambers has had to adapt a Reading side that prided themselves on a potent attack to a conservative and well regimented one, defence the key, as all players have worked together to shield their goal.
Favouring a defensive approach, parallels have been drawn with the other WSL 1 team that values a strong defensive mentality; Birmingham. Having played two less than the Blues, Reading have bagged one more draw and surprisingly have outscored the Midlands team by one.
Whilst there are still goals to be had in the Reading side the transition from defence to attack and converting chances is where the Royals have fallen down this season, attackers forced to work hard without the ball have at times seemed lost with it.
A team that has acclimatised to playing a patient and resilient game, a solid first season to ensure safety was always Reading's top priority. Just like many other teams across the country, not taking chances when they come is what's stopping Reading from capturing that all-important first win of the year. With a home tie to Liverpool before sequential double-headers against Chelsea and Doncaster, the Royals are fast running out of time.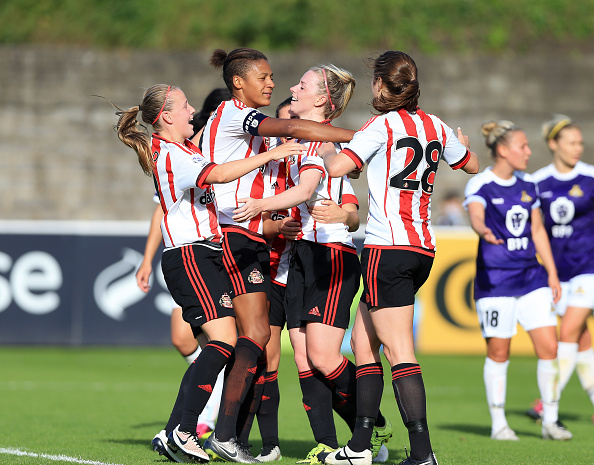 Second season syndrome or something worse?
After a storming first season in WSL 1, Sunderland have spluttered and wheezed in their second season. With just one win from 12 matches and a goal difference of -20 (five less than the Belles), Sunderland are by no means safe. With four games staggered over ten weeks, Sunderland will look to complete a league double over the Belles before taking something from their double-header against Notts, or to at least sign off with a flourish against a confident Birmingham side on the last day of the campaign.
Off of the back of a dream first season when they took the league by storm and caused a major upset against leaders and champions Chelsea, the Lady Black Cats only went from strength to strength. Unfortunately, their happiest times this year were all at the start of the season, winning two and drawing their first three competitive games of the year (both wins coming in the FA Cup against Yeovil Town and Reading).
Ever since they've only managed a handful of draws (along with their league win) in a sea of forgettable fixtures. Not offering enough going forward with star striker Beth Mead always well marshalled by defenders. Midfielders and defenders frequently stuck in the defensive third, unable to get out or successfully shield Rachael Laws in goal. The end of the 2016 season can't come soon enough for the Lady Black Cats.
Meadow Lane misery
Ten points off of fifth placed Liverpool, Notts County sit just above Reading and Sunderland but with just two wins all year, fans of the Nottingham club won't be relaxing just yet. A trip to Doncaster is sandwiched by matches against Sunderland – which are themselves sandwiched between a Chelsea double-header. There are points on offer for the Lady Pies, maybe not at the hands of the current title holders but against those below them.
In a season that started out with by conceding a last-second winner against Man City, things have only gone from bad to worse for a Notts side that shouldn't be struggling as much as they are. Players, managers and staff all well used to the constraints of WSL 1 life, plenty of ability on the pitch that fails to translate into performances. Injuries and player departures have hampered County but with two wins (Liverpool and Doncaster) and three draws (Reading twice and Liverpool) for all to show for 11 games, something is seriously going wrong with Notts. Whatever happens this has been far from a successful season for County but unless they can finally stop leaking goals and remember how to convert chances they risk slipping further down the table.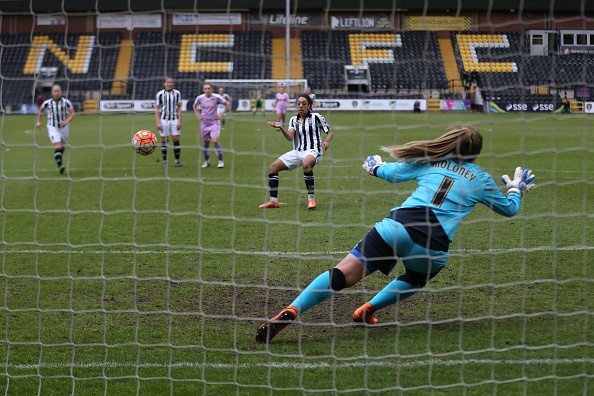 Reading, Suderland and Notts will all be fine with their meagre haul should the Belles fail to start picking up points but the club with such an illustrious history and big plans for the future will not go down without a fight and those above them should be wary. One team is on thier way to WSL 2 but it's not guaranteed to be Doncaster.