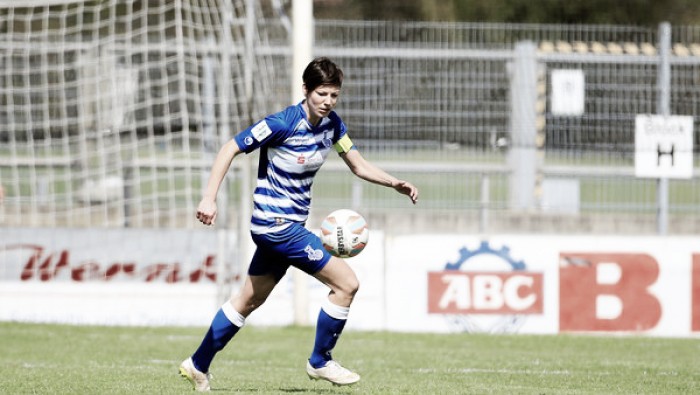 MSV Duisburg have confirmed that one of last seasons stars in Linda Bresonik has agreed to a new contract of a year with an option of a further year.
The team has made several reinforcements to assemble a competitive squad for next season's Frauen Bundesliga and beyond the renewal of the captain, they've brought four players inso far. Goalkeeper Lena Nuding, Austrian international defender Virginia Kirchberger and midfielder Yvonne Zielinski, both of 1.FC Köln and the 20-year-old striker Alina Witt from SV Henstedt-Ulzburg.
A successful career with various clubs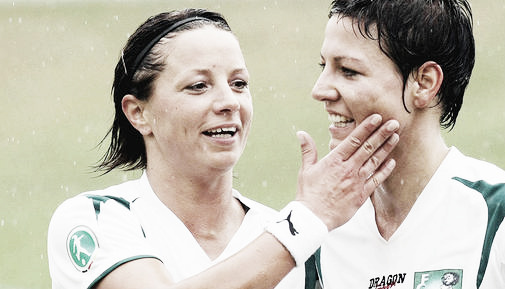 Bresonik began her career at the age of five at TuS 84/10 Essen, before moving to Grün-Weiß Schönebeck in 1995. She joined FCR 2001 Duisburg in 2000 and in the 2004-05 season, Duisburg finished runner-up in the league. After a falling out with the club, Bresonik transferred to Bundesliga side SC 07 Bad Neuenahr, but she only Appeared in five matches there. One year later she moved to SGS Essen, her hometown club, where she played for two seasons.
In 2008 Bresonik returned to FCR 2001 Duisburg. During her second stint at the club, she had her biggest success at club level, winning the UEFA Women's Cup in the 2008-09 season. She also won the German Cup twice with Duisburg and finished runner-up in the 2009-10 Bundesliga season. At the end of the German season in 2011/12, she and defender Annike Krahn left Duisburg and signed with French side Paris Saint Germain.
After three seasons with French club, the experienced midfielder returned last season to MSV Duisburg, where she was an important player in gaining access to the elite of the German women's football in an unbeaten campaign.
Inka Grings pleased to keep leader Bresonik
The midfielder won the UEFA Women's Under-18 Championship with Germany in 2000 and two years later she came third at the 2002 FIFA U-19 Women's World Cup. She made her debut for the German senior national team in May 2001 against Italy and less than two months later, Bresonik won her first major international title at the 2001 European Championship. At the 2003 FIFA Women's World Cup, she suffered a muscle injury in Germany's second group match and returned to Germany.
She was part of Germany's squad who won the 2007 FIFA Women's World Cup and started in all of the team's six matches, won the bronze medal at the 2008 Summer Olympics and helped Germany in winning the country's seventh title at the 2009 European Championship. Bresonik was part of Germany's 2011 FIFA Women's World Cup squad and in 2014 decided to retire from international football.
Inka Grings, current MSV Duisburg coach was an effective striker in her career and working with the player at both Duisburg and the national team appears to be happy with the renovation of one of its top players.
"I'm very happy about Linda's journey. She is very experienced, what a climber. It Certainly helps us and I expect she will lead the team as always."