Once again the concept of safe standing has been thrown into limelight with the recent revelations that Manchester United are seriously exploring the idea of following the trend of other European leagues.
Representatives of the club are said to be visiting Celtic Park to observe and examine their safe standing areas with a view to implementing it at Old Trafford.
Celtic Park currently has the capacity for 2,975 fans to stand safely to watch their home matches, and it is widely considered that by allowing fans to stand, that this will aid in improving the atmosphere within stadiums.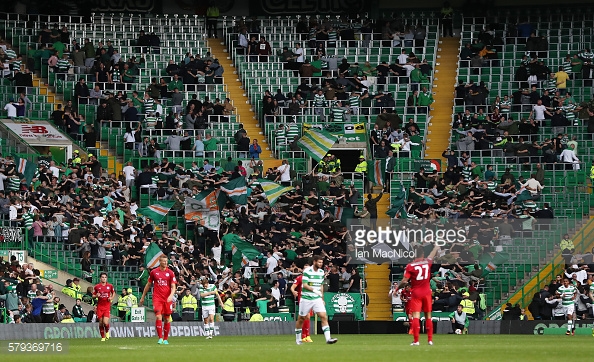 Support among Premier League sides
Various Premier League clubs are said to back the idea, with Tottenham, Arsenal, West Ham and both Manchester clubs said to be in favour of implementing the new matchday experience.
But of course this is a sensitive issue, and it seems no club wants to be the main flag bearer of this concept out of the possibility of being labelled disrespectful with regards to the Hillsborough disaster. A tragic day which saw 96 people killed and subsequently meant all-seat regulations were introduced for every club in the top two divisions of English football by Lord Justice Taylor.
But with many European countries having found a way to introduce a system whereby fans can stand safely at matches, there have been calls for the rules to be changed in England with the hope of improving the match-day experience for those fans that wish to stand.
A credible idea?
There is proof that the system works. You only have to look at Germany, Holland, Switzerland or Sweden, and a host of other countries to find that by allowing fans to stand does not mean the game will revert to the dark ages of fan violence and stampedes.
This form of standing differs from the dangerous form that we saw before the implementation of all-seater stadiums where you were shoulder to shoulder with thousands of others and would often find yourself being dragged from left to right with no control.
But today's safe standing ensures fans are assigned a fold-up seat and small space in front of them where they can stand. Also in front of them is a safety bar which ensures each person has their own individual space to enjoy the game.
Borussia Dortmund, who have a stadium capacity of over 80,000, are considered a club which provide one of Europe's best footballing atmospheres. Hostile at times, and no doubt passionate, the club provide the fans with the grounds to express themselves in a safe environment, without having to leap out of their seats and no doubt be told to sit back down by a steward as we would see in a Premier League stadium.
With the advancement in CCTV the authorities now have it easier than ever to spot any trouble makers that may use their freedom to stand to act in a dangerous manner, and remove them from the stadium, meaning the excuses not to implement safe standing are wearing thinner and thinner as the calls grow louder to at least trial the system in England's top tier.
What is preventing this from happening?
Current legislation means clubs cannot do anything about trying the new system until that ruling is adapted, or further guidance is provided. Until now the Premier League's stance has been that legislation would prevent them from being able to do anything, but as the calls intensify it is expected that the Premier League will approach the government to seek clarification on their rules on having railed seats.
The more we see European teams prosper from the buzz that is brought to a match by having fans standing, then the more calls will be heard.
Nobody knows if and when the Premier League will act upon these proposals, but it does seem that the longer the debate continues to be had, and the more people that support the concept, then the likelihood of one day having safe standing in the Premier League and the Championship seems more and more plausible.