Southampton centre-back Virgil Van Dijk believes the best side won on Thursday evening, as the Saints were the "dominant" side in the 2-1 win over Inter Milan.
The 25-year-old scored to level the score, before Yuto Nagatomo turned the ball into his own net to give Claude Puel's men a 2-1 lead.
Deserving winners
Van Dijk's strike just after the hour mark was the result of huge spells of possession for the home side and not many will disgaree that it was fully deserved when the home side pulled level.
Speaking after the match last night, Van Dijk said he thought his side "played some good football" and were "dominant" throughout the entirety of the game.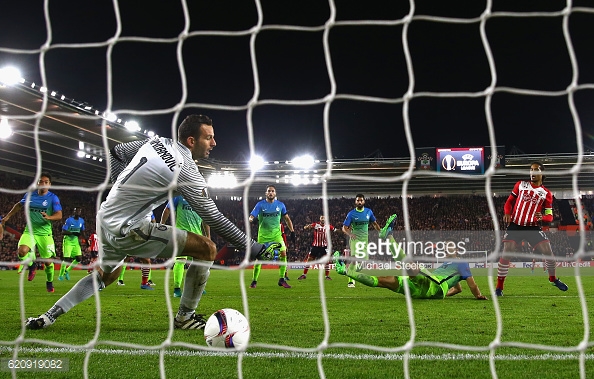 Southampton failed to take any points away from the San Siro two weeks ago, despite being the better side, and it was clear Van Dijk was pleased the history didn't repeat itself. The Dutch international said "it was a similar story in Milan, but today we got the win."
The stats
Van Dijk's comments are backed up by the statistics coming out of the game. Southampton dominated possession, having 57% of the ball throught the match. They also had 23 shots, compared to Inter Milan's five.
Southampton's penalty and first goal came from a corner and whilst they managed nine in total, Inter only had three all game.
Inter play dirty
Van Dijk had two penalty claims turned down before he finally got on the scoresheet in the 64th minute. Andrea Ranocchia seemed to man handle the big central defender in the penalty twice, denying him the chance to get on the end of an incoming corner.
The referee waved away both claims and Van Dijk was told to get on with it. This would have made his goal taste even sweeter, when he smashed home unmarked from six yards.
Antonio Candreva was also not abiding by the rules, as he was seen scuffing the penalty spot before Dusan Tadic's penalty. The Italian then stuck his elbow into the face of Sam McQueen when the youngster attempted to stop him.