Atletico Madrid forward Antoine Griezmann has admitted that he would like to play with Paul Pogba in the same team at club level in future. The French forward also warned that he is not looking to move from Atletico anytime soon.
Griezmann has been one of the good friends of Pogba in football. The duo were key for France to reach in the finals of Euros in their home country earlier this year. Griezmann was the Player of the Tournament, and top goalscorer at Euro 2016.
Manchester United is a huge club
Pogba returned to Manchester United from Juventus this summer for a world record transfer fee of £89million. The French forward admitted that he keeps asking Pogba about Manchester United. Griezmann insisted that the English side is "a huge club with a really good infrastructure." Griezmann finished as a runner-up in Champions League with Atletico Madrid last term.
The versatile forward also admitted that he asks Pogba "about some of the players, and if they're really that good, or if Jose Mourinho is really that good." Greizmann has been a prolific goalscorer for Atletico Madrid since moving from Real Sociedad two seasons ago.
Greizmann not thinking about leaving Atletico right now
The Atletico striker stressed on the fact that despite "the speculation about his future he doesn't see himself moving to a new club." Griezmann insisted that in future he will be "excited to play alongside Pogba." The Spanish giants will be reluctant to sell their prized asset anytime soon as they are going to face a transfer ban in next two transfer windows.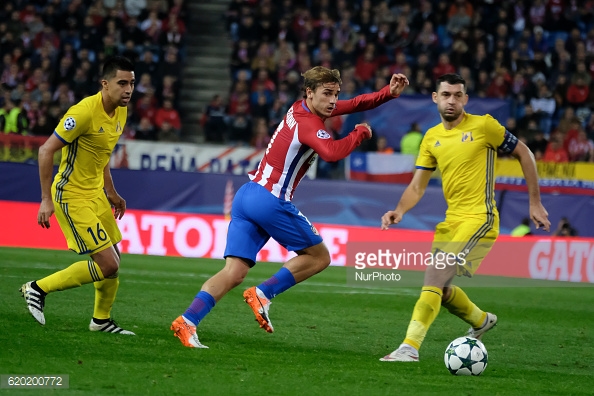 Manchester United will continue their new-found Galacticos tradition if they sign the French forward. United boast a good contingent of French players. The arrival of Pogba this summer will surely help United to convince Griezmann to sign for them. United will be looking to finish in top four after a poor start if they aim to get such kind of world class forward.