Manchester United manager Jose Mourinho has been advised to use the talent of Anthony Martial effectively by Jamie Redknapp.
The Sky Sports pundit believes that Mourinho risks having a similar situation with Martial as he had with Kevin De Bruyne at Chelsea.
The French forward has been enduring a tough second season after finishing as the top scorer for the club in his debut campaign. Mourinho has initially admitted that Martial needs to take his chances as there is too much competition in the squad for those position. He admitted that the 20-year-old needs time to adapt into his system.
Martial is a top talent
The French international joined United last summer for a world record £36 million for a teenager, finding the net 17 times for the Old Trafford side. He has managed to score four goals and two assists in all competitions so far this year, some suggesting he's suffered due to a lack of break in summer and certain personal problems this year.
He has been majorily used as a left winger this year, in and out of the team due to inconsistent form. Redknapp admitted that "Martial is a top talent and he just needs an opportunity." He was given the opportunity against West Ham in EFL cup, and was bright in the game as he grabbed a brace.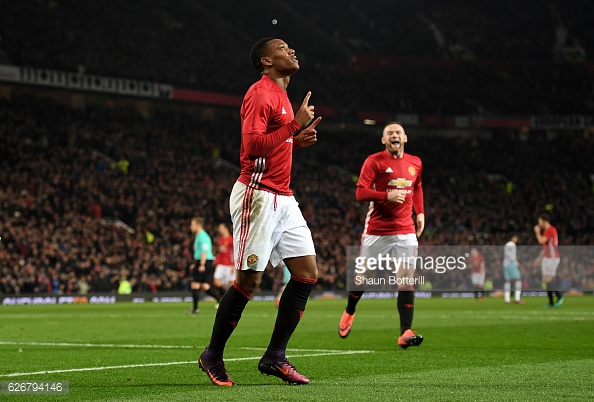 Mourinho will be foolish to get rid of Martial
Redknapp believes that Mourinho should play to Martial's strengths. He admitted that "Martial hasn't had a good season" but he's the sort of player that "if you let go, he could end up being another Kevin De Bruyne or Juan Mata." The Belgian was sold to Wolfsburg while Mata joined Manchester United during Mourinho's second tenure at Chelsea.
Both attacking players have been influential in their respective clubs. De Bruyne earned a move to Manchester City due to his impressive form. Martial is still 20 and Mourinho needs to be patient with the forward in order to get best out of him, in order to avoid making another mistake.