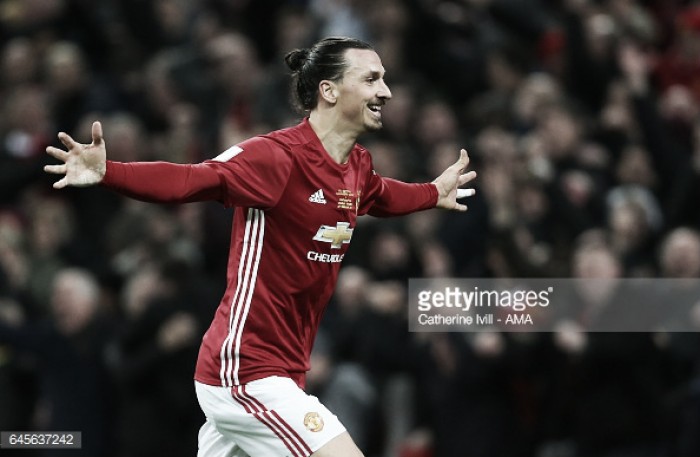 In the aftermath of the victory over Southampton in the EFL Cup Final, Zlatan Ibrahimovic was like the Pied Piper. Wave after wave of team-mates were coming up to the man-of-the-match and taking it in turns to give him a huge embrace.
As well they might. United were far from their best, and Southampton could consider themselves very unlucky on the day. Unlucky in many respects, but not least that United had Zlatan.
He was the difference. He was imperious. He was magnificent.
When Ander Herrera lofted the ball towards him, it was as if time stood still. It was as if it was Wembley in 1996, when Eric Cantona pulled the trigger in the FA Cup Final to defeat Liverpool. Slow motion, you knew the outcome.
In those days, you knew Eric would deliver. Time and time again, the opposition or the occasion held no fears. The bigger the stage, the more he belonged. He delivered.
Zlatan the God
On Ibrahimovic's arrival at Old Trafford, Cantona joked that he could become a Prince at United as there was only one King. The Swede retorted he would leave a God.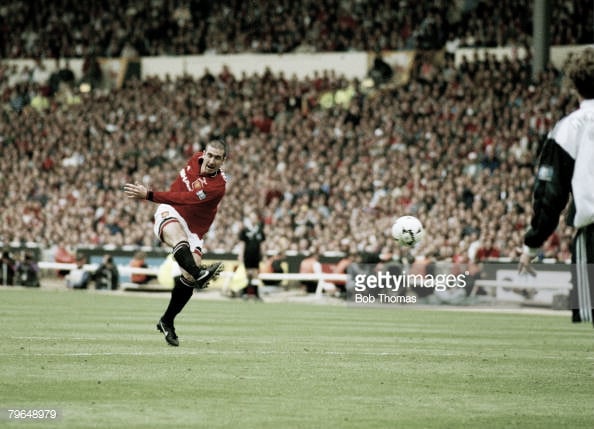 He may well do that, but the question that cropped up in the post match debriefings was when will he leave. It has been reported that he signed a one year deal, but there were certain clauses that could trigger a further 12 months.
He has supposedly met the criteria for the extension, yet it doesn't seem certain that the option will be taken.
Firstly, it was Jose Mourinho to have his say. In his press conference he said that Ibrahimovic decides his destiny. At Inter Milan, he left for Barcelona, and Mourinho revealed he did not try and stop him. He never begs players to stay, he explained.
It is clear he doesn't want to lose him though. He knows how good he has been for United, and humorously suggested United fans should camp outside Zlatan's house if it may help get that contract extension.
Champions League not essential for Zlatan
Ibrahimovic also had his say when questioned. He was non-committal on his future, but when asked if the Champions League qualification would have a bearing, he was unequivocal that it was not a factor. He said:
'It's not about that, I came here and the club wasn't in the Champions League. So it had nothing to do with the Champions League. It has nothing to do with that.'
Interestingly, in another echo towards Cantona, he revealed that he was not going to become a journeyman. If he isn't contributing, he will walk away, saying:
'I will stop on top, I will not play one game by being Ibrahimovic and for what I did before. If I don't perform, if I don't bring results, I will not play.'
On the evidence of his time so far at United, there is no danger of that any time soon. He has been a revelation. It is odds on he will be performing next season, and maybe the final few months and push for trophies may help with his decision.
Mino Raiola, Ibrahimovic's agent, is never short of something to say. Last week, he was suggesting that Napoli would be the dream destination to finish his career. Today, he was not giving anything away and merely said enjoy the moment and wait and see.
The influence that the striker has had in such a short space of time means United need to keep him. His confidence, arrogance and leadership have had a massive bearing on the squad.
Competition will be a good thing
If United sign another forward in the summer, an Antoine Griezmann for instance, that would not phase Ibrahimovic. If anything it would spur him on. He would not be threatened, he would see it as another challenge.
His post match interviews after the final were pure theatre. Not a bit of modesty, he milked the plaudits and explained that he knew it would be like this. Delivering match winning performances and collecting trophies.
Cantona retired prematurely, but he gave United five glorious years. Ibrahimovic may be 35-years-old, but he shows no signs of diminishing. This season has the potential to be a great one for United, but one year of the new hero would be criminal, he simply has to stay next year.
United fans should start queuing outside his house now.