Manchester United forward Zlatan Ibrahimović has taken responsibility for the 1-1 draw against Bournemouth on Saturday.
The Red Devils succumbed to tenth league draw of the current season, seven of which have came at Old Trafford, as they failed to capitalise on the dropped points by the rivals yet again.
Ibrahimović was the centre of attraction in this game for all wrong reasons. The Swedish forward will face a three-game ban after elbowing Tyrone Mings.
Ibrahimovic takes blame for missing chances
The former Paris Saint-Germain forward has been the top scorer for Manchester United this season with 26 goals in all competitions.
However, he has a very poor conversion rate despite scoring so many goals this season - often needing several opportunities.
Indeed, Ibrahimović had a penalty saved against Bournemouth and missed numerous chances to get his name on the score-sheet as United disappointingly dropped points.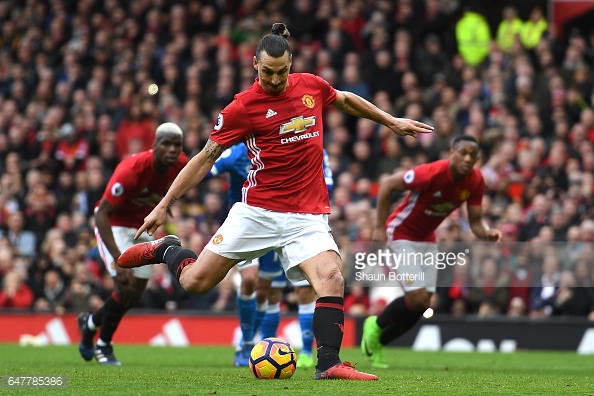 While talking to MUTV Ibrahimović admitted that he "had a lot of chances and should have scored." However he promised that he "will rise from this and come back even stronger and continue."
United have scored very few goals in the league and half of their goals have come through Ibrahimović, whom they signed for free in the summer.
Ibrahimović admits that team will bounce back
The towering forward scored the winning goal in the EFL Cup win over Southampton a week ago. He insists that the team "learned lessons from the game against Bournemouth."
The forward is eager to make amends in Thursday's Europa League tie against FC Rostov and is "hopeful about not repeating mistakes that they did on Saturday."
José Mourinho's men have done well in knockout competitions this season. They have been able to score more consistently in cup competitions, despite struggling to do so regularly in the Premier League.
United can still finish in the top-four this season, but cannot afford any more slip ups like Saturday, and must ensure they take all the chances they can to catch up on their rivals.