 Zlatan Ibrahimovic has announced that he will join Manchester United for the 2016/17 season, reuniting with former manager Jose Mourinho.
The Swedish striker took to social media to confirm one of football's worst-kept secrets, having been constantly linked to an Old Trafford move since the end of the season.
Zlatan confirms Manchester United move
He posted: "Time to let the world know. My next destination is Manchester United."
Ibrahimovic will sign for Mourinho's new team as his contract at Paris Saint-Germain finishes on June 30th. It is believed that the move was not announced until now to ensure Ibrahimovic secures a multi-million-pound bonus from PSG for seeing out his contract.
Mourinho and Ibrahimovic worked together very briefly at Inter Milan in Serie A. Remarkably, it has been 15 seasons since neither one of the pair won the league title.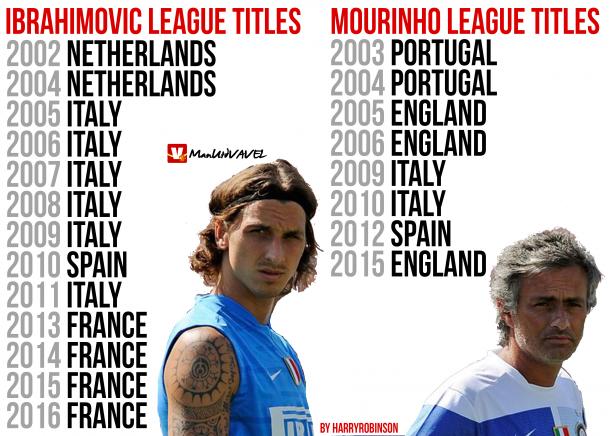 Ibrahimovic won the league under Mourinho in Italy before departing for FC Barcelona, where he lifted the league in Spain, of course.
Ibrahimovic reunited with Mourinho
He'll join United on a free transfer but the lack of a transfer fee is only a softening to the Swede's incredibly large wages. He's expected to stay for just one year, with a possibility of a further year extension. Should he be earning similar to that at French champions PSG, he will become the highest paid footballer in the United Kingdom.
With many young talents, most notably Marcus Rashford, currently coming through at United, some have suggested Ibrahimovic can act as both talisman and leader to a new generation at Old Trafford, much like Eric Cantona did with the famous Class of '92.
There is no doubting the sheer ability of Ibrahimovic, as one of the most prolific scorers in European football. A goalscorer has been severely missed by United since with Anthony Martial leading the scoring charts last season. The last prolific forward United had was Robin van Persie in Sir Alex Ferguson's final season at the club.
At 34 years of age, some have questioned his ability to continue to perform. These concerns are particularly relevant in the Premier League, with a far more demanding schedule than that of anywhere else in Europe, mainly for the lack of a winter break. Having been playing in France for four seasons with Paris Saint-Germain, Ibrahimovic has had a far easier average side to face than in England, causing these questions to continue.
Despite this, the striker has proved that with age he has improved, unusually. His goalscoring record has massively increased as he has aged and he is constantly reminding the world that he is "not done" yet, "this is just the beginning."
The arrogance of Louis van Gaal frustrated many at United, but if Ibrahimovic can combine his incredibly large ego with good performances, it will be adored. Arrogance and success are accepted, in fact they are sought after at Manchester United in particular. It is only when the performances drop that arrogance becomes a frustration. The entertainment value of the club and of the Premier League has massively increased with the introduction of football's most confident man.