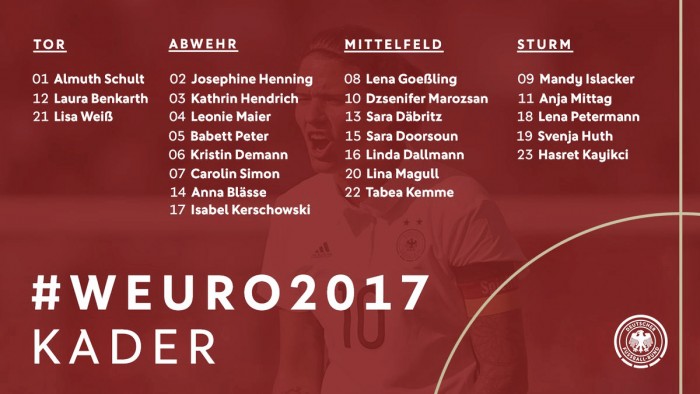 With only a few weeks to go, Germany have announced their 23-player roster to take part in the 2017 UEFA Women's Championship this summer in the Netherlands.
Manager Steffi Jones has included many familiar names and has had to make exclusions due to injury of more prominent names as the current reigning champions look to add their ninth UEFA Women's Euro title.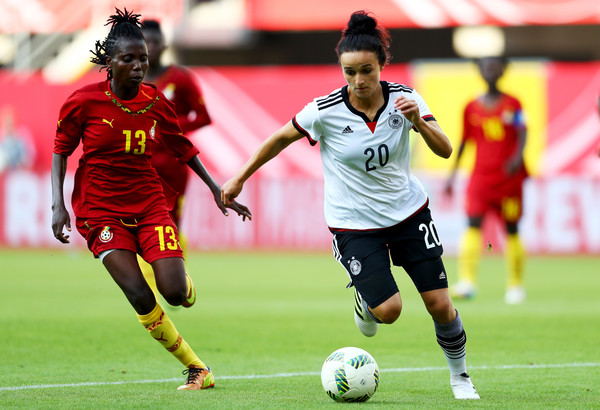 Magull, Kayikçi set to star on the big stage
After spending their time in the youth national teams, Lina Magull and Hasret Kayikçi are not set to feature in the senior team in their first major competition.
Their call ups are well-earned as both starred for their clubs in the just finished Frauen-Bundesliga season. Magull finished the season with 11 goals for SC Freiburg, helping her team finish fourth in the league when all was said and done. Magull has always been a player to watch during her youth level days and was the captain of the U20s side that won the FIFA U-20 Women's World Cup in 2014.
While her contract is still with VfL Wolfsburg, it has been her performances at Freiburg where she has been on loan for the last two seasons that have made Jones notice her and thus, include her in her team for the upcoming competition.
Hasret Kayikçi has had a slightly different journey to Magull's in that she initially featured at the youth levels in 2008 and 2009 but did not come into the senior team set up until 2016 whereas Magull got her first senior call up in 2015.
Kayikçi has also been just as impressive as her teammate at club level, scoring 12 goals for Freiburg and along with Magull, helping her team finish so high up the table last season. Neither of these play start the majority of the matches for Germany but they will provide a deep bench should they be called upon during the tournament by Steffi Jones.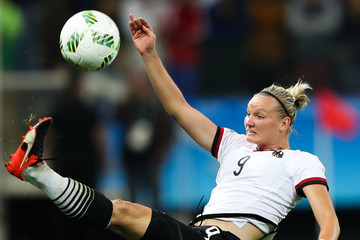 Popp, Bremer, Rauch all out of the squad
The exclusions from the released list are just as interesting to read as those on the list. Alexandra Popp picked up an injury during training recently and has been deemed not to be available for the tournament due to that injury.
It is a big blow for Germany as Popp has been a staple on the team for years now and her ability in the air is usually a great outlet for a team that likes to usually play on the transition with lower passes or crosses.
The other missing names are those of Pauline Bremer and Felicitas Rauch. Both defenders have had good seasons for their clubs, Olympique Lyonnais and 1. FFC Turbine Potsdam yet Steffi Jones has decided to not call them up for the tournament. It is a baffling decision by the German manager as Bremer and Rauch have proven their abilities at the highest level, Bremer in the UEFA Women's Champions League and the Division 1 Féminine, and Rauch who helped her team finish third in the league after disappointing seasons beforehand.
There is some good news for fans of the German national team as Lena Goeßling is back to full fitness after missing most of the season due to injury. The Wolfsburg midfielder has been deemed fit enough by the coaching staff to be included in this roster and although she may nto start straight away, will probably feature for the team the deeper Germany go into the competition.
Full Germany 23-player squad
Goalkeepers: Almuth Schult (VfL Wolfsburg), Laura Benkarth (SC Freiburg), Lisa Weiß (SGS Essen).
Defenders: Josephine Henning (Olympique Lyonnais), Kathrin Hendrich (1.FFC Frankfurt), Leonie Maier (FC Bayern Munich), Babett Peter (VfL Wolfsburg), Kristin Damann (FC Bayern Munich), Carolin Simon (SC Freiburg), Anna Blässe (VfL Wolfsburg), Isabel Kerschowski (VfL Wolfsburg).
Midfielders: Lena Goeßling (VfL Wolfsburg), Dzsenifer Marozsán (Olympique Lyonnais), Sara Däbritz (FC Bayern Munich), Sara Doorsoun (SGS Essen), Linda Dallmann (SGS Essen), Lina Magull (SC Freiburg), Tabea Kemme (1. FFC Turbine Potsdam).
Forwards: Mandy Islacker (1.FFC Frankfurt), Anja Mittag (FC Rosengård), Lena Petermann (SC Freiburg), Svenja Huth (1. FFC Turbine Potsdam), Hasret Kayikçi (SC Freiburg).