Former Manchester United captain and Sky Sports pundit Gary Neville has backed United striker Romelu Lukaku to keep ahold of his place at the top of manager Jose Mourinho's team sheet in the face of pressure from Zlatan Ibrahimovic.
Composure required, according to Neville
In a column for Sky Sports on Thursday morning, Neville wrote that he sees Ibrahimovic not as "a threat to Lukaku," but rather "as a supplement." The Reds legend went on to write that the only way Lukaku could lose his place in the team is if "the aura of Zlatan gets to Lukaku."
From there, Neville rallied the wagons around the Belgian, backing him to come good in United's crucial Premier League games against Arsenal and Manchester City over the next couple of weeks.
"Lukaku gets more chances created for him but he's also under more pressure, so misses get scrutinised, and rightly so, but these are the games where he can silence his critics," he wrote.
Ibrahimovic's return from injury invites scrutiny on Lukaku
United bought Lukaku over the summer for £75 million, before they knew whether Ibrahimovic would return to the club. The Swede, out of contract at the end of last season, was in the midst of recovering from tearing his ACL in Europa League action in April and looked as though he might never again play professional football.
After making a rapid return from the potentially career-ending injury, Mourinho re-signed Ibrahimovic, who has appeared off the bench in United's last four matches.
Against Newcastle United two weeks ago, Lukaku moved out to the right wing to accommodate Ibrahimovic after he came on. That move, in the game where Lukaku scored his only goal for United since September, after netting 11 times in his opening 10 games, prompted speculation that the Belgian could fall down the pecking order.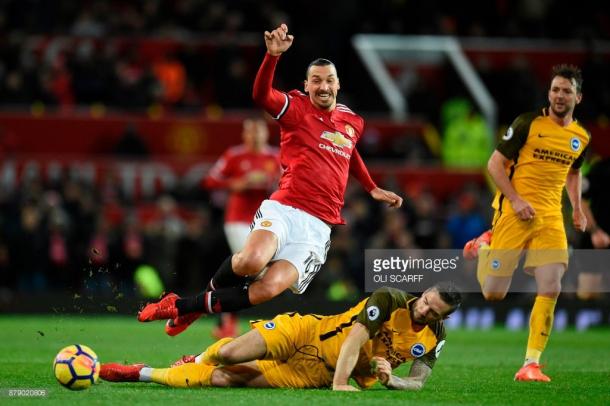 Neville, however, remains confident that will not happen and backed the striker to get back to his best.
"Zlatan is confident but Lukaku is number one, the fans and the manager believe in him and if he does have any demons then he needs to clear them from his mind," said Neville.
His first chance to silence those critics comes on Saturday evening when the Reds travel to the Emirates to face Arsenal.