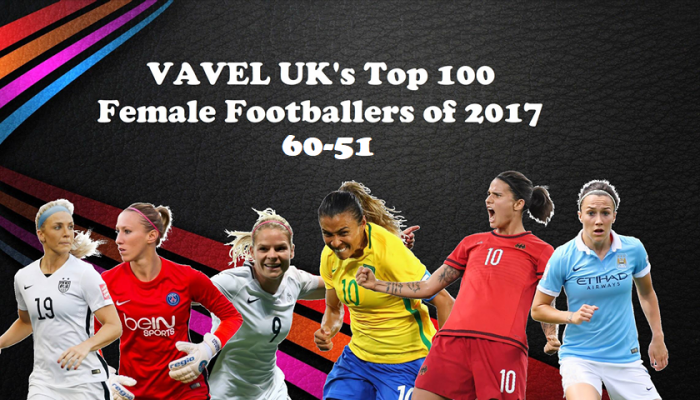 Featuring a staggering four centrebacks, we resume our countdown of the best female footballers of the past 12 months, starting with a Dane in Sweden… (100-91, 90-81, 80-71, 70-61)
2017 has been a good year for Janni Arnth as she can call herself both European silver medallist and Damallsvenskan champion. The experienced defender may have gotten injured early on during Euro 2017 but her qualities outside of the pitch saw the team keep her around for the remainder of the tournament. Those leadership qualities also came to good use for her club, when she was named captain of Linköping after Magda Eriksson left for Chelsea.
The Dane is a leader and a calm influence on the pitch, the type of player who makes the people around her better. Her calm, strong and resolute defensive play has been invaluable to Linköping this season and a big part of why they took home a second consecutive title despite losing many of their key players. 
Matilda and 2014 AFC Women's Player of the Year, Katrina Gorry spent most of 2017 learning new lessons in Japan's Nadeshiko League. A naturally hardworking and expansive midfielder, Gorry's work can sometimes go overlooked.
However, upon return to Brisbane she has already caused havoc in the 2017 season of the W-League; within 20 seconds of the first whistle being blown, the midfielder had opened up the scoring. Since, Gorry has consistently played her role as a creative midfielder – emerging as the player with the most passes, tackles, touches and duels.
58. Shelina Zadorsky – Washington Spirit/Canada
Shelina Zadorsky continues to establish herself not only for her club team, the Washington Spirit but on the international stage with Canada as well. 2017 may have not gone as well as Zadorsky would have liked with her club team but her performances for the Spirit and Canada made her one of the standouts of the year. Zadorsky made 21 appearances in the NWSL and registered just one assist in a season that saw Washington finish near the bottom of the table once again. For all of their weaknesses, Zadorsky was one of the few players who played at a high level for the Spirit this past season.
For Canada, Zadorsky made 12 appearances in 2017, including an intense two-match series against the USWNT. Though the Canadians lost both games but as they gear towards qualifying for another World Cup, Zadorsky's development is something that looks like they can count on when the time comes.
57. Megan Rapinoe – Seattle Reign/USA
A mainstay in the USWNT since 2009, Megan Rapinoe is a player that doesn't seem to age, the dynamic attacker consistently bright on the ball and full of creativity as she sets her team away. Having suffered another ACL injury last year, it was clear to see that the Californian wasn't at her best when she was called into Jill Ellis' squad for the Rio Olympics, however, back to her vintage best this year, Rapinoe was once again impressing for the Reign.
In full flow and grabbing almost as many headlines as Sam Kerr for her impressive attacking displays, Rapinoe was again side-lined part-way through the season. Returning at the end of the year, her absence was clearly felt by Seattle who missed out on the championship play-offs by five points.
In 2014, Mariona Caldentey signed for Barcelona when she was 18, having represented Spain at U17, U19 and U20 levels and was called into the Spanish senior squad this year.
An extremely versatile attacker, Mariona can play anywhere across the frontline as well as in midfield, but is always at her best on the right side of the pitch. Fast, strong and with a great eye for defence-splitting passes, the Mallorcan can either score or set up team mates with great assists, she can beat defenders on the dribble and suddenly change direction, leaving the defence scrambling to keep up.
Alanna Kennedy's club season in the NWSL ended earlier than she would have wanted as the Orlando Pride were knocked out at the semi-final stage of the play-offs but there was no doubting she was one of their standout players this year. Kennedy featured 25 times for the Pride, picking up five goals and one assist along the way. Her penchant for scoring spectacular free kick and her ability to not only mark players out of a game but also find a killer pass from her deeper-lying role earned her a spot in our list. Her play for Australia has also been of high note. Kennedy helped her country beat the USWNT for the first time in their history earlier this year on route to winning the Tournament of Nations. Kennedy has been a steady presence in the back for an up and coming Australia and an influential midfielder for the Pride.
In a year of women's football that will be synonymous with the Netherlands and Dutch national team, Jill Roord is not likely to be the first player to spring to mind when talking about those who play in orange. Still just 20-years-old, the rangy midfielder had been impressing for a dominant Twente team since her early teens, on the radar of some of the biggest teams in Europe, this summer finally saw the Oldenzaal native move to a stronger league as she joined up with Bayern Munich.
Having caught the eye when Twente and Munich clashed in the UEFA Women's Champions League in 2015, Roord has had to earn her place with the former Frauen-Bundesliga champions – as story familiar with the Oranje too – but her impact has been fast felt on the pitch. Whether assisting or putting the ball in the back of the net herself, Roord has fast become one of the most important players for the Bavarians and only looks set to keep improving in Germany.
53. Patricia Guijarro – Barcelona/Spain
Patricia Guijarro rose through the Collerense youth teams on the island of Mallorca, playing for their senior team in the Spanish first division from 2013-2015 until Barcelona signed her for their senior team when she was 17-years-old. Tasting success at international, Patri has already taken silverware with Spain at the U17 and U19 Euros and the Algarve Cup.
It wasn't until last year that the midfielder started to get some serious playing time at Barcelona and she hasn't looked back since. As well as being selected for the senior national team in 2017, Patri was part of the U19 Euro winning team in Northern Ireland in August, where she was named Player of the Tournament as well as being awarded the golden boot having scored five goals over the tournament including a brace in the final.
In the three 2019 Women's World Cup qualifiers played so far, she has scored against both Austria and Serbia – grabbing all three points in the latter with a vital injury time winner.
The teenager is equally comfortable in defence and attack, and can unleash some strong shots on goal from distance or arrive into the box to receive a key pass to score. Patri is the kind of player who if you're not noticing her on the pitch, she's having one of her better games. With a recent spate of injuries to Vicky Losada, Patri has relished her playing time in the centre of the pitch and is having her best year so far.
52. Theresa Nielsen – Vålerenga/Denmark
Only the second team to knock Germany out of a European Championship, Denmark's 31-year-old right-back Theresa Nielsen was the one to seal the tie for the Rød-Hvide. Not usually known for her goalscoring, Nielsen carries a constant attacking threat, consistently lively up the right flank, the Dane is usually the one setting up her teammates, her work for Vålerenga invaluable this year after she'd made the switch from Brøndby after eight years with the Danish champions.  
51. María Pilar "Mapi" Leon – Atletico Madrid/Barcelona/Spain
It could be said that Mapi León has been hovering on the edge of recognition for some time, but her quality was evident in her early teens. So much so that, in 2009, Zaragoza (then known as Transportes Alcaine) convinced her to give up her futsal path to join their B team – debuting in the first division at 16.
She played a year at Espanyol before signing for Atléti in 2014; it was here that she truly developed into a notable defender and was selected for the Spanish senior squad.
At the end of last season, Barça expressed interest in the dynamic centreback. The player wanted to join the Blaugrana club but Atléti was reluctant to let her go and stuck to their release clause of €100,000. The transfer dragged into preseason before the two clubs finally managed to settle on an amount, believed to be around €50,000 - history was made as Leon became the first player to move clubs, within Spain, as a paid transfer.
Since arriving in Catalunya, the 22-year-old has settled so quickly that it looks as if she has been with the team for many years. Not just a formidable defender, Leon has uncanny vision for playing long and accurate balls in attack which bypass the midfield and provide goal-scoring opportunities to the attackers.