For much of the Premier League era, Manchester United and Arsenal have had a fierce rivalry.
In the years before the league was formed, the clubs had a history of incidents. A flare-up occurred in a game at Old Trafford in 1987, but that was nothing compared to 1990 at the same venue when virtually all players got involved in a mass brawl. Both clubs were docked points for their part.
The games were spicy, and in the days where no quarter was given, any game between the teams threatened to boil over.
During the formative Premier League years, the heat of this particular battle had fizzled out somewhat. United's early dominance meant that they had a closer rival in terms of geography and in terms of title challengers.
Arsenal had fallen from grace and playing Blackburn Rovers, funded by Jack Walker's millions, was a much more important and edgy fixture than the challenge of facing the Gunners. Until a certain Frenchman entered Highbury.
Wenger challenged United's domination
When Arsene Wenger took over Arsenal in 1996, nobody could have foreseen what an impact he would have. He had come from relative obscurity via Nancy and Monaco in France and directly from Grampus Eight in Japan.
In the days where British managers were still the norm, he looked more like a professor than a football manager. There was scepticism, of course. In his first season, though, Arsenal finished third in the League missing out on a Champions League spot on goal difference.
Only seven points separated them from United, who were the Champions that year. It was clear that Wenger had them moving in the right direction, and he had also managed to irk Sir Alex Ferguson in the process, giving a hint of what was to come.
In response to Wenger's assertion that English football has a fixture congestion and should consider a winter break, Ferguson barbed "He's a novice - he should keep his opinions to Japanese football". This was Wenger's first season. The blue touch paper had been lit.
First title success
The following season, the stakes went up a notch as Arsenal claimed the title.
In the summer of 1997, Wenger had added the likes of Marc Overmars and Emmanuel Petit to the ranks and with the legendary back five in place, and the likes of Denis Bergkamp and Ian Wright in the attack, the Gunners were back.
United had lost Eric Cantona that season, and possibly more crucially Roy Keane who suffered a knee ligament injury. Despite holding a huge points advantage over Arsenal, United succumbed. The rivalry was well and truly back and didn't just extend to the players. The managers showed no love for each other whatsoever.
After two seasons in English football for Wenger, it was one apiece in terms of titles. Sir Alex would redress the balance.
The intensity of the games between the teams was enormous, but the difference between them was minimal. Fine margins more often than not dictated results and titles.
And more often than not, United were victorious.
The Treble
The balance of power was restored in glorious fashion in 1999. The first aim would have been to wrestle the league title back. They did, yet those fine margins in that particular season could well have changed history.
With the title going to the wire, United and Arsenal clashed in the FA Cup semi-final. Whilst the tie would not dictate where the title went, considering the direct competition between the teams, the loser would really be licking their wounds.
As it turned out, there would be two games. A tough, but drab, first game meant a replay at Villa Park, and it became the stuff of dreams for United fans. Nightmares for Wenger and his squad.
United were a goal up thanks to a David Beckham beauty when the half-time whistle blew. They deserved the lead, but Arsenal equalized and in the last minute of normal time were given a penalty.
If Bergkamp scored, then United would fail in the quest for a treble. A Champions League semi-final loomed with Juventus, and it is not inconceivable that United could have finished the season empty-handed.
Peter Schmeichel, who was leaving at the end of the campaign, saved the penalty. Pandemonium. Ryan Giggs would then score a mesmeric winning goal after Patrick Vieira, as the song goes, gave him the ball. Even more bedlam.
All this, after Keane had been sent off after an hour. After the game, Ferguson declared Juventus - who United would meet in the Champions League semi-final a week later - could look out, because his team could run for miles. No tiredness in those legs.
He was proved right, but United had won nothing at that moment. The title went on until the last day, and the irony was that United played Tottenham Hotspur, who could hand their equally bitter rivals the title by taking points off United.
They gave United a scare, taking the lead, but could not prevent United from winning the game and taking the title. They went on to win a historic treble lifting the FA Cup in a canter and the Champions League with two injury time goals. Fine margins.
The remarkable season meant United held sway, and two further league titles followed the treble. It included a 6-1 destruction of Arsenal at Old Trafford in 2001. It seemed Fergie had seen off his challenger. Except he hadn't.
Whether Sir Alex rested on his laurels a touch it is hard to say, but he made some questionable transfer decisions. The purchases of Juan Sebastian Veron and Diego Forlan - fine players - should have consolidated United's place at the helm.
However, the sale of Jaap Stam, combined with the additions who struggled to integrate, meant Arsenal would overhaul United at the summit.
Worst of all, they won the title in 2002 with a 1-0 victory in May at Old Trafford. To say the least, it was humiliating.
At that period of time, the fixture was the most defining one on the calendar. Winning the fixture did not usually decide the title, apart from 2002, but it had serious consequences should you lose.
Both Wenger and Sir Alex had a visible, fierce hunger in those days. They were both relatively young and the passion was there for all to see. They never disguised their distaste for each other in the media, yet under the surface there was respect.
In 2003, with Ruud van Nistelrooy scoring goals for fun, United retained the title. They won it with a game to spare and were five points clear of Arsenal. The following season would see another shift of power before a third party entered the equation.
The Invincibles
Arsenal came to Old Trafford in September 2003 and there was no sign that they had accepted United would be allowed to pick up where they left off. A tense tussle ended with United getting a penalty late on.
The Arsenal players were furious and after van Nistelrooy missed the penalty, the images of Martin Keown jumping over him and looking like a Neanderthol were vivid. Tempers spilt over, and there were confrontations aplenty. Echoes of '87 and '90 were all too apparent.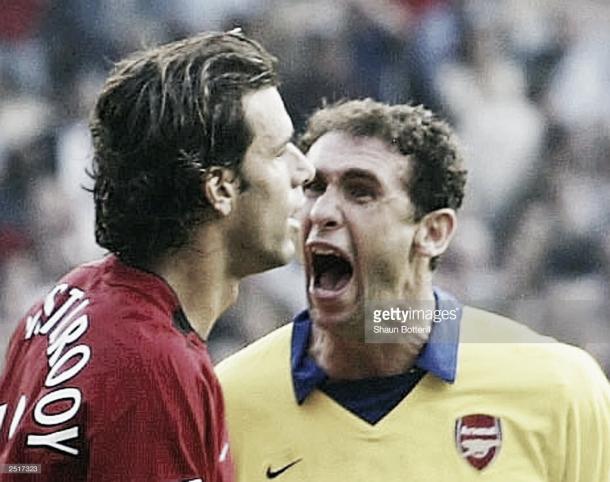 Arsenal went on to create history. Van Nistelrooy's penalty miss meant Arsenal remained unbeaten, and they went on to do so for the remainder of the season. The "invincibles" were born.
It was a remarkable season, and it was and will be Wenger's greatest achievement.
After that, the Ferguson versus Wenger history ended. End of story.
Not quite. To a degree, it did end, but Sir Alex carried on for another nine years and Wenger is still at the helm at Arsenal.
Probably the biggest flashpoint occurred the following season. The Gunners unbeaten run had stretched to 49 games, but the fixture list had been mischevious. Yet another battle at Old Trafford.
United won 2-0, there was a dodgy penalty and, feeling aggrieved, Arsenal took exception after the game. "Pizzagate" happened. Cesc Fabregas hurled pizza on Sir Alex outside the changing rooms and to this day the incident is still talked about.
New Sheriff in town
To say the rivalry went away after that is not quite true, but certainly "nouveau riche" diluted things to a large degree. When Roman Abramovich installed Jose Mourinho as his Chelsea manager, there was a new kid on the block.
In his first two seasons, Mourinho disposed of Wenger and Sir Alex away in no uncertain fashion. They were left trailing in his wake.
In Wenger's defence, it was said that his transfer funds had been incapacitated by the newly built Emirates Stadium, which surfaced in 2006.
Nikolas Anelka, Overmars and Petit were just some of the players' whose sales were thought to have helped fund the new stadium.
So whilst Wenger kept Arsenal competitive, it is understandable that with some restraints he could not compete with the likes of Mourinho and his spending.
Ferguson could, although he did not have the "blow-you-out-of-the-water" funds that were at the Chelsea man's disposal. He did alright though really, winning another three league titles on the trot from 2007-09.
By this time Mourinho was long gone, and Sir Alex picked up more titles in 2011 and 2013. He also inflicted Wenger's worst ever defeat in 2011 as United thrashed Arsenal 8-2 at Old Trafford.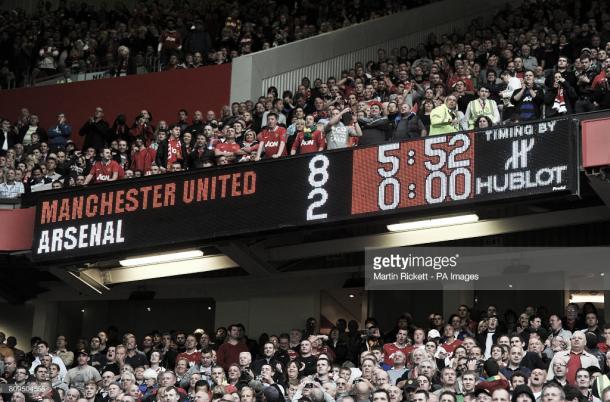 He left at the top. He saw off the challenge of the likes of Carlo Ancelotti, Felipe Scolari, Roberto Mancini and Manuel Pellegrini. He went out a winner and left a legacy that will never be surpassed.
He had won his battle with Wenger a long time ago and despite some restrictions placed on the Arsenal man, the playing field was far from uneven.
So what of Wenger? He has kept plugging away. Keeping Arsenal in the hunt for the title, but ultimately failing. Since 2004, he hasn't really come close.
Top four acceptance
That has not been acceptable for the Arsenal fans, but since Stan Kroenke took charge in 2011 it appears that it is for the board.
Qualifying for the Champions League every year is a money spinner, so he has done his job. Except in 2017, Arsenal only qualified for the Europa League, finishing fifth.
They finished above United, but United won the Europa League, under Mourinho and as such qualified for the Champions League. The fact that Wenger and Mourinho have had running battles grates further, probably.
So it is clear, Sir Alex triumphed. Ten to three against Wenger, not forgetting the three before the Frenchman arrived. And not forgetting the two Champions League wins either that Ferguson enjoyed.
Wenger won the FA Cup in 2017 to make him the most successful manager in the history of the competition.
In 2015 he surpassed Sir Alex's feat of winning five FA Cups and went one better to be an outright leader with seven. A huge achievement, but beating George Ramsay's haul of six is hardly going to resonate in years to come.
Arsene Wenger was an innovator. Many people claim that the way he changed the diet, and the mentality of his footballers was ahead of his time. It may well have been. He created a situation where footballers looked after their bodies.
Yet Sir Alex had changed the culture at United years before Wenger surfaced. Forget diet, Sir Alex cut out drinking. Norman Whiteside and Paul McGrath were two of the better players to appear in the drinking club at United when he arrived.
Eventually, he sacrificed both of them. Both legends. Both good servants. No sports science, just brave and innovative.
Premier League Record
Arsene finally surpassed Sir Alex's Premier League record of 810 games when he took charge against West Bromwich Albion this season. He deserves the accolade. He deserves all the plaudits that came and will come in his way in the future.
Yet Sir Alex managed for 1033 top flight games for United. Football existed before the Premier League, so Wenger still has a long way to go to really surpass Fergie in terms of games managed.
Under extreme scrutiny over his position, and from January 2017 questions being asked about his future, did Wenger really believe he could achieve stability and more importantly success?
Evidently so, as he agreed on a two-year contract. It looks highly unlikely that Arsenal could end their barren run for a league title anytime soon, and questions have been asked for some time from the Arsenal faithful.
Sceptics might say it was to break the Premier League record. Maybe, maybe not but whatever his motives he was a pioneer and a has been a great servant to Arsenal. Whenever he steps down, he will have achieved legendary status.
He will always be in Ferguson's shadow though.