 Just as results started to turn for David Moyes, the same is true for Louis van Gaal, as in the space of a week, Manchester United's season is threatening to come off the rails. Defeats to Bournemouth and Norwich City either side of a Champions League exit have just added to the growing pressure on van Gaal. Fans were fed up with the uninspiring football, but this last week mean that the FA Cup is now looking more and more likely to be United's only shot at glory. Of course, we are nowhere near the business end of the season and thinks can take another turn for the better, but the signs are not good. It's all van Gaal's fault. Of course it is.
In reality, it is not all his fault, but it is his responsibility and he has to take the brunt of the criticism. The players need to take some of the blame, but in truth, most of the players are van Gaal's. United's two best players this season have been Chris Smalling and David De Gea and they were at Old Trafford long before van Gaal. Whether you blame the system, the tactics or the players, the performance on the pitch all comes down to van Gaal. The games against Stoke and then Chelsea now take on the mantle of make or break. Quite frankly, if United don't gather six points from those two fixtures - and that was not easy in Sir Alex Ferguson's heyday - then he may find that his time has come. There are plenty who believe the time has already come.
World's best coaches available
Jose Mourinho was relieved of his duties last week, and he managed a team to the title last year. Pep Guardiola announced that he will leave Bayern Munich at the end of this season. Destination unknown. Carlo Ancelotti was available, but he will be filling Pep's boots in Bavaria. Still, that leaves the two best managers on the planet. Two and two equals four. Ed Woodward, take your pick. If only it were that simple. Mourinho was overlooked as Sir Alex's successor, although the party line was his heart was in Chelsea. Guardiola has always cast admiring directions in Manchester's direction, except he has been part of Manchester City's long term project for, well, a long time. It is not out of the question that United could wrap up a deal for either man, but at the moment, it doesn't appear that there is an appetite to sack van Gaal.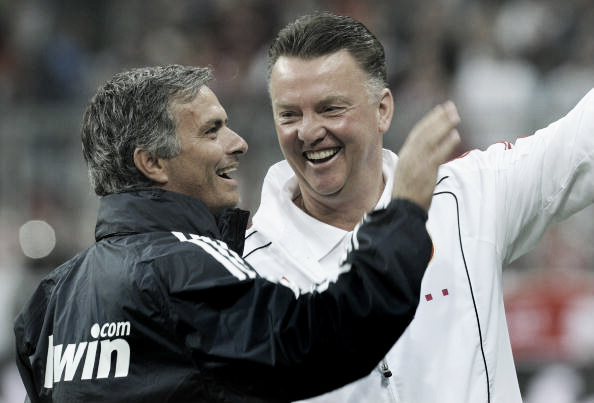 Even if the board do wield the axe, there are still complications. Firstly, Ryan Giggs. What does that say for his future if either Mourinho comes in immediately, or Guardiola in the summer? He could assume another watching brief under Mourinho, but the chances are that Mourinho would not want to make United a short term project. After experiencing failure for the first time since he started experiencing success, he would undoubtedly want to etch his name in history at Old Trafford. So Giggs may find himself still watching in five years time. If United got Guardiola, Giggs would be likely to be handed the reigns until the end of the season. If he achieved success in any form, he is not going to be too impressed at having to take a back seat for the Messi of Managers. Yes, it would be great to work for him, but realistically it is putting his managerial ambitions on the back seat.
Mourinho more likely
However distasteful Mourinho is, if Ryan Giggs is overlooked for a permanent crack at the job, then he would probably be the better fit of the two high profile bosses. United need a quick fix on the pitch. He is tactically astute and is used to success, this season being a rare exception. History suggests that he would handle the big stage, but there would still be some concerns over this season's collapse down in West London. For the first time, he turned on his players. Well, he turned on everyone apart from the kit man to be precise. His fractious relationship with the press is not a whole lot different to Sir Alex's. Sometimes charming, sometimes scathing. Generally, there is always some forgiveness but you know who is in charge. As long as there was no eye gouging or questioning of medical staff then Mourinho's antics would be tolerated, though maybe Sir Bobby Charlton may not be too impressed.
Guardiola ultimately is looking like a pipe dream. Just as United want to sign Cristiano Ronaldo, Gareth Bale and Neymar (Or all three depending on what type of newspaper you read), the likelihood is they won't. When Manchester City installed Ferran Soriano as CEO and Txiki Begiristain as Director of football in late 2012, it wasn't done to support Roberto Mancini. Well, it was, but it was part of the bigger picture and the long-term goal to get Pep to the Etihad. It was a plan, a vision. Having worked with Guardiola at Barcelona so successfully, it was just a matter of biding their time until Guardiola wanted to come to England. Manuel Pellegrini won two trophies, including the title, in his first year but after a barren second season, it was widely anticipated that he would be handed his P45. He wasn't. That was probably for a reason, the reason being it would be cheaper and easier to get rid of him than a new manager only one season into the job.
City have a long term plan
Keeping Pellegrini in a job to reduce compensation is pure speculation though the notion makes sense. The appointments of Soriano and Begiristain is not, it is no secret that Guardiola is the man City were after and their appointments were designed to help smooth the process. City have a plan. They have had a plan and a vision for some time. United don't seem to and haven't seemed to for some time. As a result they are starting to get cut adrift in Manchester, never mind Europe and it is why managing Manchester United right now is an almost impossible job. United have no long term plan. City built a state of the art training complex, the envy of most clubs in the world. As a result, many kids are choosing City over United. Ask Robin van Persie, Darren Fletcher and Phil Neville. All of their kids went to City's academy, as did Andy Cole's son Devante, before he was released.
In February 2015, Brian McClair left his position as United's Director of Academy to take up a position for the Scottish FA. He hasn't been replaced yet. It is one thing to ensure the right successor is appointed, it is another to go almost a year without someone overseeing the lifeblood of your football club. At United, with their youth traditions, that is exactly what it is. Is van Gaal to blame for the recent woes? Probably, but it may well go deeper than the manager, because if van Gaal gets sacked then that will be 0/2 in terms of successful managerial appointments in less than three years since Ferguson called it a day. And the board need to take responsibility for that.
David Moyes was a good appointment. He was a long-term plan. He would support the building, or growing of the club as well as first team affairs. Results dictated that he wasn't the man for the job, yet everyone expected a decline in performance initially so the board panicked in a way. Rip that up, and start again. So they went for the tried and tested, in van Gaal. Sir Alex is history, let's take a new approach. Lose to Stoke on Boxing Day, and if the temptation to go for one of the best is too strong, then we go in yet another direction. Long term? Not working. Philosophy? Not right. Best in the business is available? That will do. Except, if that doesn't work and a genius like Mourinho struggles what then? He may well struggle if Guardiola goes to City, because trying to wrestle the title from them will be as difficult as it was for the rest of the league when Sir Alex ruled the roost.
Money over glory a gamble
The bean counters are showing balance sheets that are the best in the clubs history. United commanded a record deal with German sportswear manufacturer Adidas, who now pay United more than the cream of Germany itself, Bayern. Congratulations. It is fantastic that United are raking in so much money, but without a vision for the football side of things, then United are in a precarious position. The reason United are in this lofty position in terms of sponsorship is down to what happened on the pitch. Success breeds success. As big as United are, the Asian tyre manufacturers and Swiss watch makers will eventually decide that the fifth best team in England are not as big a draw as the World Champions from Spain or worse the other side of Manchester. The bubble will burst unless the product is worth sponsoring.
Despite the football success on the pitch being the catalyst, Ed Woodward would still have needed a long-term plan to garner the number of sponsors and hit the big numbers. It seems that he has done a good job in that respect. What is required now, is to formulate a plan for the football side. Mourinho? Guardiola? If the foundations of the club are not taken care of then they may find that after sacking the special one, they no longer have a go-to man in Giggs. He may have seen enough to decide that taking on the poisoned chalice of the United managerial position is not in his best interests. It is time to face facts that Sir Alex Ferguson was a one off, and cannot be replicated. Looking to the future is what is required now, and it doesn't just concern the man at the helm. United's claim to be the biggest and the best needs to be realised not just on the pitch but off it. At the moment, United are some way off on both fronts.