Alexis Sanchez made his first appearance for Manchester United after transferring from Arsenal in United's 4-0 victory over Yeovil Town in the FA Cup 4th Round. The attacker earned plaudits for his display, setting up two goals and generally driving the Reds forward.
Sanchez praised by Ander Herrera for defensive display
While most of the headlines surrounding Sanchez's debut focused on his play going forward, new teammate Ander Herrera was struck by Sanchez's "fight" and defensive effort.
Speaking to MUTV after the match, Herrera praised the way Sanchez "fights when the team loses the ball".
He went on to note the way Sanchez leads from the front, saying, "He's always ready to be the first defender for the team, and that's big for us."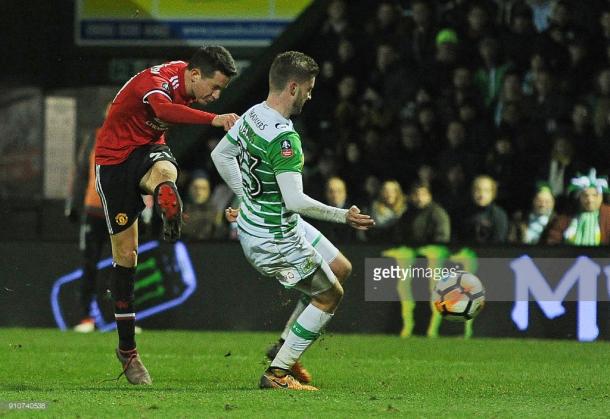 No stranger to playing with gifted attackers, the Spaniard also had kind words for Sanchez's ability on the ball.
"Obviously we know his quality on the ball, he's amazing, but his fight, the way he defends, he's the first player to defend - I really like it," he said.
Stiffer tests await
The match against Yeovil offered Sanchez an opportunity to ease into United's first team after completing his move up north earlier in the week. The Reds had little trouble brushing aside their lower-league opponents, but more daunting fixtures await. United travel to Wembley to play Tottenham on Wednesday night when the Chilean will expect to make his first league appearance against familiar foes. With further league matches, including a date with Chelsea next month, and the fixture congestion that runs in the FA Cup and UEFA Champions League will create, Sanchez will have no shortage of opportunities to continue showing his ability as an attacker and defender.