This match is only the first of three today, so be sure to follow along with the live commentary of Morocco - Iran (starting in about an hour) and Portugal - Spain. This is Jakub Bobro, saying "see you later!"
Egypt put together a valiant performance without Mohamed Salah, and will definitely continue to be a potential contender for a spot in the Round of 16.
And the final whistle has been blown. The Egyptian players collapse in grief. Jose Maria Gimenez broke all Egyptian hearts with a goal in the 89th minute.
90+5: A frustrated Hegazy takes down Suarez, gets the first yellow card of the match.
90+4: Trezeguet picked up a knock, but stays on the pitch for the last gasp effort.
Five minutes of added time!
89: Jose Maria Gimenez scored a very similar goal last week for Uzbekistan. He jumped over Elneny, and will most likely get the win for Uruguay.
GOAL FOR URUGUAY!!!!! JOSE MARIA GIMENEZ SCORES AFTER A FREE KICK WHIPPED IN FROM CARLOS SANCHEZ
88: Just before the free kick, Lucas Torreira came on for Matias Vecino
88: CAVANI HITS THE POST! Incredible opportunity off the free kick, Uruguay then unable to put in a rebound.
87: Cavani was taken down by Fathi just outside of the penalty box. A dangerous free kick will follow.
83: An incredible save by Elshenawy after a stunning volley by Cavani. Would have been a beautiful goal for Uruguay, but the Egyptian keeper denies them.
82: Ramadan Sobhi replaces Amr Warda. The now-Huddersfield winger will hope to make an impact in these final minutes. Mohamed Salah will not play today.
81: Mohamed Elneny got the shot away just inside the box, deflected by Godin.
79: Kahraba found himself the base of a counter attack, tried to square the ball across the Elneny but it was cleared by Gimenez.
77: Sanchez tried to put Godin through after he saw the captain take a run into the box, but the pass was too long for Godin to get at the end of it.
73: Suarez burns yet another chance. Cavani puts him through into the box with a beautiful flick, Suarez keeps dribbling very close to the keeper, didn't even take a shot in the end.
72: Fathi got an absolute cannon of a shot from about 30 yards out, but Muslera managed to hold on to it.
70: Cavani got the ball in the box after a corner. Despite being immediately surrounded by four Egyptians, Cavani took a shot, but only into the hand of Caceres.
68: Both teams are still doing a great job at not letting the other get in any kind of dangerous position.
63: Substitution: Marwan Mohsen is replaced by Kahraba, not truly a like-for-like change as Kahraba is not a true No. 9, but still will give the press a new dimension with his pace.
58: Substitution: Carlos Sanchez replaces Nahitan Nandez. Cristian Rodriguez replaces Giorgian De Arrascaeta. Both wingers are exchanged for their more experienced counterparts.
55: Trezeguet went for a volley way outside of the box. Neither team is allowing any opportunities right now.
50: Substitution: Sam Morsy comes on for Tarek Hamed, a like-for-like change due to injury.
49: Hamed has to have the physios on after a tough fall. He limps off, will be substituted soon.
46: Elshenawy makes an incredible leg save after Cavani sends in Suarez with a beautiful ball. Tied for the biggest chance with Suarez's shot after a corner in the first half.
Egypt have kicked-off the second half!
Egypt must be pretty happy after their first-half performance. They have defended and kept their shape very well, but also have a lot of players committed to pressing Bentancur and Vecino in the midfield, who have made some mistakes this half. The question now is, can Egypt keep up this effort for 45 more minutes?
Uruguay must be somewhat disappointed to go goalless into the second half. Suarez burned an incredible chance in front of goal, which seems to be in his head since. Despite having 56% of the possession, the side led by Oscar Tabarez has been unable to truly break down Egypt. The fact that they get booed by the Egyptian majority in the stands also does not help.
Halftime! 0-0!
45: Bentancur wins the ball in the midfield, passes to Suarez who was immediately blocked by Fathi. The striker let out a scream of frustration. Will we see him do something mad today?
43: Fathi had a good cross, but Mohsen was unable to figure anything out in the penalty area, surrounded by Godin and Gimenez immediately.
40: Amr Warda took his time to stand up. The winger landed heavily on his back after an attempted bicycle kick, he continues on with the game.
38: Godin has seemed frustrated with his midfield today, so he took matters into his own hands. The centre-back dribbled past three Egyptian players and threaded a beautiful pass to De Arrascaeta, who was unable to make anything of it in the box.
32: De Arrascaeta goes down after a foul from Hamed. Suarez went for a shot from about 35 yards out. It was blocked by the ball, got to De Arrrascaeta who put a cross in, but it was intercepted by Elshenawy.
28: Egypt were allowed to get forward without much press from the Uruguayan midfield. They put a cross in, but Muslera picks it up confidently.
26: Warda dribbles past Caceres, passes to Mohsen who turns and shoots. Easily caught by Muslera.
24: Suarez burns the biggest chance of the match. The ball bounces to the striker on the back post after a corner, but drags it too wide, hits the side netting.
22: Cavani threads the ball beautifully to Suarez, but he's unable to get anything from it. Caceres' fight gets Uruguay a corner. It was headed away, but Cavani got a good shot a little later, blocked by Elneny.
20: Bentancur loses the ball too easily again. Uruguay are trying to get bodies forward, but Egypt are pressing well with Elneny joining them to put the pressure on.
18: Said goes down just outside of the box after no contact from Bentancur, but the Egyptian gets only a warning from the referee.
15: Bentancur brought down Warda about 25 yards from the goal. Said whipped the ball into the box, but nothing ultimately come of it.
14: Suarez had a good chance. Low cross came in from the overlapping right-back Varela, Suarez got the ball in the box but couldn't put it on target.
12: Trezeguet has the first Egyptian shot today. After the ball bounced off Elneny who, originally, wanted to take a shot outside of the box, Trezeguet got a shot off inside the box from an odd position. Easy safe by Muslera.
8: Cavani gets the first shot in the match. The striker got himself some space outside the box, but couldn't get enough power to trouble Elshenawy.
7: Egypt have been the more dominant side early on, but Uruguay are defending well. You can clearly feel that the African nation make up the majority in the crowd as boos are clearly heard whenever Uruguay get a touch on the ball.
3: Edinson Cavani went down grabbing his ankle after some contact with Hamed, no foul.
Today's match is the first to be played at the controversial Ekaterinburg Arena. The stadium is not full by any stretch, but the stand outside of the arena is. Safe to assume that the ticket prices were knocked down in that area of the stadium.
And Uruguay have kicked off!
The Dutch Bjorn Kuipers will be the referee today.
Right, back to football. Let's get ready for kick-off!
The Uruguay anthem: The start reminds me of Brazil but a bit more upbeat. No singing in the first verse kept up my anticipation, very strong throughout, left me with chills toward the end. 9/10
The Egypt anthem: Fans can be heard quite strongly. Strong start, the different loops kept me on my toes throughout. 8/10
ANTHEMS!
The players and their mascots now walk on to the pitch,
The flags and World Cup logo have been spread out on the pitch as Mohamed Salah has arrived at the bench. Just 7 minutes away from this great day of football, with Egypt - Uruguay, Iran - Morocco, and Portugal - Spain.
Just 15 minutes away from the kick-off now!
The only surprise in the Uruguay team is the inclusion of Guillermo Varela over the 34-year-old veteran Maxi Pereira. Pereira has 122 more caps than Varela, so his exclusion from the team is puzzling unless there is an injury at play. The inclusion of Giorgian De Arrascaeta over the veteran Cristian Rodriguez is less of a surprise, as the 32-year-old Rodriguez has been losing some pace with age and De Arrascaeta scored a goal in Uruguay's last friendly.
The record for the oldest player in a World Cup will most likely not fall today, as Mohamed Elshenawy starts in front of the 45-year-old Essam Elhadary. We can still expect the record to fall as Elshenawy is not an established starter and Egypt will probably not need their best man in goal against the Saudis, who failed to produce a shot on target/
No big surprises from Egypt. Mohamed Salah was declared fit and will be an option off the bench. Keeping the Liverpool forward out of the starting lineup for today is a smart move, as Uruguay will be favorites with or without him on the pitch. Salah will be more sorely needed when Egypt will need to pick up wins against Russia and Saudi Arabia. Though, a win against the latter may not be such a tall order as proved yesterday by the hosts.
Uruguay XI: Muslera, Varela, Godin, Gimenez, Caceres. Nandez, Bentancur, Vecino, De Arrascaeta, Suarez, Cavani
Egypt XI: Elshenaway. Fathi, Gabr, Hegazy, Abdelshafy, Hamed, Elneny, Trezeguet, Said, Warda. Mohsen
Lineups have been released!
How will they line up? Uruguay's situation is a bit tougher to predict, having played only one friendly. There are many players that have a locked down spot in the team for their opening match: Muslera, Pereira, Gimenez, Godin, Caceres, Nandez, Vecino, Valverde, De Arrascaeta, Cavani, Suarez.
How will they line up? Egypt have been lining up in a 4-2-3-1, and I would expect them to stick with that formation. Both Salah and Mohamed Elneny have struggled with injuries, but they should be in the lineup for this opening game: El-Hadary, Fathy, Gabr, Hegazi, Abdel-Shafy, Hamed, Elneny, Sobhi, Said, Salah, Mohsen.
For Uruguay, the news have been a bit more positive. The 22-year-old midfielder Lucas Torreira has been reported to have completed a transfer from Sampdoria to Arsenal for a fee of £26.4 mil. They will also be hoping that the headlines surrounding their star man, Luis Suarez, will be positive. The striker has caused controversy in the past two World Cups, first deliberately handling the ball in 2010 and then biting Giorgio Chiellini in 2014.
Dominating the headlines of Egypt has been, as always, Mohamed Salah. Recent news has not only been updates on the forward's health, but also the fact that he posed for a photo-op with the controversial Chechen leader Ramzan Kadyrov. Kadyrov has denied accusations of arresting homosexual men in Chechnya and sending them to concentration camps, though it was reported by international media.
This clash, the second game of the 2018 World Cup, will be played at Ekaterinburg Arena in Ekaterinburg. The 35,000 seater was originally built in 1957, and the renovations were completed in 2017. The stadium made headlines as, in an attempt to bump up the capacity, a stand was built outside of the stadium, adding extra 12,000 seats.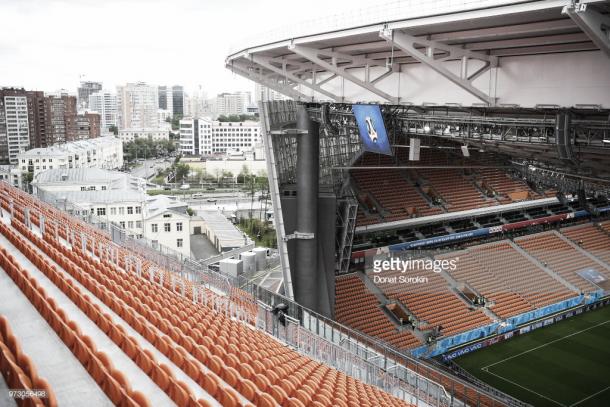 Egypt have played three friendlies over the past three weeks, failing to win any of them. Hector Cuper's side began this string with a disappointing 1-1 draw against Kuwait. Egypt's spirits may have been raised after holding 2014 quarterfinalists Colombia to a goalless draw, but then came a 3-0 beating at the hands of Belgium. A big asterisk to all these results is the absence of Mohamed Salah. The 25-year-old joined his team for a practice session the day before the match and is still in doubt to start.
Form is always tough to predict before the opening round of group stages in a World Cup, and Uruguay certainly did not do the pundits any favors. The South American side played only one friendly since March, a 3-0 win over the 95th ranked Uzbekistan. Winger Giorgian De Arrascaeta opened the scoring in the 32nd minute before a Luis Suarez penalty and Jose Gimenez header solidified the win.
These two nations have only ever faced each other once on the football pitch, in a friendly back in 2006. Egypt hosted Uruguay in Alexandria in August, as both nations failed to qualify for the World Cup that year. Uruguay won the game comfortably 2-0.
Hello and welcome to VAVEL UK's live minute-by-minute match coverage and commentary. Today, Friday 15th June 2018, sees Uruguay face off with Egypt in the 2018 World Cup. This afternoon's game kicks off at 13:00 GMT, but until then - we'll have plenty of pre-match build-up and analysis from me, Jakub Bobro. Make sure you stay following.