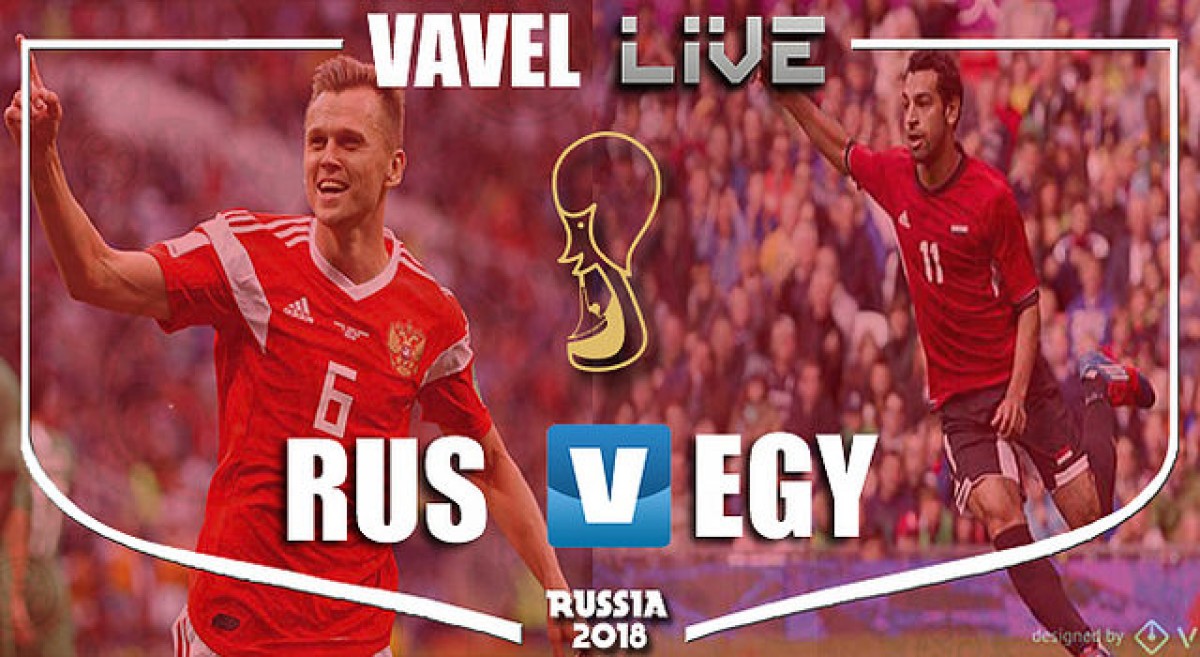 Unfortunately, that's all we've got time for this evening. I've been Oliver Emmerson on another memorable night for the host nation. Until next time, goodbye.
That's it! Another win for Russia, two on the bounce and they've got one foot and four toes into the last 16, that should be mathematically confirmed tomorrow unless Saudi Arabia do something special against Uruguay. An own goal got them on their way before Cheryshev and Dzyuba scored within three minutes of eachother, Salah's penalty a mere consolation for Egypt.
Full-time: Russia 3-1 Egypt
90: Four minutes of stoppage time here, Egypt's chances of a comeback have wavered.
87: Nice to see Mo Salah grabbing himself a goal, given such a wonderful season has ended on something of a downer with Liverpool's Champions League final loss, his injury and Egypt's World Cup performance.
82: Egypt make a change. Mohsen off, Kahraba on.
81: Russia break and there's a good chance as Smolov finds Golovin, who hesitates and is smothered before he can shoot.
79: Smolov coming on for Russia, Dzyuba off.
76: Reckon there's a couple more goals in this. Egypt are going to go full throttle and there'll be gaps left at the back.
73: Straight down the middle from Salah, good penalty and some pride for Egypt.
GOAL! Salah scores!
PENALTY! Chance for Salah to get himself a goal.
PENALTY? Egypt have got a free-kick as Salah is tugged down but the players are sure it was inside, there's a VAR check for the position of it...
67: Almost one back for Egypt as Salah weights a nice ball into Trezeguet, his shot crashing wide and he's off for Sobhi as a result.
62: Egypt are crashing out of the World Cup without at race. Dzyuba chest the ball down well in the area, getting it down and beating his man to curl seamlessly past El Shenawy. That should be game-set-match.
GOAL! That's another, Dzyuba this time!
60: A huge goal for Russia, the Villarreal winger doubling their lead. Powerful run from Fernandes who bursts into the area and cuts it back for Cheryshev, no mistakes from him as he hits hard and low into the net.
GOAL! Cheryshev bags his third of the tournament!
56: Chance wasted, the ball falls kindly for Salah in the area but his shot is blocked by a crowd of Russian bodies.
54: Russia in the ascendency now as they sling a couple of corners in, Egypt deal with them tentatively.
47: What a bizarre own goal! A Russian cross is punched away, a poor shot comes back in from Golovin and Fathy inexplicably slices across the ball into the corner of the net as he tries to clear. Egypt think there was a push on Fathy but there was nothing doing for the VAR check.
GOAL! Russia lead, an own goal!
45: Back up and running here, the second half has begun.
There's half-time. Russia have just about been on top I'd say, but Egypt grew into that as the half went on and they'll feel increasingly confident that they can snatch a winner in the second half.
Half-time: Russia 0-0 Egypt
42: Oooooh. The stadium gasps as Salah gets a shot away on the turn, decent effort given the tight space, just wide.
39: Egypt counter after a lucky break as the ball strikes the referee and spills their way, Elneny finding Mohsen in the box with a floated ball but he's in an offside position.
34: Superb defending from Zhirkov as Trezeguet sends an inviting ball across the area, the left-back clearing as Salah looked to pounce.
25: Salah with his first real display of quality as a superb touch plucks the ball down from the air, the winger coming inside and teeing up Trezeguet who takes a little too long and has his shot blocked.
19: Cheryshev looking to add to his two goals so far, he blasts one just over the bar from outside the box.
16: Trezeguet was the Egyptian that impressed the most in their opener against Uruguay and he's done well there, beating his man before curling an effort just wide of the right hand post.
15: Close for Egpyt as Fernandes accidentally heads the ball just past his own post, looking to deal with an Egyptian corner.
12: All Russia so far, it must be said. Egypt need to find a way to get on the ball and bring Salah into the game.
6: Close! Egypt pass the ball out from the back poorly and Golovin is presented with a chance to shoot from the edge of the area, striking wide to the left.
2: Trezeguet gives the ball away cheaply inside his own half but Russia can't get the ball into Dzyuba accurately enough.
0: Kick-off, underway!
Anthems over and handshakes done, we're ready to rumble.
Just 10 minutes to go until kick-off. A reminder that a Russia win will almost certainly see them through, Egypt desperate for three points to put them back in with a chance of progression.
A huge boost for Egypt as their main man Mohamed Salah comes back into the side, his talents will surely be key to their hopes of a result. As expected, Cheryshev's two goals off the bench against Saudi Arabia have earned him a starting place today.
Egypt XI: El Shenawy, Fathy, Gabr, Hegazy, Abdelshafy; Elneny, Hamed; Salah, Elsaid, Trezeguet; Mohsen.
Russia XI: Akinfeev, Fernandes, Kutepov, Ignashevich, Zhirkov, Gazinskiy, Zobnin, Samedov, Golovin, Cheryshev, Dzyuba.
Team news is out, and Salah is back!
You do have to think that the Russia fans will be wondering exactly how far their side can go in the tournament, given no team has really sparkled so far. You'd have to argue that Belgium have been the most impressive, but it took them a while to get through the gears against Panama. Sunday saw Mexico dazzle against Germany and it's led some to suggest they could go deep into the tournament, so why not Russia? Today's game will be a bigger test of the hosts' true quality, can they pass with flying colours?
Uruguay and Saudi Arabia don't play until Wednesday so a win wouldn't put Russia into the last 16 tonight, but would virtually assure them of it given the minute chances of Saudi Arabia defeating Uruguay. A win for Egypt would bring them back into contention as favourites to progress alongside Uruguay, whilst a draw would suit Russia as it'd likely leave Egypt needing a Russia defeat to Uruguay and heavy win over Saudi Arabia on the final group day for them to progress.
Denis Cheryshev certainly took his chance when coming off the bench in the opener, scoring twice - including a sensational effort with the outside of his foot in stoppage time. He's expected to come into the starting line-up today, hoping to link with exciting talent Aleksandr Golovin who himself bagged a free-kick whilst assisting two goals in the Saudi win.
One difference today is that the African side are expected to have Mohamed Salah back in their starting XI. He thought he'd had his World Cup hopes dashed after being carried off with a shoulder injury in the Champions League final, and wasn't deemed fit enough to come off the bench in the opener against Uruguay. However, local Egyptian papers are tipping Salah to be back in the side today, he'll hope to pick up the sensational form that saw him score over 40 goals in all competitions for Liverpool this season.
Egypt should prove a tougher task than Saudi Arabia did, Hector Cuper's side proving to be strong opposition for Uruguay in their opening game, keeping the likes of Luis Suarez and Edinson Cavani out before a late Jose Giminez winner snatched a win for the favourites.
Once Robbie Williams had belted out some classics and flipped the bird at a TV camera, the tournament was ready to get underway and Russia's start was beyond their wildest dreams. Wiping the floor with Saudi Arabia, a goal from Yury Gazinsky broke the deadlock after just 12 minutes and the hosts didn't look back, triumphing 5-0. Saudi Arabia were poor, admittedly, but Russia could only beat what's put in front of them and will aim to do so today.
The general feeling amongst Russian support is good, especially after they romped to victory on the opening day, which seems like an age ago now such is the drama we've already witnessed in what's shaping up to be a memorable tournament.
Good evening everyone, and welcome to our coverage of today's final World Cup game, as Russia and Egypt officially get Matchday 2 underway with their Group A fixture. I'm Oliver Emmerson and I'll be taking you through events with a minute-by-minute commentary, kick-off at the Saint Petersburg Stadium set for 19:00 GMT. We'll have team news around an hour prior, so stick with us as we take that in and build up to the game.