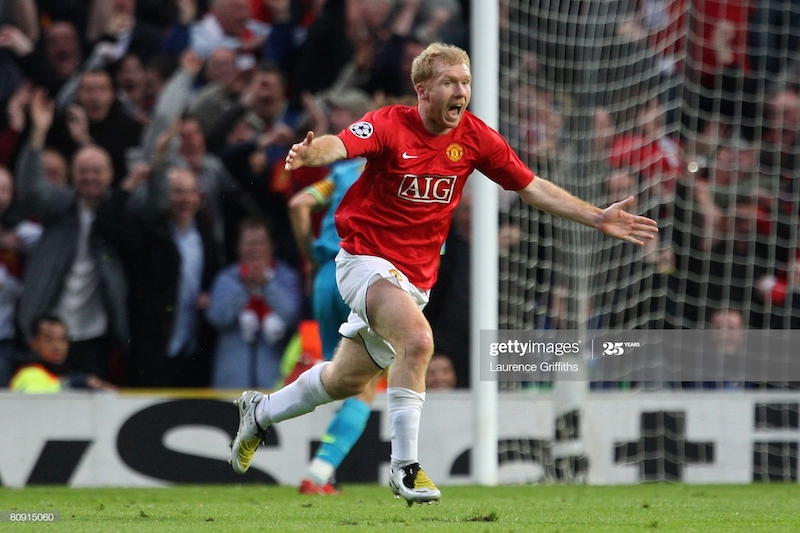 "When it's all done and dusted, that final whistle will be right up there for me," says Barney Chilton, editor of Manchester United's longest-running fanzine, Red News.
It was a night where a Paul Scholes moment of magic was all that was needed. And another stellar performance from United's back line, now primarily organised by Sir Alex Ferguson's assistant Carlos Quieroz.
The methods of Fergie's Portuguese right-hand were often questioned but keeping at bay a Barcelona attack including Messi, Henry and Eto'o over 180 minutes was an impressive feat.
Scholes' volley and solid defence saw United through
It was the displays of Wes Brown and Rio Ferdinand that were vital to United's semi-final against the Catalans. Nemanja Vidic was injured for both legs, first with a stomach problem and then concussion.
Daniel Harris, a journalist and United fan who was at both legs of the semi-final, said, "it looked like Fergie had made the same mistake as he did against Real Madrid in 2000."
"He sent United out to play defensively against a team who in an attacking game they were better than. Barcelona were a mess at the end of Rijkaard."
And as the second leg came around, United fans knew one Barcelona goal would make it an incredibly tough test.
Goalless draw at Nou Camp made for a tense second leg
"The tension. I don't think I've seen anything like it," Barney Chilton says.
"It's only three years after United, relative to that era, were at rock bottom, after Keane's departure. The 'is Fergie up for it?' questions. That was a bleak time.
"Fergie had the energy and the genius to re-build a side. He must have been thinking how do I shape this? How do I create a side that can be dogged and cope with the fact that Ronaldo's never going to trackback? It's up there with one of his greatest achievements."
The signing of Carlos Tevez had changed United into a far more efficient side, although perhaps less entertaining than the year before with Louis Saha.
"From the noise of Scholes' goal to the final whistle, it's as loud as I've heard Old Trafford," Barney told the Manchester United Weekly Podcast.
"It really was hats in the air like old times."
As Scholes struck, Old Trafford was injected with that rare but wonderful drug of a Champions League semi-final night for the ages.
The chance had arisen after a mistake from Zambrotta in the Barcelona defence. But the move had begun with a typically calm and incisive bit of play from Rio Ferdinand who had stepped out of defence, played a good one-two and initiated an attack.
His pass ricocheted forward, Cristiano Ronaldo picked it up, stared into the eyes of Yaya Toure and beat him. Zambrotta intervened but he couldn't keep the ball under control, it fell to Scholes and he leathered it past Victor Valdes, with a bit of spin taking it into the top corner.
Ferdinand shone on European nights
Ferdinand's influence in the goal is often forgotten, and rightly so really. It wasn't that big. Scholes' technique is what should be and is discussed. But it's a reminder of the quality that Ferdinand had.
"He's the best I've seen," Daniel Harris days.
"In the league, he didn't have to do as much. Vidic was the guy attacking the ball, on the ground and in the air. He was so good that it often didn't get to Rio, even though Rio could do quite a lot of Vidic's job. He was a unit and good in the air.
"But the thing with Ferdinand is he just gave you so much options. I remember watching him warm-up at a game at Goodison Park and just laughing at how good he was.
"If you got in early enough, you could watch him do the boxes. He's got a great touch and a great imagination because he grew up playing in that kind of football where everyone wanted to play in that kind of way. He was a great passer.
"Certainly in Europe, I would always go Ferdinand even ahead of Stam and Vidic."
Messi and Barcelona didn't lay down. Scholes' goal had come after 14 minutes and the Catalans challenged Ferdinand and Brown for the remaining 75 minutes.
"There are only two players I can remember at Old Trafford that have the fear about them," Barney explains.
"When they got the ball Old Trafford breathed in, in fear. That was John Barnes at Liverpool and Messi that night. It was just absolute shitting ourselves."
But United matched the quality of Messi and co.
"Wes Brown's performance in that night is in my top five performances by any United player at any time in any game," Daniel claims.
United held on and set up an all-English final to be played in Moscow, Russia. Chelsea beat Liverpool in the other semi-final to prevent a final which, perhaps, it was best to avoid.