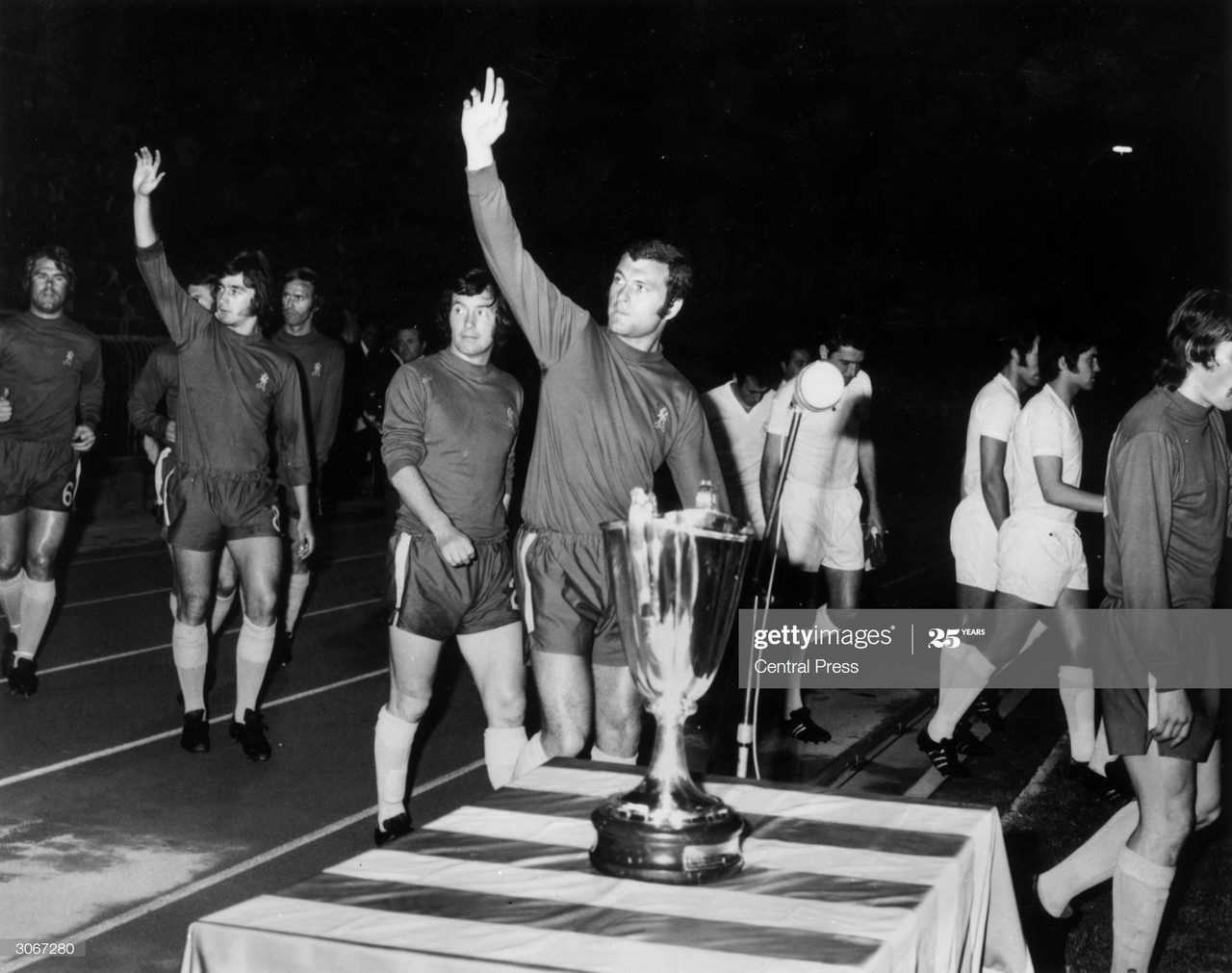 Chelsea have received congratulations and commiserations over the past month as memories of past ventures still remain rigid in our mind, recalled to our system by the vaults of social media.
19th May 2012: Didier Drogba inspires the Blues to an unthinkable Champions League triumph, defeating Bayern Munich on penalties in the Germans own backyard.
21st May 2008: Manchester United narrowly edge to European victory via another shootout for the Blues, John Terry and Nicolas Anelka the unfortunate fall guys of the spot kick.
These moments of modern phenomena should not distract us from the original story of success that paved the way for Chelsea's route to club footballs finest reward.

21st May 1971: Chelsea become champions of the continent for the very first time, taking Real Madrid to a replay in Greece that turned out golden for the Londoners.
Blue beginnings
Before the days of Drogba or the fairy-tale for Frank Lampard, there was Dave Sextons side of the 60s and 70s.
Sexton would become one of the English games most celebrated managers, having taken charge of Manchester United, Queens Park Rangers and England U21s among others, owed largely to his terrific tenure spent at Stamford Bridge.

His legacy would live throughout any subsequent Chelsea silverware, after leading them to their first FA Cup glory against Leeds United in 1970; a further seven would follow across the next 50 years.
Don Revie's Leeds were feared across the land for their aggressive, yet affective, approach, matched by Sextons suave and style, taking the final to a replay and ultimately won by the boys in Blue.
From this mighty platform, Chelsea were now prepared to embark on their European adventure, entered into the Cup Winners Cup tournament alongside fellow domestic cup champions of their respected countries.
Aris Thessaloniki, CSKA Sofia, Club Brugge and Manchester City fell to Sextons fluid football, rewarded by a meeting with the mighty Madrid in Piraeus. The Spaniards were unrivalled in that period of global dominance, having reached eight European Cup finals (winning six) prior to the meeting with Chelsea.
However, the Blues held their nerve and parallel to the FA Cup scalp, forced the finale to a replay having drawn the original tie 1-1. Two days later, and the trophy would be lifted above Sextons shoulders, scything down the Spanish giants 2-1 and concluding their 12 months of cup fever.
From idol to adversary
Great sides produce highlight great players: Peter Bonetti, Ron Harris, Peter Osgood and David Webb were just a selection of household names that were brought to prominence by this string of success, listed alongside another who rarely shares the same glittering limelight.
Johnny Boyle seemed cursed when it came to cup finals, losing in the FA Cup to Tottenham Hotspurs in 1968 before the missing the triumph over Leeds through injury.

And here he was again, third time lucky, pitching up against the some of the games most gifted talents. Funnily enough, Boyle had already recreated this exact scenario in his head 10 years earlier, inspired by his opponents and in particular, Francesco Gento.
'It was difficult because here's this guy who I admired so much growing up,' admitted Boyle. 'I remember after the final in 1960, running out onto a little bit of green outside my house and me and my mates were the Madrid team.'
This final in question depicted Madrid dismantled Eintracht Frankfurt 7-3 with Alfredo Di Stefano and Ferenc Puskas running riot, prompting Boyle to attempt to recruit this sporting scene of devastation by adopting the name of Gento.
'Then 10 years later there's me at right-back and there's Francisco Gento at outside-left and I'm marking him,' he continued, still in awe of this footballing icon. 'I was playing alongside one of the all-time greats, Francesco Gento at Real Madrid. I was actually standing beside him, it was just amazing!
Gento had already won a mere 12 La Liga's, six European Cups, two Copa del Rays and three inclusions into the World Soccer XI, but Boyle and the Blues became a bridge too far for the Spaniard as he learned the unfamiliar taste of defeat.
Wanting to treasure the moment forever, the Scotsman did what any superfan would have done in the situation.
'I swapped shirts with Gento at the end of the game and my team mate Keith Weller said that was the quickest I'd run all night to get Gento's shirt. He said he had his eyes on it but I ran so fast I got it.'
Party like its 1971
Chelsea were only a matter of seconds away from returning to London first time of asking, if it were not for Ignacio Zoco's late equaliser in the opening fixture, cancelling out Osgood's 56th minute goal.
They only needed a half in the second bout, defender John Dempsey opening the scoring before Osgood bagged again. Sebastian Freitas fired one back for Madrid but the win had been sealed by Sextons men, spurring the only acceptable outcome for such an occasion
'Then the celebrations began,' rejoiced Boyle.

'To win it was just so amazing; it all seems a bit of a blur now. I remember it was a Friday night and we went out in Athens, we didn't get in until 6am or 7am and the plane home was at 9am.
'We arrived back at Heathrow to an awaiting crowd who lined the streets in Fulham, it was amazing. It was fantastic to be coming back to London with a European Cup.'
After his heartbreak in the FA Cup, all the festivities meant more to Boyle than most, sharing this overwhelming sensation with his father, recounting a lovely story about the day of the final.
'In fact my dad told me a lovely story. He wouldn't fly and watched it on television. I had given him an old 1966 Chelsea jacket, and he really looked after it. The night of the final he sat at home and watched it. When the final whistle had blown he put that top on and walked round to the pub and when he walked in everyone in there started clapping and cheering him.

'He said there were tears running down his face because he couldn't believe his boy had been in Europe.'