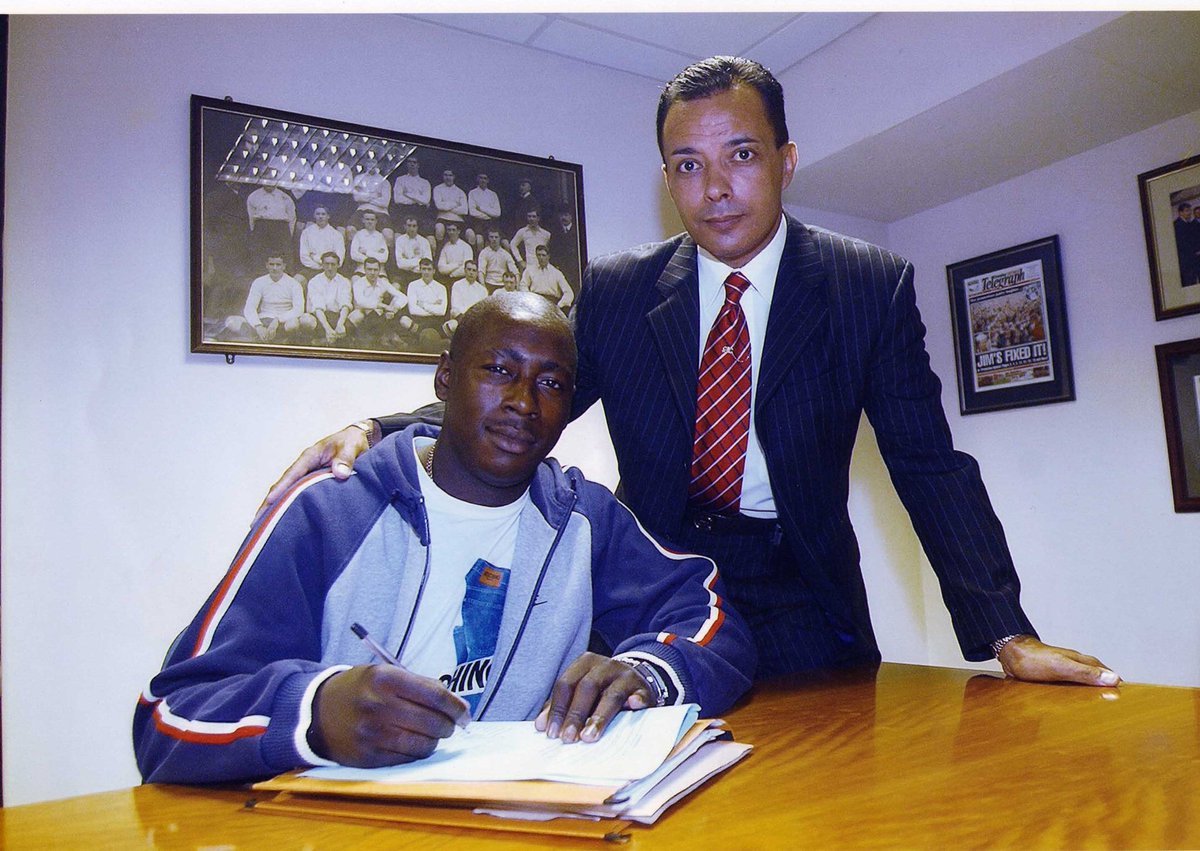 Football agents are everywhere to be seen in today's modern game; a transfer can sometimes involve a number of agents, some for the buying club, a handful for the selling club and then possibly an agent or two for the players themselves.
In 2015, FIFA changed the agency rules meaning anyone and everyone had the opportunity to apply to become a football agent. Prior to 2015, there had been around 500 registered agents in the United Kingdom, but by 2018, the figure was somewhere between 3000-4000 FA registered intermediaries.
Becoming a football agent has never been so popular. It seems that whilst some play the pantomime villain in the elaborate show that is the modern football world, agents are an integral part of keeping the production running.
How Culbertson got into the agency game
"I am an original FIFA agent, I passed the FIFA panel back in 2000. This was when you had to pass the panel and put a £100,000 bond up in Zurich. There were only about 40-45 of us (agents) back in those days, and instead of the FA and FIFA making it more difficult for people to become agents, they made it easier. It has allowed a lot of people to come into the industry for the wrong reasons. In fact around 85% of agents don't do any deals and now to become an agent/Intermediary, you pay £500 and say that you are a fit person."
"My background was finance and banking, but I love football and a lifelong fan of Juventus, having spent time with what is regarded as their greatest ever team in the early eighties, and the nucleus of the winning World Cup squad in 1982. My son-in-law was a World Champion Motocross rider and he had lots of contacts in Derby. He just said to me one day," With your passion for football and your background and my contacts, why don't we start up an agency?"
"I crammed for six months, learning all the FIFA statutes and regulations. I was based in London so I was driving down to London at 5am every morning and I just taped all the information on cassette tapes, and I would listen to them on the eight hour journey every day." He adds," Eventually I got my license and we started at Derby County. I had about nine players there and I am the only agent to have five players that came through the youth team and all played together in the first team. The BBC also did a documentary on me some years ago following me for a week and showing as they put it, 'a good agent' looking after his players."
What is the agents' industry really like?
When asked what surprised him most about the industry when first entering the agents' arena, Culbertson did not hesitate to say how unethical it was.
"It was difficult in those days, because players had so many people in their ears. I built a reputation for looking after players; putting their interests first. It meant I lost out on quite a few occasions to other agents who would offer inducements, sometimes going through back door routes to get players. If you did things the right way, it seemed to be more difficult."
"Despite being very successful, frankly, I got a little bit disillusioned with it, (being a football agent) and for a while went into a different market in commodities. Mainly because I had several players being poached and who were offered inducements to go to other agents - and they were offered anything from substantial amounts of cash to cars and all sorts. Whilst you hope most of your players remain loyal, some of them do take the bait and move on, which was very disheartening when you may have looked after them for 5-10 years and done a very good job of looking after them."
Although becoming a football agent looks to be a glamorous world with untold riches, the truth behind it looks to be an industry that is very much about 'the last man standing'.
"I get several calls a month from guys wanting to be agents and I ask "what are you doing now?" So they're working in Tesco, a salesman or they're a trainee accountant. I ask "so why do you why to become an agent?" Because they think it's glamorous and they want to make a fortune. Well that couldn't be further from the truth. Unless you are a top flight agent, a Raiola and a Mendes, you're not going to make a fortune."
The main role of an agent and how to deal with players in the modern game
"The major role is to have integrity, be professional and put players' interests first, and make the decisions that are right for them. They have the final choice, but I will always be honest with my players and their families. We also cater for all their needs off the pitch to ensure they can fully focus on just playing and avoid the many 'pitfalls' in the game today. This would encompass not only representation, but social media awareness and lifestyle management. Financial planning and commercial services. Many is the time I have had to support and advise my players and sometimes the families in domestic disputes, child custody cases and many other non-football matters. Basically, we have to be available 24/7 for our clients and have the specialist support available when necessary .Finally, to raise their profile and exposure and create opportunities for them when appropriate."
"We have a duty of care to protect all our players and two issues are causing more concern in the game than ever, the first being mental health and depression which at last is getting more attention and awareness. There was a well-publicised incident some years ago with one of my players in the top flight, who through pressure from certain individuals, had a breakdown, turned to drink and ended up in a tree. It was 11pm at night when I took him straight into the Priory and spent almost every day with him for the next month, ensuring he got the help he needed, which was successful."
"Football has a long memory, but I managed keep him in the game though at a lower level, right to the end of his career and for many of those years never took an agents fee, but said to the Clubs, just give him the best deal you can. Then one Friday evening, I had the Chief Sports Editor of the News of the World at my home wanting me to sell the story to them as they were aware of what had gone on. I politely declined because if I had taken the money, the player though he had done nothing wrong and was the victim, would probably not have got another Club again, because of the stigma of bringing down high profile figures in the game.
"The second is racism which has always been there, I can remember some of my young Internationals being shocked at getting horrendous abuse and racial taunting, especially against certain International teams and fans, but they handled it well and professionally, not letting it affect their game. But even back home within the game there were a few incidents over the years with individuals in one or two clubs, but again I would not tolerate any of my players or their families having to suffer this type of disrespect or inexcusable behaviour so without any hesitation I confronted and dealt with the individuals concerned and ensured it never happened again. You must always stand up for your players no matter what."
"However, equally, you must instil in them a good code of conduct to always conduct themselves professionally and decently as they are role models and need to be aware of their responsibilities as such. I recall one player spending months perfecting his autograph when he broke into the first team. A few years later I saw him ignore young fans on his way out of the ground, who just wanted his autograph, needless to say I read him the riot act, and he never did it again."
The impact Covid-19 will have on the game
"It's very difficult now in football. It's all about money. I think a lot of people have lost sight. It's about players and the fans especially at the grass roots level and if this continues as it is, I just don't know where it is going to end up to be honest. "In the current situation a lot of clubs will struggle and could be in danger of folding and a lot of players are not going to get the contract they thought, or perhaps deserve."
"In the Premiership, they will always be throwing money at players; that will never change. Frankly, the gulf between them and the rest of the Leagues is too great. I think Championship down, that is where you will see reductions on players' contracts and on reducing their budgets and squads. I have spoken to quite a few chairmen in the past few weeks who have told me, if the season recommences and they have players out of contract, they are not going to extend those contracts; they will play the reserve or youth team players instead."
Culbertson believes the impact of the Coronavirus will, "Make it hard for some agents to look after their players and get them decent contracts. They will potentially have to work a lot harder, this is where good agents come into their own when times are tough. It is going to be somewhat chaotic. There are going to be so many players on the market in the summer, it is going to make it very, very difficult and a lot of players may end up out of the game, as it is forecast that there will be in excess of 1000 players out of contract in the summer."
Transfers and contracts
"It works in a couple of ways; sometimes you will get a call from an agent because a lot of clubs do use agents, or the manager may contact you. Sometimes it's the director of football or the head of recruitment who will give you a call - there are several avenues. On occasion, I will get agents ringing me who have heard a club is interested in one of our players and try to con you that they represent the club, to try to get in on the deal."
"Basically, my job is to get my clients the best deal possible and not to be unrealistic, but base it upon their current market value, ability and potential for some clubs, they will put in an offer and you will spend weeks going back and forth negotiating. You have to negotiate all the different elements of the contract, from the basic salary to appearance fees, bonuses, could be a goal bonus, clean sheet bonus, if he plays for England or his national side, also accommodation if he is an overseas player. They will even insert a clause as a substitute if he comes on for example before the 71st minute he gets a fee, if he comes on after, nothing. You may then find the manager bringing him on in the 72nd minute a lot of the time as he will then save money. In addition you can build into the contract that his salary regularly goes up after he plays a certain number of games in the first team etc."
However, in some instances usually in respect of overseas transfers, the fee could be a percentage of the transfer fee and we do work with a trusted network of associates abroad to assist in the transfer of their player or source him a Club in the UK, provided we have an exclusive mandate to do so. The reason being that dealing with some overseas agents and players can be precarious to say the least as they will use as many agents as possible to try and get a deal done and often try to renege on agreed terms, hence you must get it all in writing and cover yourself as much as possible.
"We have also over the past few years, developed a Non-League project, which identifies players who we believe are good enough to play in the League and we have been very successful in this area. If we take a player from Non-League to the League, we always make sure the Non-League club is looked after. We always strive to ensure the League clubs do pay them something, usually a fee plus 'add-ons' if the player does well, plays so many games or a small percentage of the transfer fee on his next move.. This is vital, because they are the grass roots of the game and they need the money, so we try to look after them wherever we can."
Pro-Vision and the future of football agents
In September 2019, FIFA announced plans to cap agents' fees for future transfer dealings. Over 200 agents attended a meeting in London to voice their opinion on FIFA's plans. Culbertson had this to say on the matter. "If I am honest, what I think has happened is that some agents have spoilt it for others. The top agents, who are well publicised and earn millions on just one player transfer create an unrealistic image of the majority of agents"
He continues, "I have no problem in FIFA capping agents' fees to a certain level on these type of big deals, where you are talking millions and millions. If an agent has players in the EFL, you're not going to earn such a fortune, or the sort of figures that the big boys are earning. So them talking about capping agents fees, at 3% would not be viable; if you have players in the Championship, League One and League Two you need to be able to charge a reasonable fee and in the vast majority of cases this would be around 5%. That being based upon the player's basic salary over the period of his contract and not any bonuses."
"Equally, I would have no problem with player's salaries being capped, I think £100,000 per week is ample and enough for any player and let's see money in the game being diverted to the lower Leagues and Grassroots football."
Gino Culbertson has been the driving force from the start in the emergence of Pro-Vision Football, who came from nowhere to become an established and reputable agency that are trying to do right in the seemingly toxic world of the football agency.
They have a number of professional players on their books at most levels, both here and abroad, a Youth Academy where they support, guide and advise them and their parents and that includes some of the top talent at major Clubs.
In addition, a Ladies Academy of exciting talented players in that sector of the game that is growing rapidly. Finally, a project in place helping Non-League footballers make it to the professional game. This is all achieved by the great team they have at Pro-vision.
Culbertson says" one of the reasons I came back into football after a brief spell away was the 'buzz' I still get to see players do well, be it their scholarship, first professional contract, playing for their country or a non -league player who makes it into the League, when he thought his opportunity had gone and seeing player's dreams come true and knowing you have been a part of that."