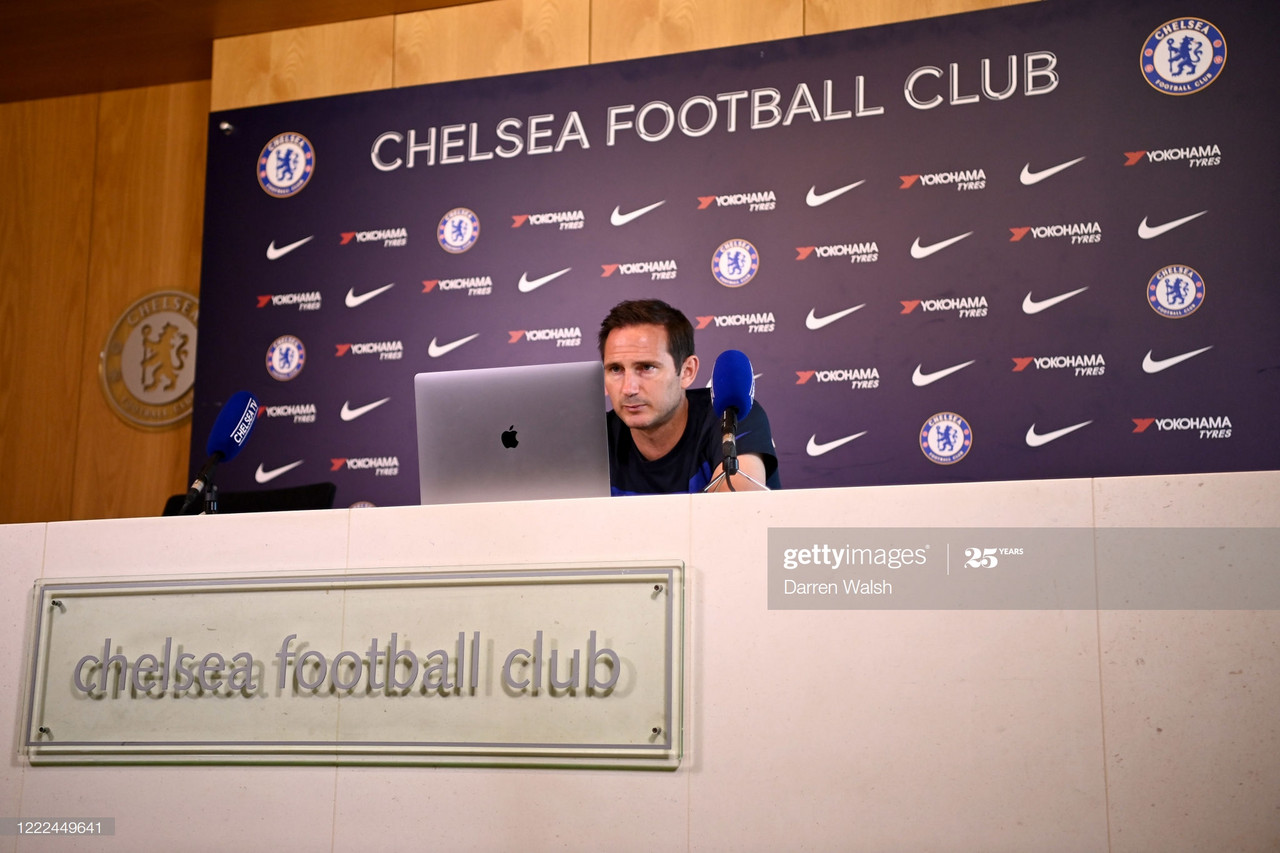 Once again this week, Chelsea manager Frank Lampard addressed the media via a Zoom call.
Lampard opened with an injury update, and went on to discuss how he wishes to close the gap between the Blues and the current champions in the coming seasons, what can be learnt from Sunday's trip to Villa Park and also whether he feels Chelsea are in a strong position to secure a top-four spot.
The 42-year-old also spoke on what lessons his side have learnt from their 2-1 defeat to City at the Etihad Stadium in November earlier this season.
Lampard was also questioned on the potential signing of Bayern Leverkusen playmaker Kai Havertz, with the Blues boss making it clear that he sees the German international as a 'top player'.
Team news
Chelsea's all-time leading goal scorer opened his press conference by clearing up any injury concerns.
"We're all the same as we were for Aston Villa," he began. "Fikayo Tomori is still probably about a week away from training properly with us and Callum Hudson-Odoi is still searching for fitness. He's fit but not match fit yet."
'We want to be at that level'
With Manchester City winning their opening two games since the restart by an aggregate of 8-0, City's strength is clear, but Lampard insisted the Cityzens should not just be admired, and that his side should use them as a target for future successes.
"When you play against City, there are benchmarks for you," he stated. "We have to say as a club like Chelsea that we want to be at that level – competing for first and competing in cup competitions.
"In recent seasons, we have been there a lot but at the moment we know we're in a slightly different situation. We want to close that gap so when you go head to head, it's a great opportunity for the players.
"We have a job to do and our job is to go up against one of the best teams in the world over the last few seasons and try to get a result."
'It's a huge challenge'
Unfortunately for Chelsea, they lost the reverse fixture to Pep Guardiola's side 2-1 in November, with goals from Kevin De Bruyne and Riyad Mahrez cancelling out N'Golo Kante's early opener.
Despite the result, earlier this week, Lampard was clear that the Blues were able to take many positives from the game.
"When you play a team of Man City's level, you can play like we did in that game where we matched them in general play but if you have a couple of moments where you switch off they constantly will have individuals and a way of playing that gives you problems.
"We'll have to be at our best. We have to take our chances when we get them because we had some up there that we didn't take and we also have to be very vigilant about how we defend. The work ethic of the team in a defensive nature has to be huge to try and stop them playing.
"It's a huge challenge. We know that every time we play City but we have to believe in ourselves, be confident and give it our best because if we do then I have belief in this team that they can go up against anybody."
Reflection on Villa
Whilst looking forward to the City game, Lampard also found time to reflect on his side's 2-1 victory away to Aston Villa at the weekend.
"We had really good control throughout and the goal was against the run of play. We had to carry on doing what we were doing and we were able to do that and got our goal. It was a nice little pointer for us in terms of a bit of character and resilience in the team.
"We can definitely eradicate some of the errors that led us to being a goal down. We've seen a little bit of what we expected to see in terms of tempo and some teams tiring or not firing on all cylinders. I don't think we are quite yet so we need to try and get to that level as soon as possible."
Havertz - ' a top player'
Last week Chelsea announced the signing of German striker Timo Werner from RB Leipzig, in a deal worth £47.5 million. Another German who has been linked with the West Londoners is Bayern Leverkusen's Kai Havertz, with Lampard reluctant to comment on the playmaker who has 12 goals and six assists in the Bundesliga this season.
"He's obviously a top player but to follow on from my answer before, I'm certainly not going to comment on other players at other teams and it cannot be our focus. No bids have gone in.
'We have to just focus on ourselves'
With just six points separating the teams from third to sixth, the race for a top-four spot is closer than ever, a win for Chelsea against City would see them go to within just a point of third-placed Leicester City.
Speaking before Leicester's 0-0 draw with Brighton & Hove Albion, the Blues boss remained clear that his focus his solely set on his team and their results.
"We look above us, we look below us and we try to amass as many points as we can. Leicester have been fantastic this season and the fact we're three points off them is something we can be aware of and set our sights on but we also have our own tough games in front of us.
'I'm not focusing on Leicester, Manchester United, Wolves, Sheffield United, Tottenham or any other team. We have to just focus on ourselves.'
Important night for City
This evening's game is also significant for the visitors, as City could see their time as reigning Premier League champions come to an end, with the title mathematically going to Liverpool if they fail to beat Frank Lampard's side.
Despite their strong form since the restart, City will be wary of their last trip to the capital which saw them lose 2-0 to Tottenham Hotspur. However, City will be boosted by the fact they have not lost consecutive games in London since 2015, though the first of those two games also came at Spurs.