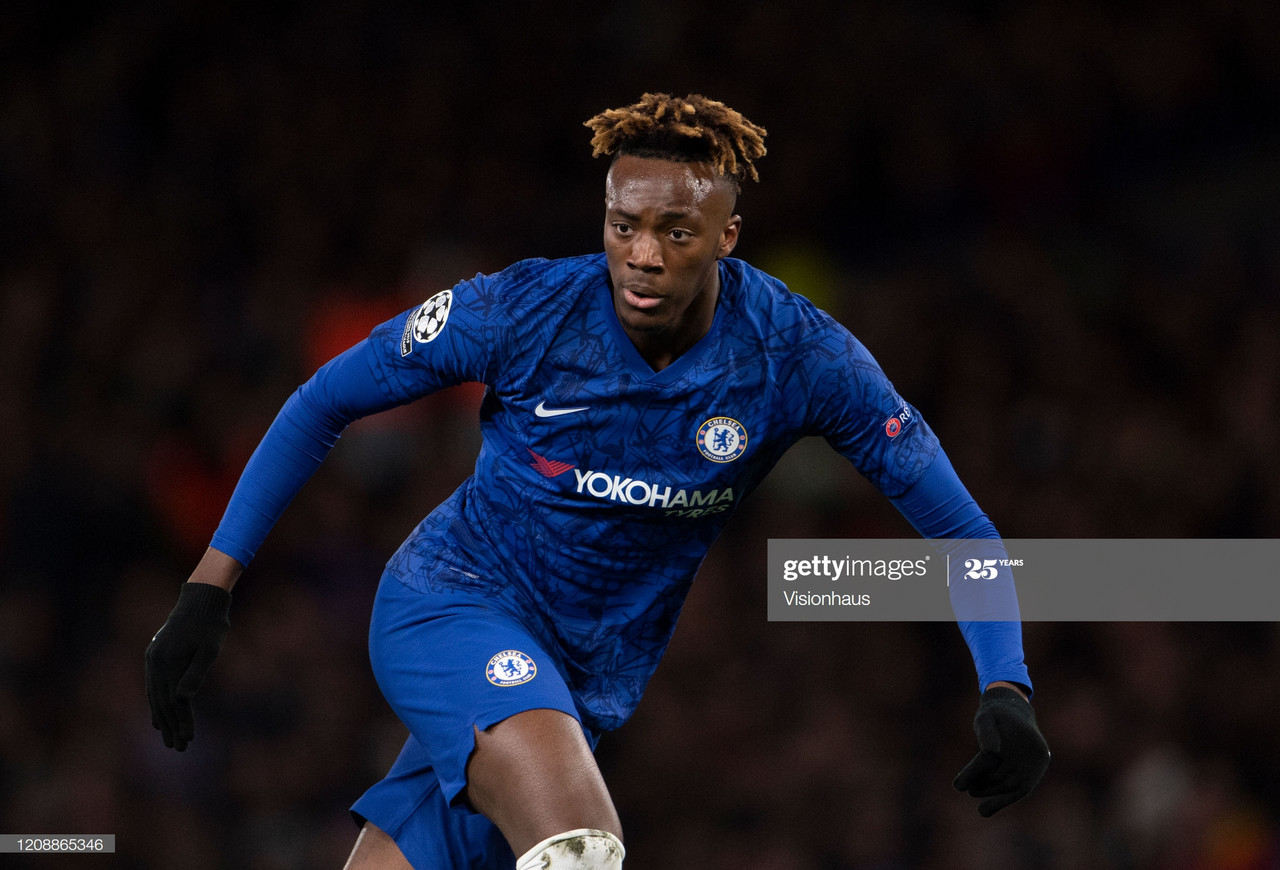 Cast your mind back to last March, long before the live-action disaster movie of 2020 transformed everyone lives, and revel in a welcomed review of this country's currently Crestfallen city.
Both the Independent and the Metro reported that TripAdvisor had awarded London the 2019 Travellers' Choice as the 'best destination in the world', ranked by responses from the touring community.
Whether it be rubbing shoulders with royals, eating cuisine from all corners of the globe or navigating the underground, England's capital is a metropolis of life and adventure. For Tammy Abraham, London means Chelsea, and Chelsea means home. Since joining the Blues as a boy, he's been separated from his footballing birthplace on several occasions but has finally returned to his rightful residence as one of the Premier Leagues hottest properties.
Bird of prey
Let's remain in 2019, not wanting to read the next gory chapter that awaits us, and relive the love story of Chelsea's young striker.
After over a decade at the club and just six competitive appearances to his name, Abraham was finally allowed his opportunity in the Chelsea spotlight. Even before then he had to prove himself at Bristol City, Swansea City and Aston Villa, the latter of which he netted 26 goals in 40 games to grab the attention of his future boss.
Frank Lampard gained first-hand experience of his number one striker to be, after the pair faced off against each other in the Championship Playoff final, Abraham's Villa prevailing over Lampard's Derby County.
Since their encounter, it has been nothing short of romantic footballing relationship between player and coach, but it has not always been sunshine and daises for the 22-year-old.
Defeat to Liverpool in the UEFA Super Cup was overshadowed by the alleged racist abuse aimed towards Abraham, the pain pounded by the fact he also missed a penalty in the shootout. Fast forward to the fourth game of the season; away to Norwich City, Chelsea winless, Abraham goalless, everything was about to change.
"Before the Norwich game back in August, when I scored two goals, the gaffer had a good chat with me," he said, opening up about his difficult situation. "Up to that point, it had been kind of a challenge for me this season. I had the penalty situation against Liverpool in the Super Cup, I had the racist abuse, but for a coach to believe in me, well that much meant a lot.

''That day he just said to me, "Listen, I know what you're made of. Just go and show everyone else." He reminded me, "You've done it at Aston Villa, just go on the pitch and enjoy yourself."
"I felt confident that day, and I still do. I said to myself, "You've been given this opportunity to start for Chelsea – grab it with two hands."
Inspired would be an understatement, as Abraham netted within two minutes against the Canaries to kickstart his campaign, scoring again on 68 minutes to become the youngest Chelsea player to bag a Premier League brace since 1998. His adulation was felt throughout the squad, signalling a change in fortunes for one of their own.

"When I saw the ball in the back of the net, it was a dream come true that I had actually scored for Chelsea. I didn't even know what to think at that moment, I just remember being so excited.

'Then I looked over and saw the manager and everyone else celebrating on the bench, so I just ran in his direction. I thanked him, I thanked everyone else. To score for Chelsea is an incredible feeling, but it also felt like a massive achievement after all these years.'
From defence to attack
Now let's rewind even further, time travelling back to 2005, a year when Apple announced the launch of the iPod nano, Christian Bale Batman hit the big screen as Batman and a seven-year-old Abraham was arriving at Cobham Training ground.
"To begin with, I'd just been playing for fun in the park with my mates. Then, one day, my mum came home and just casually said, "My mates got a team and he want you to go down and play for them."
"The team was called Bruin FC and it was my first taste of competitive football. I remember not playing in the first couple of games because I had to prove myself, and then I got my first start – at centre-back!"
You read correctly, Chelsea's top scorer on 15 goals began as a defender, the position aimed to foil the forwards such as the Abraham we witness today.
He continued, saying, "I was always the tallest in the team, but even as a defender I was so eager to get forward and score. It wasn't long before I signed for Chelsea – in fact, they thought Bruin FC were so good that they invited us to come and play a friendly against them. I remember I ended up playing against Fikayo Tomori."
Teaching from Terry and learning from Lampard
As mentioned, Fikayo Tomori was also part of Chelsea's established youth system, another example of an excellent talent who bided his time before bursting onto the scene in 2019/20.
Like Abraham, the young defender learned his trade in the Championship at Brighton & Hove Albion, Hull City and Derby, for whom he was named their Player of the Year. The parallels continue between the childhood friends and teammates, both learning from Blues icons at their respective sides, players that they admired as academy products. Lampard took Tomori under his wing with the Rams, whilst John Terry was assistant manager to Dean Smith at Aston Villa, overseeing Abraham's development.
"When we were growing up, him and John Terry were massive for us over in the Academy," said Abraham. "Lampard was always a leader, he always wanted to train the best, be the best. You could just see that in his character. I see similarities in Mason Mount, you know."
A smooth Segway into the third of Chelsea's golden trio, Mason Mount. 15 years a Blue, the England midfielder has followed the script by moving out on loan, with Lampard's Derby and even abroad to Vitesse Arnhem, before fulfilling his destiny at Stamford Bridge.
Mount has featured in all 29 league games this term, repaying his managers faith by scoring six goals and assisting a further four, the kind of contributions Lampard was renowned for during his hay days. Obviously, this comparison has not gone unnoticed, just ask his attacking partner.
"I see similarities in Mason Mount, you know" Abraham admitted. "You can see that he has obviously studied the way the gaffer played and that's huge, because he knows about scoring, he knows about defending, he knows about passing. He knows about everything, so it's nice to have a manager with that experience."
2020 may certainly have been a bump in the road nobody could have foreseen, however the future remains bright for Abraham and his young accomplices. In Chelsea and London, they have a base to build a wonderful career that is only heading in the right direction.