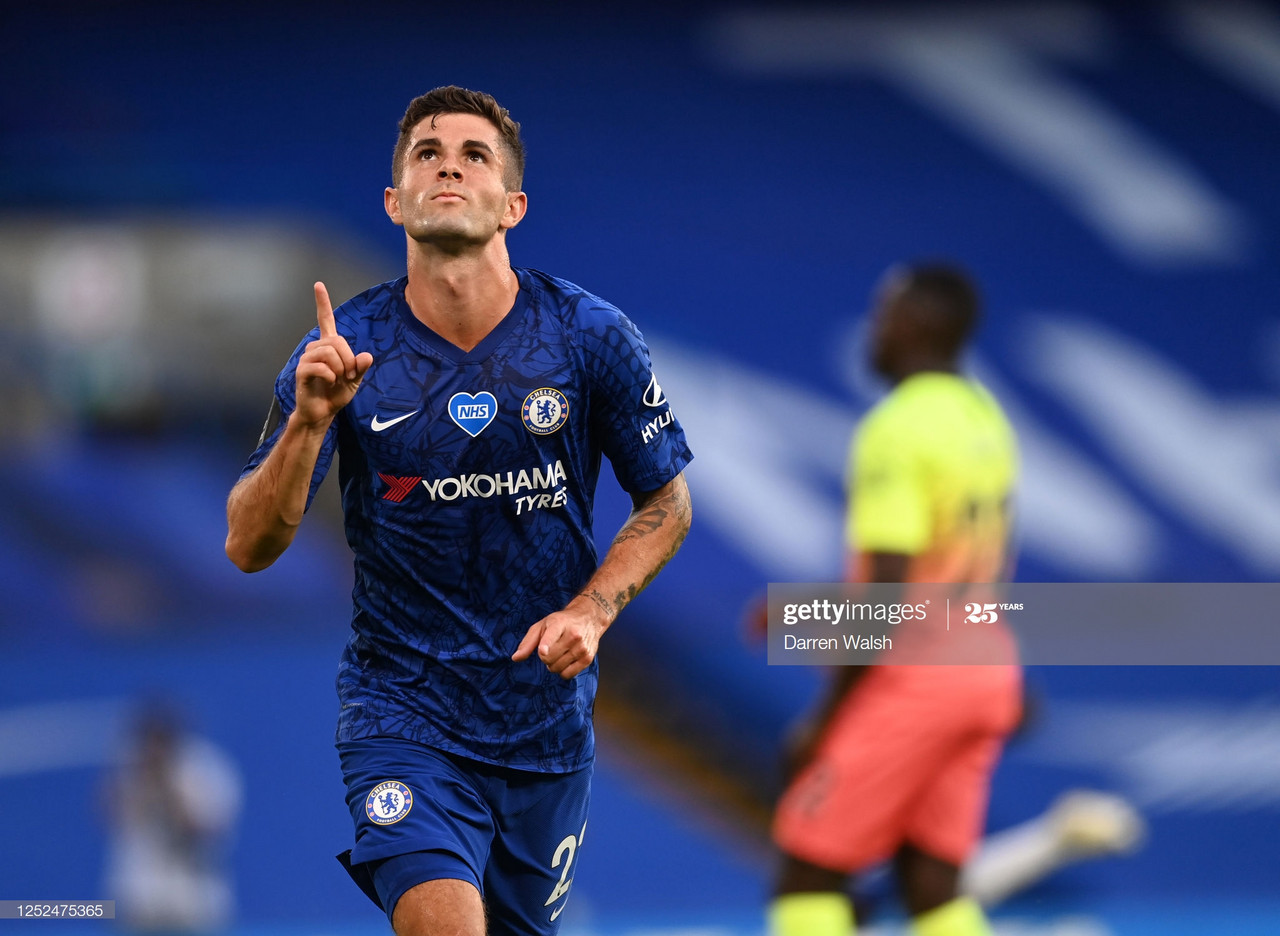 Chelsea sent out a huge statement last night after beating Manchester City 2-1 at Stamford Bridge thanks to goals from Christian Pulisic and Willian.
The red half of Merseyside were also celebrating the win for Chelsea after it meant their first Premier League title was secured in 30 years.
There were hints of irony during the 90 minutes of football in west London last night, flashbacks of Deja vu became clear after Chelsea handed Leicester City the title after beating Tottenham Hotspur by the same score line in 2016.
The winger nicknamed Captain America has had a tough start to life at Stamford Bridge after injuries has side lined the number 22. His last start came back on New Year's Day and since then his progression was halted by an adductor injury as well as the global pandemic.
The dazzling winger was introduced back to the field last Sunday when he inspired Chelsea to a comeback win after scoring the equaliser at Villa Park. Once Chelsea concluded the 2-1 turnaround, Lampard admitted in his post-match press conference last night that his plan was to 'always bring Pulisic on against Villa and start him against City.'
Captain America strikes again
The 21-year-old was delighted with the overall outcome of the City game once he said: "The most important thing was that we got the three points.
"We looked at this game against a big opponent and we wanted to win. We were at home, obviously in slightly different circumstances but we're happy that we came away and got a really good result."
Lampard has vowed this season that his side must be better in the final third and post Manchester City was an example of the improvements. The winger pounced on a mistake from Ilkay Gundogan and Benjamin Mendy on the halfway line, before racing through on goal to coolly slot past Ederson in the far corner.
Top of the pile
It was Pulisic's seventh goal of the season, a stat which makes him the highest goal scorer from any player aged 21 or under in the Premier League. The opener against City had a sense of Eden Hazard against Arsenal about it in 2017, the two players have been compared recently after both joining Chelsea at the age of 21.
Pulisic explained: "We have to capitalise on opportunities like that. I had another one in the second half as well [which was cleared off the line by Kyle Walker] but I am happy to help the team out by scoring. We needed it and we are happy to get the three points.
"We went into the game with a confident mindset to go out and win. Obviously, we want to finish the season strongly, but we feel we're capable of a lot more as well."
Dortmund connection
Once upon a time at Borussia Dortmund, Liverpool boss Jurgen Klopp managed Pulisic and the winger commented on their tributes this season.
"I wasn't thinking about them too much when I scored but of course they've had a great season. It is incredible how they have managed to such a prominent level the whole season. That is a credit to their players and their manager."
Happy to be back firing again
The return of football has been anticipated by many for 109 days, Pulisic was delighted to be back out on the field and his goals for the rest of the season are clear.
"The break was tough on a lot of people but I'm really happy that we can come back and play football again. It is a bit different without the fans, but we are excited to be back out there.
"There a lot of games to play. We want to go as far as we can in the F.A. Cup, and we want to continue finishing strong so we can be secure in a Champions League spot. We have a lot to play for."
Chelsea are in action on Sunday in the quarter final of the F.A. Cup against Leicester City. There is silverware at stake this season but favouring the top four might be a possibility for Lampard.
The race for Champions League qualification continues at the London Stadium on the July 1st. Chelsea's record against The Hammers has stuttered in recent years after only winning two in the last five bouts which has dated back to December 2017.